A lot of questions are answered
In the paintings of Ava Hsueh abstract art still has the ability to tell us about our times
Can abstraction (as in painting) still be a valid language to raise questions and discuss important issues?
Or is abstraction a dated language, a relic from early 20th-century Modernism where form (i.e. shape and color) overrode content?
Can abstract art reflect the changes made in our advanced technological society?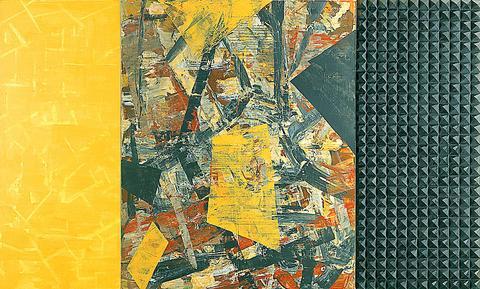 PHOTO COURTESY OF IT PARK
Can abstraction aid the viewer, like a road map, to help decode the signs and meanings in our complicated world?
In other words, is it still a viable expression for our times? These are some of the questions brought to mind in Ava Hsueh's (薛保瑕) intelligent exhibition of paintings titled Flowing Codes, currently on view at IT Park.
Working predominantly in acrylic (which are water-based paints), Hsueh gives texture to the paintings allowing them the heavy, built-up feeling of oils. In her previous paintings, the abstractions referred to organic forms found in the natural environment. In her latest work, the abstractions are becoming more structural and linear and have titles that reflect the influence of our digital age.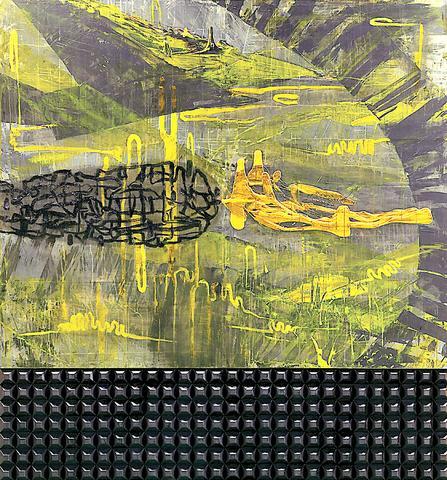 Ava Hsueh's new exhibition Flowing Codes is on view at IT Park.
PHOTO COURTESY OF IT PARK
In Flowing Code, there is a sense of infinite space and of flat space, simultaneously. Think of a Pollock drip painting which gives both senses of infinity and flatness at the same time.
The greens and thickly impastoed yellows allude to an underwater world of murky shadows and hidden coves, yet the grays and blacks make it seem like some kind of digital virtual world as the painting nestles on a grid of black wooden blocks.
In Unusual Field, the black smears and bluish drips juxtaposed with the linear rows of wooden blocks seem to hint at the dark complexities of structures such as languages and binary codes.
This painting really gives a feeling of our complex technologies, even though there is no high-tech image or symbol depicted. Rather it is the shapes of the brush strokes, the build-up of the layers of paint and drips and the effects of the color juxtaposition that conveys the idea, and therefore is a good example of how abstraction can communicate tangible thoughts and meaning.
Three panels make up Differential Decoding. The left panel flatly painted in a golden ochre tone has shimmery blond streaks while the middle panel contains a complex mixture of earthen tones that are transparent and opaque.
The red oxides, golds and blacks create a pleasing visual texture like a textile contrasted with the right panel of black blocks that appear in several of the other paintings.
The manufactured feel of the blocks offsets the painterly touch and creates a pleasing visual symmetry.
The more painterly Butterfly Effect still contains references to binary codes and the like. Yet it shows off a parade of exploding short green, red and yellow strokes that dissolve into a reddish field.
This canvas brings to mind Mondrian's abstractions that were based on organic forms such as trees.
Hsueh shows us that she can go back to her roots, too, with natural forms that show the joy of life and speak about the modern condition.
Exhibition note:

What: Ava Hsueh's new exhibition Flowing Codes.
Where: IT Park, 2-3F, 41Yitong Street, Taipei (台北市伊通街41號2-3 摟)
When: Until July 27. Hours: Tuesday to Saturday, 1pm to 10pm. For information, call (02) 2507 1149. Free admission.
Comments will be moderated. Keep comments relevant to the article. Remarks containing abusive and obscene language, personal attacks of any kind or promotion will be removed and the user banned. Final decision will be at the discretion of the Taipei Times.