Tsai sexes it up with his new film 'Wayward Wind'
Tsai Ming-liang's latest production is a movie about porn stars and is said to be a colorful affair, in contrast to his previous, more thoughtful films
So, you still think Tsai Ming-liang's (蔡明亮) movies are quiet and slow? His new film Wayward Wind (天邊一朵雲) tries to change the stereotype with a singing and dancing extravaganza that even features some transvestites.
Last week in Kaohsiung during the last few takes of shooting, Tsai's favorite actor Lee Kang-sheng (李康生) wore a dress and a pair of high heels, dancing down the stairs like Charlie Chaplin. As he lifted his skirt and walked down the stairs, he kept on tripping over, making director Tsai and his film crew screaming with laughter, as the 1930s song Wonderful Date played in the background. According to Tsai, the scene tells of an absurd situation: a man so excited about going on a date that he wears the wrong clothes!
Chen Shiang-chyi (陳湘琪), lead actress of the film, also has an interesting solo scene. She has to dance in a garden full of giant exotic plants and flowers, embracing the statue of Chiang Kai-shek (蔣介石) and singing the song The Beginning of Love.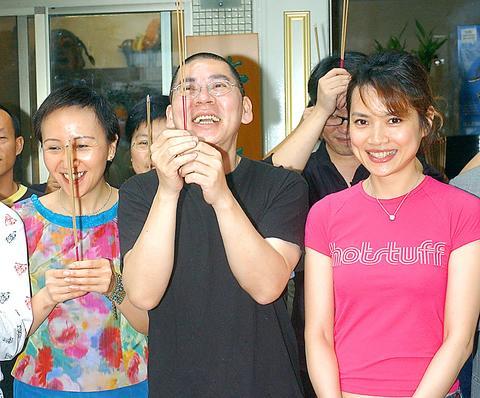 Above, Tsai Ming-liang, center, wraps up filming with a prayer. Right, Chen Shiang-chyi, left, and Lee Kang-sheng camp it up.
PHOTOS: SHEN CHAO-LIANG, TAIPEI TIMES
As for actress Lu Yi-ching (陸亦靜), who plays a porn star in the movie, she sings the song Sympathy to express what a tough life it is in the porn industry.
"This is going to be a lively and bustling movie and I think it will be a breakthrough for myself in terms of a film style," Tsai said.
He is a fanatic fan of 1930s Mandarin pop songs from artists like Grace Ge (葛蘭) and Pai Kuang (白光) and has abundantly used these songs in his film. In terms of the color and design of the film, Tsai said he tried to make the movie look like a vintage postcard, colorful but slightly fading.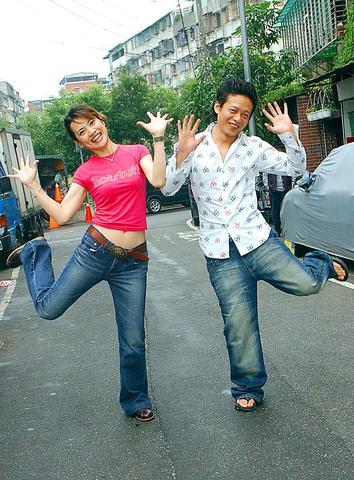 The story of Wayward Wind, which has just finished shooting, is an extension of Tsai's 2001 feature What Time is it There? (你那邊幾點) and his 2002 short film The Skywalk is Gone (天橋不見了).
Chen Shiang-chyi's character meets watch vendor Lee Kang-sheng's character on a skywalk in Taipei before she leaves for Paris. A strange longing grows between the two when she is away. But when Chen returns to Taipei, the skywalk is gone and she does not know how to find Lee, who has lost his job as a vendor and has become a porn actor.
The narrative is not chronological, Tsai said. "It will not be a realistic film in terms of space and time ... In terms of acting, I also give the actors more latitude, this time."
For the actors, nudity was an issue, though Lee said, "I don't need to watch more porn films to find out more [about the life of porn stars]. I've already seen a lot of them."
Like Tsai's previous films, Wayward Wind is partly funded by investors in France. The NT$18 million budget movie is co-financed by French TV station Arte and Centre National de la Cinematographie, in cooperation with Taiwan's Subsidy For Film Production (電影輔導金). Tsai found an audience of 5 million people in France for films such as The Hole (洞) and What Time is it There?
So, will this new film have more dialogue than Tsai's last movie, Goodbye, Dragon Inn (不散), which only had 10 lines? Unfortunately not. "Do you think there needs to be a lot of dialogue in porn?" actress Lu Yi-ching said, helping Tsai answer the question in the negative.
Comments will be moderated. Keep comments relevant to the article. Remarks containing abusive and obscene language, personal attacks of any kind or promotion will be removed and the user banned. Final decision will be at the discretion of the Taipei Times.