Vietnamese get used to living in 'tiger cages'
Pressure for space has meant that frames of steel bars bolted onto apartments are a housing innovation
Tigers face extinction in the forests of Indochina, but it's easy to find a trace of the big cats in Vietnam's capital, although not in traditional herbal medicine stores. \nIn fast-expanding communist Vietnam, the "tiger cage" has been helping thousands of residents battle shrinking living spaces. \nFor decades, ingenious dwellers in cramped apartments have built frames of steel bars, dubbed tiger cages, to transform balconies or common corridors into spaces where they can cook, sleep, dry clothes, raise pigs or do a spot of gardening. \nHistorically, tiger cages have had a notorious connotation, as slang referring to French prison cells built by Vietnam's former colonial master in the early 1860s to house nationalist insurgents. \nBut these days the term tiger cages has a happier meaning. \n"It gives freedom to a family within that space," said Nguyen Duc Hoan, 36, who lived from 1992 to 2001 in a 32m2 fifth-floor flat with his wife. \nThe housing innovation is a common sight at state-built apartments in Ho Chi Minh City, Hanoi, Haiphong and Danang, Vietnam's four largest cities and home to nearly 14 million of the Southeast Asian nation's total population of 81 million. \nA recent survey in the four cities by the Construction Ministry reveals that each resident is confined to an average living area of 3m2 to 6m2. \nSAFE PLAYGROUND \nHoan, who is a private steel trader, said the tiger cage's steel frame, though not constructed according to any code, helps deter break-ins and creates a safe playground above the bustling streets for children, including his son. \n"The security reason is the primary goal as doors and windows are all wooden," he said. "People never thought of it as an architectural solution." \nHanoi built its first four-story residential buildings in the late 1950s, initially for state employees. The tiger cage emerged only when the next generation moved in. \nIn the next 20 years, buildings made from concrete panels sprung up, often with eight families on a floor sharing two pairs of communal toilets and kitchens, an influence of communist allies the Soviet Union and North Korea. \nNow the several-decades-old 430 buildings in Hanoi are home to more than 137,000 people but are no longer an ideal accommodation or a sought-after state reward. \nHalf of them are slum houses with narrow corridors and stairways, low ceilings and leaking pipes. Coal-fired stoves and a lack of parking add to the difficult conditions. \n"The daily living is very inconvenient, as many generations share the same one space," Hoan said. \nBut it isn't easy to upgrade. \n"Not everyone can afford to buy a larger place," said a Vietnamese economist who has been living in a 60m2 flat in the past five years in Hanoi. \nHanoi's housing department said 22 of the 430 old buildings must be demolished and another 267 needed urgent repair. \nSome who have managed to escape the confining spaces are grateful. \nSTILL A DREAM \nIn 2001, Hoan moved to a new house, with a small yard. \n"The first feeling is about the freedom, as I can hang out late and come home any time I like and I don't have to push my motorbike all the way up to the fifth floor," he said. \nIn the old days, an elderly woman who managed the car park at his apartment building locked it up and went to bed at 10pm. \nThe government controls 21.3 million m2 of residential space, or just 2.9 \npercent of Vietnam's total, and is unable to pay for the upkeep. \nHoan said his place was repainted just once in nine years. \nYet a flat remains the goal for middle-class people and migrants moving in from the countryside, with monthly rentals ranging between 600,000 dong and 2 million dong (US$38 to US$127). \n"It's still a dream for many people to have," said the economist. Per capita income is US$400 a year in Vietnam. \nHoan's fifth-floor flat was sold for 400 million dong (US$25,445), a sum that takes 66 years for state employees on a monthly income of 1.5 million dong (US$95) to accumulate -- provided they can save 500,000 dong each month. \nSpeculation has been driving up prices on anything from old government-built flats to swanky condominiums. \nThe government has set an ambitious goal of raising the average living area to 15m2 per person by 2010, with different types of homes to match varying tastes. \nAs new condominiums are built to replace the old-fashioned flats, new owners vow to hang onto their extra space as long as their families grow. \nBut the economist said the tiger cage would only become extinct once security of flats was assured. \n"The steel bars will still exist for protection," Hoan said. "There would still be a modified tiger cage."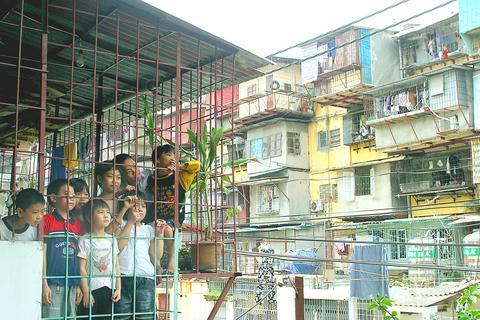 Vietnamese children stand inside a steel cage dubbed a ``tiger cage'' in Hanoi. In fast-expanding communist Vietnam, the tiger cage has been helping thousands of residents battle shrinking living spaces. For decades, ingenious dwellers in cramped flats have built frames of steel bars to transform balconies or common corridors into spaces where they can cook, sleep, dry clothes, raise pigs or do a spot of gardening.
PHOTO: REUTERS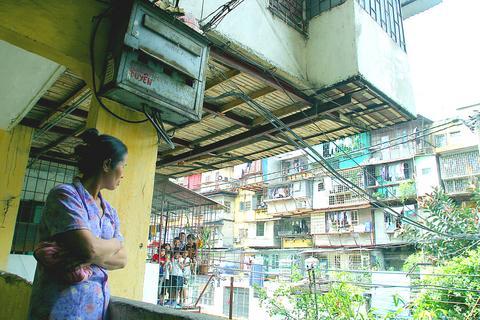 A Vietnamese woman looks out from her tiger cage.
PHOTO: REUTERS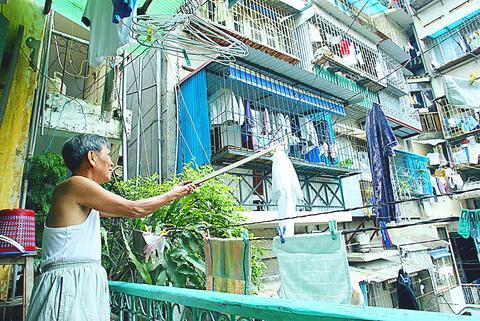 A Vietnamese man hangs clothes for drying, facing apartments featuring tiger cages.
PHOTO: REUTERS
Comments will be moderated. Keep comments relevant to the article. Remarks containing abusive and obscene language, personal attacks of any kind or promotion will be removed and the user banned. Final decision will be at the discretion of the Taipei Times.