Taiwan gets recast in a different light
The 1920s and 1930s were a time of change and excitement and 'Viva Tonal' captures that feeling
Some of the salient features of Taiwanese-language pop songs are abundant sentimentalism, dense laments and sad stories about life, which are reflected in both the lyrics of many of the songs as well as the syrupy vocals. \nSadness is also a word that is often used to describe Taiwan's recent history, its days as a colony, the war, the 228 Incident and the White Terror, among other travails. Many Taiwanese recall a sad past and forget that during the 1930s and 1940s it was completely a different picture. \nDirector Chien Wei-ssu (簡偉斯) and Kuo Chen-ti (郭珍弟) try to change such stereotypes through their Golden Horse-winning documentary Viva Tonal (跳舞時代). \n"I've always thought that Taiwan's history is filled with sadness. But we've found out that there were times of jollity and youthfulness," Chien said. \nViva Tonal is a documentary tracing the emergence of Taiwan's record industry, as well as its pop songs. Through the music of Taiwan's earliest vinyl records and antique phonographs (provided by music collector Lee Kun-cheng (李坤城) the film takes the audience on an audiovisual historical journey. \nThe 1930s and 1940s were a time of big bands, ragtime jazz and ballroom dancing. Fashionable people would sit along boulevards drinking coffee, dancing the waltz and the fox trot, or just listening to their phonographs. \nThe lyrics to a Taiwanese-language song of the time, A Dance Era encapsulates this feeling: "We are the modern girls, free to go where we like/We don't have a care, don't know much about the world/We only know that these are modern times, and we should be sociable/Men and women in two lines, dancing the fox trot is my favorite." \nReleased in 1929, the song is up-beat and suitable for a fox trot. It was sung by Chun-chun (純純) and written by Chen Chun-yu (陳君玉). \nThe filmmakers interviewed old singers for their film, including Ai-ai (愛愛) and old employees of the Taiwan Columbia Record Company. They talk about their happy days at the company and their aspirations for a "modern life." \nThe Columbia Record Company of Japan set up its Taiwan branch in Taipei's Ximenting in 1929 and hired local songwriters to publish Taiwanese-lang-uage records. Soon, Victor Records also set up a Taiwan branch. \nAs a result, perhaps, local people's recreational habits gradually changed from going to temple fairs or local operas, to listening to records and going to dances. \nWoven into the narrative of the documentary is the rapid modernization which Taiwan experienced during these times, with the introduction of railways, electricity and running water. Men cut their queues and women stopped binding their feet. Such a new social atmosphere is reflected in the lyrics of A Dance Era. \nViva Tonal, which roughly means "great local sounds" in Italian, was printed on the old Columbia records. As for the film itself, it offers vivid images of Taiwan's history. The only criticism is that it could be tighter, as the narration of the history is a bit stodgy. \nBut the film does convey an image of happier times. Former president Lee Teng-hui (李登輝) -- who went to the screening on Monday and was a witness to this period -- summed it up thus: "Trying to set up a new culture for Taiwan is not something new, but is the idea of people a long, long time ago." \nFilm Notes: \nDirected by: Chien Wei-ssu and Kuo Chen-ti \nRunning time: 104 minutes \nTaiwan Release: May 15, with a special English-subtitled screening on Wednesday, May 26, 10pm at the President Theater in Ximending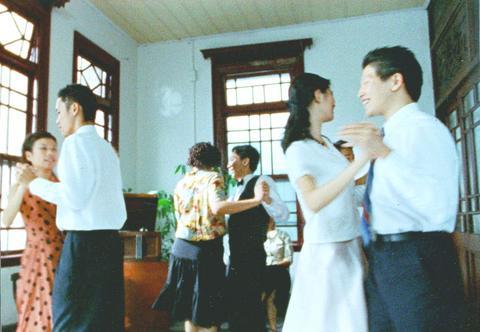 There was a time in Taipei when fun was the order of the day.
PHOTO COURTESY OF CHIEN WEI-SSU AND KUO CHEN-TI
Comments will be moderated. Keep comments relevant to the article. Remarks containing abusive and obscene language, personal attacks of any kind or promotion will be removed and the user banned. Final decision will be at the discretion of the Taipei Times.