2004 Spring Screan
The arts-music festival has morphed into a 10-day event this year to celebrate its 10th birthday, as the madness that is Spring Scream weekend beckons
The 10th Spring Scream could be one for the purists, as founders Jimi Moe and Wade Davis stage a 10-day festival that aims to recover the spirit of the event's early years. It will also build up to what's become known as Spring Scream weekend, which has sprouted into a massive jamboree of other art festivals, raves on the beach, and hotel or club parties in and around Kenting.
The festival started today at its usual location, nestled in a few of Kenting National Park's fields near Liou Fu San Juang, and will have music every day until it kicks into high gear next weekend.
"Some people confuse Spring Scream with all the other stuff [dance music events] that goes on. Nobody's gone out to call their event Spring Scream, though there've been variations of it. But the name's stuck, I think, because it's a catchy phrase and looks good on a headline. Some people who've never been to Spring Scream think they've been because they went to a party on the beach at the same time," Davis said.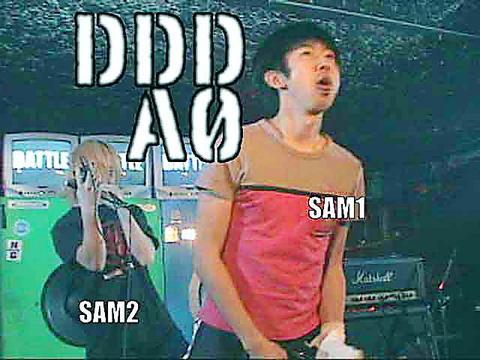 ``Something to do with anus.''
PHOTO COURTESY OF SPRING SCREAM
Moe and Davis started the festival in 1995 when a few musicians and artists set up the first arts-music festival at Magic Studios, near the Kenting National Park entrance. After being held in different places, the weekend settled six years ago on its current site and grew over the years to its present size: 10 days, three stages, 205 bands scheduled (125 bands on standby), an art and film festival, stalls, workshops, and more.
Separate dance music events got in on the act four years ago and the crowds have multiplied, along with the media presence, which has painted the whole scene in terms of general bacchanalian abandon.
As a result of this not entirely undeserved image (and a drowning death two years ago), there has been increased police attention. Officers swooped on five out of seven parties on one night last year, citing suspicion of drugs on the "premises" as the reason for the raids.

The Happy Sign Men are coming your way.
PHOTO COURTESY OF SPRING SCREAM
ISOLATION POLICY
Spring Scream has kept itself largely isolated from this madness by virtue of its longstanding reliability, being further away from the town center, closing down at 12pm, and because of the relationships it has cultivated with the authorities and local residents. It has also strongly disassociated itself from the other parties.
The Daymakers will make your day.
PHOTO COURTESY OF SPRING SCREAM
"It's two different crowds, maybe 3 percent to 8 percent of the crowd that comes down for the dancing will come to Scream, but I reckon the figures are more like 6,000 to 10,000 of them, and 2,000 rockers. Their influence is much larger than ours, they're a different demographic to us. The more people I talk to, the more I realize that we don't have the same crowds," Moe said.
"For the last four years I've just hated the dance music thing, I just despised it, putting a needle on plastic and calling it music. I guess I always appreciated scratch. Now I'm impressed with some electronica ... It's come a long way and that's why we've started putting it on."
As for the drugs that have plagued the party weekend, Davis said they weren't a problem for Spring Scream. "We've never been raided. The first year at the beach there was a noise complaint, so we moved it and took it off the beach and that was it. We've never been raided, there have been no arrests or anything in six years."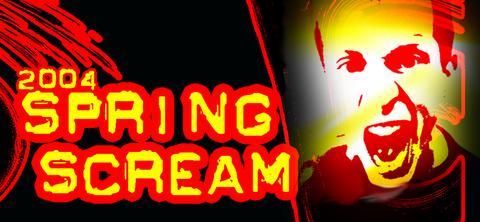 INEVITABLE CHANGE
Both Moe and Davis said, in separate telephone interviews, that they recognized the Spring Scream weekend has changed and accept they will have to adapt too. They are considering sponsorship, but are worried about their principles.
"Change or not has been the eternal question. We might be in the minority, everyone else is backed by the technology and the media, but we're keepin' it live. Even so, we know change is inevitable," Moe said.
The only problem is everyone has a different idea of how Spring Scream should meet the challenge of the next 10 years. Moe and Davis want to please everyone, but realize they have to blow off some of their audience to keep reaching new audiences. Or blow off new audiences, to keep the loyal Spring Screamers.
"The more people that come, the more bi-polar they are. There are the traditionalists who want it to be how it was five or 10 years ago and complain, `Oh, it's not so intimate.' And then there are the others saying, `We want it like Saturday night, every night.' You can't win," Moe said.
"We started as an arts-music festival and I think we've stayed true to that. We've kept prices down and avoided sponsorship, we've been into non-branding. Maybe we need to change."
As far as the blueprint for Spring Scream is concerned -- live music, field, no DJs, finish at 12 -- it may have to change as thousands troop to hear one DJ and hundreds turn up for 100 bands. One idea is international headliners, another is getting in bed with a sponsor.
"People have a good time, so we don't want to change it, but if we do it will need sponsors, international bands. Maybe that is a direction we have ignored and it is our own fault. We get so caught up in making ends meet, maybe we've not been so open to things as we should have been," Davis said.
TAKEN TO BED
Talking about how Glastonbury in the UK evolved into a festival that included all genres of music, Moe said things could be different next year, with a new format. "Maybe there will be a `Kentingbury' next year. Nah. This year we've got 10 days of music with three stages, next year it could be three days and 10 stages. We wanna push the envelope. No matter what you do, you have to second-guess yourself. When we realized we had committed ourselves to 10 days and couldn't turn back we thought, whatever, we can turn it round next year."
Looking forward to another 10 years of Spring Scream, Davis said, "We started with the idea of bands and making original music, here, in Asia. That's what we decided to concentrate on and support, and from that perspective it has worked. At this point, it all works, dance music doesn't need our support. The idea is that you have to pick your tree out of the forest. And that's what we've done. We could take it toward Fuji Rock [Japan]."
This year, however, it's going to be a back-to-to-their-roots Spring Scream, with 10 days of fun in the sun. "What we do say is if it's not fun then we won't be doing it. ... But I do get a kick from it, especially when someone has a story to tell. And they always do," Moe said.
"There was this full-on rock star last week and I told him what I did and he said, `Kenting? No way. I was there, like, seven years ago, we had sarongs and climbed on this hill and, like, flashed everyone.' Everyone who's been has a story, even if some of them nowadays are about the traffic and the noise. It's usually about the first time they saw a band, or met their wife. A lot of stories about Christmas babies, too."
Publication Notes
Taoshan:
"The demo was shining, light hip hop and a boyz band. It was very good, very sharp."
Cia Cia:
"They've put out six independent albums as pop artists, maybe they're not embraced by the mainstream industry, or they don't embrace it, but they have a great following."
Dynamite Club (from New York):
"They're three highly skilled musicians.They're pretty quirky. They do one number, Kung Fu Fighting, which is pretty mad. I think the lead singer and the drummer run around actually fighting and kicking each other, on the stage and in the audience, for about 15 minutes, or something,
before they bow to each other and everyone
applauds."
DDDAO (from Japan):
"The A's something to do with anus, I dunno, but it's electronic music, great stage show, freak-noise."
Friends (from Hong Kong and Taiwan):
A superband made up of musicians from the province of China and the country of Taiwan, featuring Reggae Patrick, MJ J4, MC MC and others.
LTK
"One of Taiwan's biggest bands, always popular."
Hakaihayabusa and J.A.M.S.
"They play really fast, really tight punk-pop ska. Made in Japan."
Roman
"A Canadian who makes incredible masks. He will be doing a monkey mask work shop and would like to see every one at Spring Scream in a monkey mask. That would be pretty in tense [sic]."
Ah-Gen
"He is quite famous in Taiwan and will build a bamboo mansion to house 12 giant monkey puppets. He will also be doing a performance that involves these puppets, drama, music, monologues, and dancing. He calls it Underwater Cave Sounds."
Jimi Moe's guide to the best (and some of the rest) who will be appearing at the 10th Annual Spring Scream, from today. The Spring Scream long-weekend is Friday, April 3 to Sunday, April 4. Contact Web site for further inform-ation: www: springscream.com
Comments will be moderated. Keep comments relevant to the article. Remarks containing abusive and obscene language, personal attacks of any kind or promotion will be removed and the user banned. Final decision will be at the discretion of the Taipei Times.