Ice hockey comes in from cold
The opening of a hokey rink last month will lead to a growth in the popularity of the sport in Taiwan, it is hoped
First introduced to Taiwan in the early 1970s by US soldiers stationed here during the Vietnam War, hockey has never taken off in the same way as basketball and baseball. Along with the need for expensive equipment, the difficulties and costs surrounding the construction and maintenance of ice rinks has always proved a stumbling block to the development of the sport. \nOver the past 30 years, the opening and often sudden closure of many rinks has become a common occurrence. According to Peter Liao (廖伯祥), who began playing hockey in 1974 and is a member of Taiwan's first official team, the Snowmen, rink problems have meant that he's played unhindered hockey for an average of once in every four years. \n"The rinks come and go. Everything has to begin again whenever somebody opens a new rink. It has got better in recent years, with rinks staying open for longer periods of time, but it's still hard to keep a rink open in Taiwan," said Liao. "They're costly to maintain and without the proper marketing they don't make a lot of money. The investment is certainly greater than the income they generate." \nSince he began playing hockey, Liao has skated his way around countless rinks of all shapes and sizes. The only thing the rinks have had in common is the fact that they all closed down within relatively short periods of time. The most recent rink to close down was Taichung's A-1 Ice World. Home to the Typhoon Ice Hockey Club for six years, the rink closed last September, leaving Taiwan's hockey players out in the cold once again. \nThe seemingly never-ending stop/start phenomenon that has plagued the local hockey scene over the past 30 years could be set to change this year, however, with the inception of a glitzy new ice rink near Taipei. Local and expat players alike are hoping that the new Taipei Ice Sports Arena (TISA, 台灣冰動) -- which is located adjacent to the Acer building in Hsichih (汐止) -- -- will give their sport the long-term incentive it needs to thrive and develop. \nAs well as acting as a regular venue for competitive and friendly games, many hope the rink's popularity will lead to an increase in the number of players and in turn act as a base from where the nation's clubs can nurture talent. \nAlthough open for just over one month, classes have already begun in earnest at TISA and it is attracting a large numbers. \nCoaches like Kiwi expat Geoffrey Le Cren, who runs a skate shop in Taipei and has been responsible for the development of in-line skating in Taiwan, view the rink as an opportunity for Taiwan to create a center of hockey excellence. \n"It's got great potential. The infrastructure is there and we've already got coaches on the ice and classes up and running. Just through word of mouth the turnout has been very good," Le Cren said. "Many of the players in here for the first time have come from the in-line hockey teams. Although it's a very different form of hockey it has meant that quite a lot of the guys have already made great progress in the short time we've been up and running." \nThe proprietors of TISA, which officially opened to the public on Feb. 5, have spared no expense in their endeavors to open a top-of-the-line facility. Costing Taiwan Ice Sports International (台灣冰 運動國際股份有限公司) an estimated NT$90 million, the rink's construction is, according to Liao, a long overdue gift to the local hockey community. \n"It's a far cry from the early days when we had to play on a narrow rink with pillars at either end. The ice is good quality and they seem to be maintaining it pretty well," he said. "I only hope it lasts, as I'm tired of playing for a while and then having nowhere to play and getting fat." \nIn order to ensure that new rink has out-classed all of the nation's previous ice arenas, TISA worked in conjunction with the owners of the Penrith Ice Palace in Jamisontown, Australia -- a rink owned by extended family members of several of the TISA management team. The Australian rink sent a crew of qualified ice-rink engineers to Taiwan earlier this year to install a top-of-the-line Italian refrigeration system -- which is buried in sand beneath the rink's surface -- as well as to teach local crews how to maintain and service the costly equipment. \n"I think we've done a good job considering we started from zero. Things are looking good," said Edward Yang (楊振龍), the rink's assistant manager. \n"I reckon because we've made this extra effort, we stand a very good chance of succeeding where so many other rinks have failed."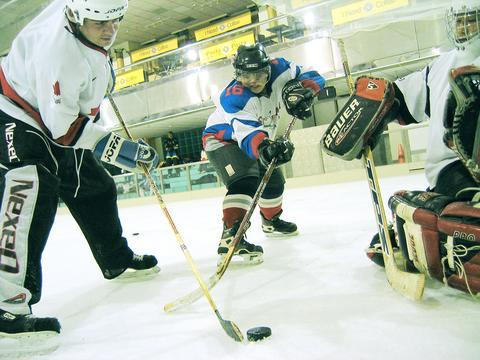 Canada's Rob Dombowsky, left, and Taiwan's Peter Liao, center, go for the puck at Taiwan's newest hockey and skating rink, the Taipei Ice Sports Arena in Hsichih. Many hope the rink will become a center of excellent for the local hockey scene.
PHOTO: GAVIN PHIPPS, TAIPEI TIMES
Publication Notes
Nice ice, baby
Where: Taipei Ice Sports Arena (台灣冰動) is at 84 Hsintai Fifth Rd, Sec 1, Hsichih, Taipei County (台北縣汐止市新台五路1段 84號). Call (02) 2696 0096.
When: The rink is open from 11am, Monday through Friday and 10am on weekends.
Cost: Tickets NT$230 for 3.5 hours on weekdays and NT$280 for 2.5 hours on weekends and public holidays. Skates and other equipment needed for regular skating can be rented
at the facility.
Tuition: Hockey classes are divided into five categories: under-10, under-13, under-18, adults and old timers. The ice rink stocks protective gear and equipment, but players are advised to bring their own skates. Classes cost NT$5,000 for 10 80-minute sessions.
For further information log on to http://groups.yahoo.com/group/taiwanicehockey/ or call Geoffrey Le Cren at (0935) 581 578.
Comments will be moderated. Keep comments relevant to the article. Remarks containing abusive and obscene language, personal attacks of any kind or promotion will be removed and the user banned. Final decision will be at the discretion of the Taipei Times.