Hanging on to life
AIDS has ravaged Cambodia but small toward dealing witht he problem are being taken
Abandoned by his parents at birth and fighting to shake off a disease that could be tuberculosis, four-year-old Kakakda clings fiercely to the orange robes of his "father," the Cambodian monk Muny Vansaveth.
He is just one of the many charges at the Wat Norea Peaceful Children's Home in Battambang, started by the monk 11 years ago to care for AIDS victims and educate people in the impoverished country.
Muny, 33, doesn't yet know if Kakakda is HIV-positive and has not had time to have the tests done.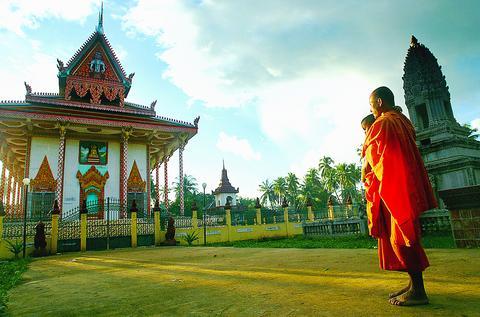 Monk Muny holds Kakada in his arms in front of the Wat Norea temple in Battambang, Cambodia. With an estimated 30,000 orphans that have contracted AIDS, Cambodia is facing yet another crisis. The Wat Norea orphanage is the only pagoda in Cambodia that acceptes AIDS orphans and can only hope to provide a home to a fraction of them.
PHOTO: REUTERS
The monk has more immediate worries, such as making sure Kakakda gets a shot of glucose at a local clinic every day to keep up his strength.
The 46 orphans at the home are flotsam left by domestic violence, Asia's highest AIDS rate, civil war and genocide.
All have been plucked from the dire poverty that pervades the Southeast Asian kingdom's second largest city, where many people live in tiny grass huts beside muddy roads.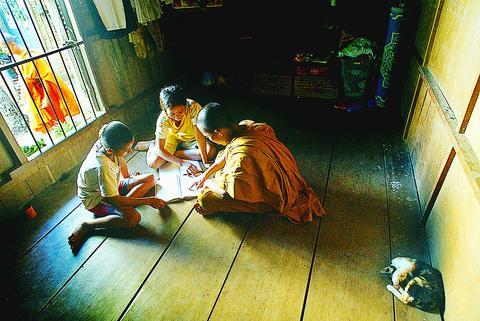 A monk reads with some orphans at the Wat Norea temple home in Battambang. With the help of local public schools, the monks are able to educate the orphans and provide some hope for their future.
With the educated classes mostly wiped out by the Khmer Rouge "Killing Fields" genocide in the 1970s, Cambodians have tended to treat AIDS victims with typical third-world suspicion, shunning them and condemning them to a lonely, agonizing death.
Muny set out to change that in 1992. Since then, he has cared for more than 300 orphans and looked after 58 adult victims of AIDS, all but four of whom are now dead.
His initial challenge was to educate villagers about the new disease and only slowly did he manage to overcome the prejudice, convincing people not to fear or avoid victims of AIDS.
Facing the challenge
Moth Vann, 26, whose husband was killed by the disease last year, lives with her four-year-old son in a tiny shack outside Battambang.
The boy is also HIV-positive and together they sell bananas and soap to passers-by. Every week Muny visits Moth Vann, bringing food, vitamins and some kind words.
When first diagnosed, she was ostracized from the village and no one would buy anything from her little shop. After a few months of coaxing by Muny, they now go out of their way to buy from her, knowing she is struggling.
Cambodia has about 160,000 HIV positive people among a population of 10 million, government figures show.
Campaigners fear the number could be much higher because of the country's rampant sex industry.
The Phnom Penh government has placed the battle against AIDS at the top of its development agenda, and has scored some notable successes -- Cambodia is rare among developing nations in halting the rate of advance of the disease.
But money is a key factor in one of Asia's poorest nations, where most citizens live on less than US$1 per day.
Foreign aid makes up 60 percent of government revenue, and total AIDS-related health spending is US$22 million a year -- or about US$1.70 for each man, woman and child.
Pharmaceutical giant Roche offered this month to provide combination drug therapy for 800 of the country's AIDS patients. But that is just the tip of the iceberg.
Slim pickings
"Only 800 are being treated. Getting drugs for my children is out of the question," says Muny, who questions some of the lavish spending by politicians.
Looking at the ornate pagoda that dwarfs his tiny orphanage next door, he said, "They spent US$100,000 on that temple, money from the people."
But for now, those are the people he must rely on for help, as he gathers donations of food and clothing on his daily walk through villages, accompanied by fellow monks.
The pickings are slim, but each day villagers offer the monks bouquets of flowers along with their donations of food -- small items that help keep Muny optimistic for his children's future.
Comments will be moderated. Keep comments relevant to the article. Remarks containing abusive and obscene language, personal attacks of any kind or promotion will be removed and the user banned. Final decision will be at the discretion of the Taipei Times.