Thinking outside the box
The Eighth International Shoebox Sculpture Exhibition \nin Kaohsiung features works that are small in size but not stature
The Eighth International Shoebox Sculpture Exhibition has little to do with either boxes or shoes, but is a great way of getting a touring show together that can travel easily and cheaply. While this has facilitated the logistics, it has also imposed challenges, and the shoebox exhibition, a triennial event set up by the University of Hawaii, has become much sought after by art venues as well as artists.
The exhibition brings together artists of international stature whose signature works could not otherwise be made part of such a wide-ranging international exhibition.
In the vast exhibition spaces of Kaohsiung Fine Art Museum, the 83 works manage to hold their own despite their diminutive size.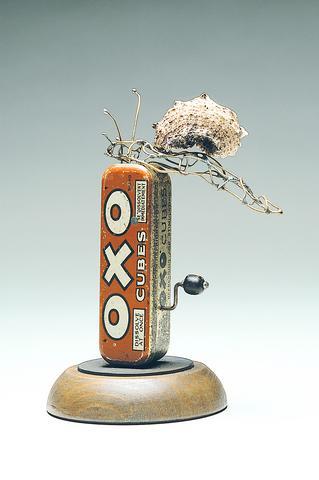 Escargot by James Chedburn.
PHOTO COURTESY OF KAOHSIUNG MUSEUM OF FINE ARTS
A total of 145 artists were invited to participate in the current event, with the 83 on display being those that were selected by the curators to participate in the three-year international touring show.
The Kaohsiung gallery also displays two Taiwan entries, which were not selected for the international tour. According to Tseng Fang-ling (曾芳玲), the Kaohsiung curator, the work Story, created by Taiwanese monumental artist Liang Jen-hung (梁任宏), from a blood pressure gauge, was favored by the selection panel, but because of its moving parts, it was deemed too complex to transport during the multi-stop international tour.
The relatively low cost of transporting the works means that the show can stop at smaller venues, so that in addition to showing at the Kaohsiung Fine Arts Museum (until Aug. 24) and the National Museum of History in Taipei (Jan. 18 to Feb. 29), it will also spend time on a number of university campuses, including Providence University (Sept. 14 to Oct. 26) in Taichung, the National Cheng Kung University in Tainan (Nov. 16 to Feb. 29), and National Central University in Taoyuan (March 21 to May 2).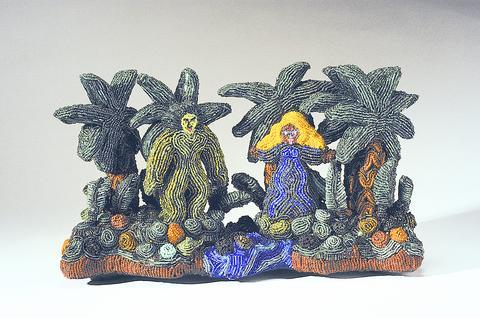 Twixt Land and Sea by Aurore Chabot, at the Eighth International Shoebox Sculpture Exhbition in Kaohsiung.
PHOTO COURTESY OF KAOHSIUNG MUSEUM OF FINE ARTS
Convenience isn't the be all-and-end-all of the showbox show, though.
"What is interesting is that artists are forced away from their usual mode of expression, but still must make something that is an expression of their own creativity," Tseng said.
There is plenty of playfulness in the show, but overall, the tone is serious, and this year, somewhat somber, with many artists expressing the fragility of human life.
The use of materials is diverse and suggests many directions that more ambitious art works might venture. Nothing could be more diverse than the finely crafted aluminum device of John Balsley in Wolf, which plays on the expectations of a mechanistic society; and the fine beadwork of Kimberlin Blackburn's Luna and the Farmer, with its mythological undertones and tacky expressiveness. The playfulness of both more than make up for any lack of power due to their small size.
The works in Kaohsiung have been grouped by Tseng into a number of themes -- though no specific subjects were given the artists, who were free of all constraints expect for size. This provides an opportunity to make some comparisons of how similar ideas are expressed.
With so many contemporary artists striving for ever larger effects through the use of multimedia and monumentalism, this exhibition comes as something of a relief.
The Eighth International Shoebox Sculpture Exhibition is currently showing at the Kaohsiung Fine Arts Museum located at 20, Meishuguan Rd, Kaohsiung (高雄市美術館路20號). The international touring schedule for the show can be found at http://www.hawaii.edu/artgallery/shoebox/schedule2.html.
Comments will be moderated. Keep comments relevant to the article. Remarks containing abusive and obscene language, personal attacks of any kind or promotion will be removed and the user banned. Final decision will be at the discretion of the Taipei Times.