Making architecture part of the scenery
Japanese architect Terunobu Fujimori seeks to integrate plants and architecture into his designs, but getting the flora to cooperate is sometimes a problem
My dream is to grow plants on buildings just as the human body grows hair," said Terunobu Fujimori, the architectural historian turned architect who grabbed Japanese media attention in the 1990s with a series of buildings that incorporated living plants. \nThe names of Fujimori's works -- Chive House, Dandelion House, Single Pine House -- pretty much say it all. Hundreds of pots of chives sway in the breeze on the slanting roof of a one-story cabin in Chive House while the roof of Single Pine House has a pine tree growing on it. \nPhotos of these and six other buildings by Fujimori in Japan, as well as four models of his architecture, are currently on show in Wildness in Architecture (野蠻建築展) at the National Culture Association (文化總會). \nFor Fujimori, one of the key issues in 21st century civilization is the relationship between the natural and the manmade. His buildings, which incorporate nature, are meant to deal with the issue from a visual and aesthetic perspective. \nIn addition to his architecture, Fujimori is known for a series of award-winning essays collected in Adventures of Detective Architecture, published in the 1980s. It was the first series of architectural essays to become a national best-seller in Japan. \nConvinced that artificial structures and elements in nature can reach a perfect harmony, Fujimori uses steel, mortar and industrial wood to build the inner structures and hidden elements of buildings while placing plants, soil and stone in the more visible locations. \nThe results are often houses of "ambiguous nationality" which appear naive or even surreal. He planted grass in a diagonal grid all over the roof of Camellia Castle, where a camellia is also planted. \n"We often see plants on roofs of modern buildings, but they hardly ever blend in with the architecture. This is because rooftop gardens are usually designed by ecologists, who dislike artificial things. They would rather suppress the artificial to better express the plants," Fujimori said. \n"But I think both the plants and the building have to look good. It's not easy, but I want them to get along well." \nApart from building private houses, Fujimori designed the Kumamoto Prefecture Agricultural University Student Dormitory using local timber. Independent pillars, a characteristic of Japanese wooden architecture, are used, but with a twist -- the rows of freestanding, undressed pine columns give people the illusion they're walking in a forest. \nFujimori admits that there are many limits to this incorporation of natural elements. "In Japan, most plants die in winter, so the houses can appear pretty only for a brief time. And when they grow too quickly, the house seems untidy. It takes a lot of work to make these buildings look nice," he said. \nPlants in Taiwan, for example, may overwhelm the whole building into which they are integrated because they are "extremely strong". \nWildness in Architecture will show at the National Culture Association located at 15, Chungchin S Rd Sec 2 (台北市重慶南路二段十五號) until May 18.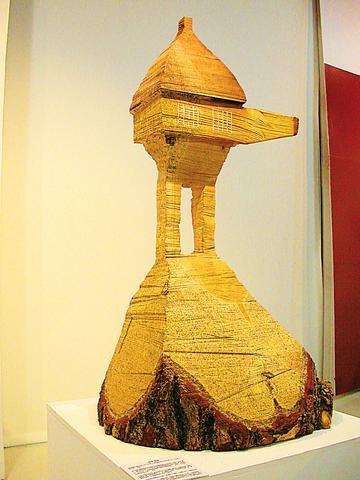 Model of Overnight Arbor by Terunobu Fujimori.
PHOTO:VICO LEE, TAIPEI TIMES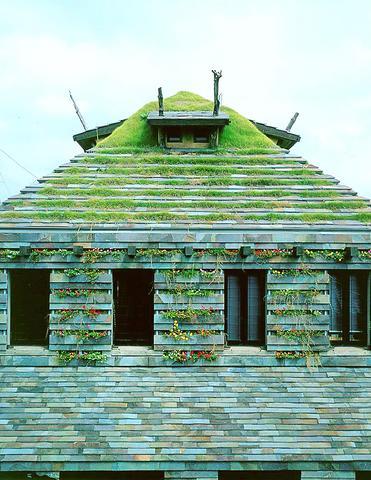 Dandelion House by Terunobu Fujimori.
PHOTO COURTESY OF THE NATIONAL CULTURAL ASSOCIATION
Comments will be moderated. Keep comments relevant to the article. Remarks containing abusive and obscene language, personal attacks of any kind or promotion will be removed and the user banned. Final decision will be at the discretion of the Taipei Times.