Films from the underground
Although its a party/arts event at Huashan organized by lao-wai, this is a far cry from the "foreigner head-shaking party" that tabloids enjoy getting steamed up about. It is, in fact, the Urban Nomad Film Festival (城市游牧影展), now back at Huashan for the second year. \nThis time round, a more complete selection of films will be shown, and these will be more focused on a single theme. In total, there will be 25 films (experimental, shorts, documentaries and mockumentaries) screening over two days. \nThe Friday event begins with three experimental shorts. Tony Wu (吳俊輝), from Taiwan, a frequent participant in international short film or experimental film festivals, will present his latest work Making Maps (製造地圖). Wu's experimental style makes use of found footage, animated images and optical printing. \nIn Making Maps, he uses these methods to talk about pornography, specifically blood and semen. For Wu, the pornographic images he weaves through this 21-minutes is a way of creating a physical and psychological map of human beings. \nAnother Taiwan entry is Lin Hongjohnn's (林宏璋) film about Taiwan's UFO cult. Lin, as the nephew of UFO cult leader, Chen Heng-ming, has unique access to the true believers. \nThe main event on Saturday is the Taiwan premiere of an underground film Redneck Vampire, a mockumentary by Mike Anderson. In the film, Anderson tracks down a man in central Alabama, who claims to be a redneck vampire, and explores his life of drugs, sex and immortality. The film proved a big hit on the Internet with its hilarious play on racial and class stereotypes. Even Ann Rice, the author of Interview with the Vampire, has signed on at the film's Web site. \nThe mockumentary is followed by the rockumentary session of three film. Dark Funeral, a film documenting the Taiwan performance of a Swedish black metal band. It explores their views on satanic cults and church burning. The film was previously selected for the 2002 New York Underground Film Festival. \nFor film-loving people, Urban Nomad will be an event to spot some innovative or odd creations of independent filmmaking. And for those who just want to chill out, there will be live music today and tomorrow nights, accompanied by film footage of surfing, punk rock concerts and a remix of Hitchcock's classic film Psycho. \nThe Urban Nomad Film Festival will run tonight and tomorrow at the Huashan Arts District (華山藝文特區) starting at 8pm. Huashan is located at 1 Pateh Rd., Sec. 1,Taipei (台北市八德路一段1號). Tickets are NT$200 for one day or NT$300 for both days. Tickets available at the door.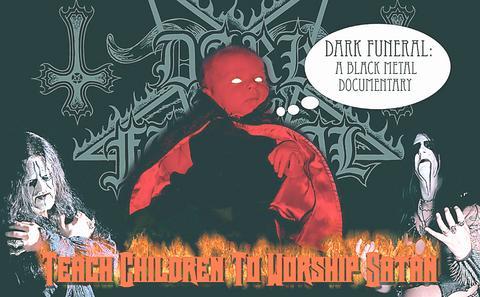 Poster from Dark Funeral, to be shown as part of the Urban Nomand Film Festival.
PHOTO COURTESY OF URBAN NOMAD
Comments will be moderated. Keep comments relevant to the article. Remarks containing abusive and obscene language, personal attacks of any kind or promotion will be removed and the user banned. Final decision will be at the discretion of the Taipei Times.