A big ugly crapshoot
The nasty climate doesn't draw tourists, 20 percent of the population has fled, and the economy is on the skids, so Penghu residents are ready to bet on gambling, but the central government is holding all the cards
Flying to Penghu in late November, I read in a government tourist brochure that the island group got its first McDonald's as recently as Jan. 28, this year. The restaurant is located in Penghu's largest city, Makung, and on its first day of business it recorded an all-time record for a McDonald's in Taiwan: more than 6,000 \ncustomers on opening day. Given Penghu's current population, about 83,000, and that of Makung, about 53,000, more than one in ten Makungers or more than one in 15 residents of the entire archipelago flocked to this McDonald's the day it opened. Here is a place that wants something new so bad it finds McDonald's exciting. Here is a place that wants to change. \nPenghu is a cluster of 64 sand-soiled and wind-scoured islands in the middle of the Taiwan Strait. Government tourism agencies have attempted at various times to bill it as "the Hawaii of Taiwan," but the seven-month-long windstorms that arrive every October have pretty much blown that effort to dust. \nMore recently, the "Las Vegas of Taiwan" has seemed a better possibility. A legislative movement to legalize organized gambling on Taiwan's outlying islands has been building since 1988 and has gradually come to target Penghu specifically. The chance has reportedly grabbed the attention of everyone from Donald Trump to the casino managers at Las Vegas Sands Inc, and investment proposals have pushed towards US$1 billion. \nIn June, a non-binding referendum on the issue saw 80 percent of 33,000 Penghu residents vote in favor of bringing in casinos. Immediately afterwards, President Chen's Cabinet and several legislators contested the results, calling the referendum "illegal" and citing an October 2000 poll of 783 residents showing 45 percent for and 38 percent against. On Nov. 4, Chen's government declared a lack of consensus and placed the gambling proposal on indefinite hold. \nnothing to lose \nWhat was never explained was why Penghu residents want gambling so badly. The politicians didn't do it and neither did the media, which tends to only interview politicians anyway. To take, for example, the Taipei Times, in the last six months it has only quoted one Penghu resident. \nSo on my trip to Penghu I wanted to talk to people about what gambling liberalization would mean to them. I discussed the issue with 20 people, and in small-town Penghu that involved drinking a lot of tea. By the end of my interviews I only found four people against gambling, and they were all women under the age of 19. \nWhat does that demographic mean? In my unscientific survey, probably not much. But this survey wasn't so much about producing reliable statistics as getting a glimpse of Penghu's biggest problems. Driving around on a 125cc scooter, which was sometimes almost blown over by Penghu's famous gale-force winds, I heard from fishermen, storekeepers, kids and government officials that the islands are in decline. The fishing industry has withered. Tourism isn't working. And the population is leaving -- 20 percent in the last 10 years. These are the problems that don't pop up in the news but have brought residents to think of gambling (which is a cultural habit anyway) as a panacea. What's more, they told me, gambling is the only oasis they can see on the horizon. Maybe that was why so few questioned whether or not it was a mirage. \nThe first two people I asked about gambling were the smiley-until-they're-through-with-you clerks at my hotel's reception desk. Ms. Hung, age 26, and Ms. Chang, a mother of one in her late 20s, are both Penghu natives. The two women quickly spelled out how the battle lines are drawn on the issue. Penghu's teachers and public officials, especially the police, are against it, they said. Everyone else is for it. "We're in the tourism industry. Of course we're for liberalization." It was a simple equation. \nGenerally speaking, Taiwan's government sees tourism as a way to develop backward and geographically isolated counties that can't support industrial development. So, as with Hualien and Taitung, Taipei handed Penghu a tourism plan around 1990, even though Penghu only has a five-month (May to September) tourist season and travel costs are prohibitive (round-trip airfare to cities in Taiwan starts at around NT$3,500). \nA half-baked plan? Maybe. But the tourism program has had some significant effects. Between 1990 and 2000, the percentage of Penghu's workforce in the service industry grew from 45 percent to almost 72 percent. Much of this came with new hotels, restaurants and souvenir shops -- so people have bought into the tourism idea. But there's still the seven month dead season from October through April. That's why Hung supports gambling: "It will bring people here in the winter." \nAs we talked, outside the hotel it was overcast and cool. All day long winds had howled at 80kph or more, a flow that's normal if your head's out the window of a car on the highway but that can be inconvenient if you have to lean into it while walking to the store. Every day I was there the winds were the same -- driven by the northeast monsoon, a system that wouldn't subside until spring, when the beach weather and the tourists would finally return. Most of the hotel's rooms were empty. \nWhen I asked the women about attractions, Chang produced a nicely printed tourist map and showed me beaches and spots for jet skiing, snorkeling and scuba diving, things you can only do in the summertime. \nWhen I asked her if she ever went to those places, she said, "Not really. I can't swim." \nChang, like most Penghu locals, sees tourism more as a way of earning money than something she's actually interested in. That's why she likes living in the convenience of Makung, an ugly Taiwanese city made up of ugly concrete buildings. It's also why the beautiful yellow sand beaches more than an hour away have no good restaurants nearby, or any restaurant at all in many cases. \nIn many ways, tourism is a slogan in Penghu, not a reality. But gambling would be a reality, and that's why people want it. \nThe next day I found others who supported liberalization. There was the proprietor of a photo shop and his wife -- their children had moved to Taipei. There was a fisherman idly fishing out on a rocky point with a pole, not nets and a boat. There was a taxi driver. And there was a government bureaucrat who, as a functionary, was supposed to be impartial but wouldn't stop asking me to support the gambling cause. \nOne supporter was a woman of about 50 who ran a small outdoor pachinko business in front of a temple in downtown Makung. Her pachinko machines were low-grade, using nails and screws for metal pegs, and the prizes were chewing gum and soft drinks. It was gambling, though she didn't call it that, and it was for grade-school kids. \nShe was a gossipy mom-type who'd moved to Penghu 25 years ago with her husband, a bank employee. In the early days, the only food was fish, sweet potatoes and peanuts, she said. There was no rice because the wind blew away all the topsoil. And when the wind was blowing, "you didn't walk forwards, you walked backwards, with your back to the wind." \nShe said her daughters were now in Taiwan. It didn't surprise me that she was pro-gambling. But she had only a general notion of how liberalization would bring her more business. "More people," she said and maybe even halfway believed it, even though all proposals she'd heard about would limit gaming to casino grounds, and the casinos would be far from Makung. \nThe social evils she'd heard associated with gambling -- crime and prostitution -- were the things that worried her a little. But she trusted the plan of issuing a limited number of gaming licenses to experienced foreign casino operators. \nA Makung bar owner presented a different view of the social evils however, especially prostitution, which he said is already there, still growing, and tolerated by the police. I'll call him Liu. He was pro-gambling. Without my even asking anything he said he dreamed of sponsoring a huge ecstasy rave on one of Penghu's hidden beaches. As the plan went, the cops would be no problem because he was pally with them. \nCorruption, which Liu certainly touched on, would pose problems for the popular ideal of tightly controlled gaming. In the last few years, Penghu's local government has squandered between NT$100 million to NT$200 million for tourism development on unnecessary construction projects and dubious enterprises like DJ parties with seafood themes -- the corruption is incredible, said one investor who is owed money by the local government following a cooperative venture. "Money goes to the county government and everybody wants a piece. Then when you ask where it is, nobody knows." \nProstitution is also flourishing in Penghu, especially since crackdowns in Taiwan have driven it underground. After Liu closed his bar at 1am, he offered to take me to a karaoke, saying, "I go every night. There's nothing else to do here." \nIt was late, but Makung's streets were dotted with pink or neon signs. Eschewing those, we took a taxi to a five-story all-karaoke palace -- a circus-lit apartment building with opaque windows. The hostesses existed in a typical gray zone of prostitution -- light fondling and drinking games were acceptable in-house, and outside liaisons were negotiable. All the hostesses came from southern Taiwan. Liu said they came to Penghu for a higher-than-average wage. I asked him whether casinos would bring in lots of additional prostitution, and he answered ironically, "We already have as much as we need." \nfield of dreams \nThe next day in Makung I asked people where the developers wanted to build the first casino. Everyone said Fengkuei, which I later found is only one of three or four leading sites. Fengkuei is a village nestled on the leeward side of a little rise on a finger of land at a far corner of Penghu's main island. From Makung it was about half an hour's drive on empty roads, and the casino's prospective lot was up a single lane off an already narrow drive. \nLocated just behind an elementary school, the site was a bizarre sort of border station for a wasteland. At the back of the lot was a shed made out of a shipping container, and the yard in front was strewn with construction debris and boat carcasses. The grass had two heights, knee-high and waist-high, and in it there were about a dozen vicious dogs chained to stakes in the ground. Each dog had its own two-to-three-meter radius and none of their circles overlapped. That was so they wouldn't kill each other. \nAs I walked up, a guy who eventually introduced himself as Yan Chin-tsai (顏金財) heard the barking and ambled out of the shed. Both his hands were bandaged and he was holding a screwdriver. I asked him about the casino. He pointed past the dogs. "The land is just over there, but they've been talking about it for 10 years. Who knows if they'll ever build it." \nYan, a 42-year-old bachelor who fixes boat motors, invited me into the shed to have tea along with his two older brothers, Big Brother and Second Brother. Both were out-of-work fishermen. \nIn recent years, Penghu's most serious economic downturn has been in its fishing industry, the staple industry for most of the 1,200 years since Penghu was settled by the Chinese. By 2000, a depleted, overfished Strait and new schemes in fish farming had reduced the 12,000 fishermen that were 30 percent of Penghu's work force in 1990 to only about 2,000, or 6 percent of job holders. Once the only industry on Penghu, fishing and fisheries are becoming increasingly peripheral and there's no replacement in sight. \nGambling? "Yeah, sure. Why not." said Yan. \nAt this point, I'd been in Penghu about 18 hours and had asked this question to 15 people. None had hesitated. All were for it. But many qualified their answers, saying that it was a hard debate and that Penghu islanders were split half and half on it. I was beginning to doubt it. I asked the Yan brothers where in Penghu I could find people who were anti-gambling, or if there really were any? \n"I don't know. There aren't any," said Yan. "Oh wait, the Legislative Yuan!" \nOn top of everything there was a pervasive feeling that no matter what they wanted, the decision would not be theirs. It would be made by Taipei politicians. \nThis sentiment was ingrained in the Yan brothers and in every other Penghu resident I met. \nThe first opponent to gambling I encountered -- and by this time I was searching for one -- was back in Makung a few hours later. She was 18 years old and a recent high school graduate, and she explained herself simply. "Penghu is still pure and untouched, not like Taiwan. Gambling will make everything here complicated," she said. \nShe'd be leaving Penghu to attend junior college in a few weeks. \nThe others gambling opponents I found were similar: teenage girls who ached for the city life. \nI said before that my demographics are grossly incomplete, and this small sample shows it. But what these girls have in common with President Chen's Cabinet is that while they're against gambling, they don't really want to live in Penghu either. \nMeanwhile, 83,000 residents face the financial concerns of a barren economy, and that is a problem nobody is addressing. Maybe it's about time.
Yan Chin-tsai and Fengkuei, the location that is one of the proposed sites for Penghu's casino.
PHOTO: DAVID FRAZIER, TAIPEI TIMES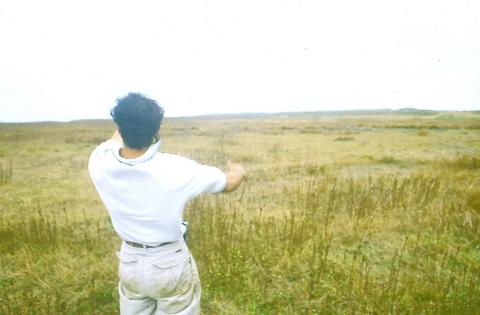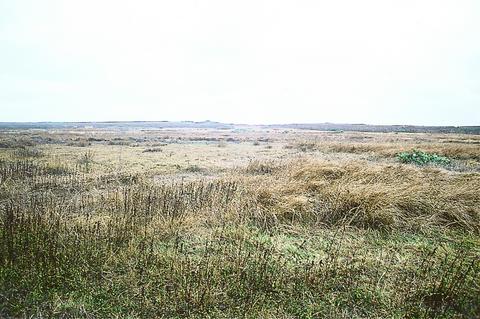 PHOTOS: DAVID FRAZIER, TAIPEI TIMES
Comments will be moderated. Keep comments relevant to the article. Remarks containing abusive and obscene language, personal attacks of any kind or promotion will be removed and the user banned. Final decision will be at the discretion of the Taipei Times.