Local Muslims hope peace prevails
Muslims in Taiwan, like their brethren all over the world, have been forced to question the effects last month's terrorist attacks on New York and Washington have had on their religious identity
Above the urinals in the men's room of the Taipei Grand Mosque there are several signs posted to remind Muslims of what the Islamic doctrine says about urination from a standing position. According to the religion, the practice soils both "cloth and shoes" and destroys the salat, or prayer. Thus the signs' final admonition is, "Please use the toilets." \nOne Senegalese Muslim who has attended prayers at the mosque for several months since he last arrived in Taiwan describes the Islam practiced there as "very orthodox." Bathing facilities are provided for purification before prayers; prayer areas for men and women are divided to prevent distractions in worship; women who come to pray do not wear veils, but do wear clothes that cover all but their faces and hands; and more signs warn against bringing non-Islamic food, such as pork, inside. Mosque-goers, most of them male, are also uniformly insistent about purity in behavior, believing in abstinence from alcohol and the sinfulness of sex outside of marriage. \nHistorical legacy \nAs a monument, the Taipei Grand Mosque is both a legacy of Chinese Muslims who emigrated to Taiwan with Chiang Kai-shek's armies and Saudi support for the spread of Islam. Located on Taipei's Hsinsheng South Road across from Ta-an Park, the structure of domes and minarets was built in 1960 by a local Islamic community with assistance from Saudi Arabia, which even today remains a major source of financial support for Taipei's main Islamic center of worship. \nTies between the mosque and Saudi Arabia, the nation in which Islam was founded, have been strong throughout its entire 41-year history. Visiting Saudi imams preach in the mosque each year during Ramadan, and many of the mosque's past homegrown imams have traveled to Saudi Arabia to learn Arabic and undertake religious studies. In several instances, Taiwanese imams have also spent part of their careers in Taiwan's diplomatic service in Saudi Arabia. In 1971, Taipei's Grand Mosque was even visited by Saudi's King Faisal. \nAt present, the worship center serves as a meeting point for expatriate Muslims from all over the world. According to Ishag Ma (馬孝棋), who studied in Libya and has served as the mosque's imam for the last two years, there are between 140,000 and 150,000 Muslims in Taiwan, of which around 60,000 are Chinese and 80,000 Indonesian laborers. \nAlthough the two groups predominate on the island, Friday prayers at the Taipei mosque draws a more international audience, including Muslims from the Sudan, Senegal, South Africa, Ghana, Pakistan, Thailand, India, Turkey, the US and several other nations. This event is the weekly focal point of their spiritual activity and includes group prayers and lessons from the imam in both Chinese and Arabic. It draws around 300 worshippers on a typical Friday and as many as 1,000 during Ramadan. \nComing to unite in prayer to Allah, this sampling of the Islamic world joins a small contingent of elderly ethnic Chinese. Taken as a whole, the group is a fair picture of the diversity to be found in the world's 1.2 to 1.6 billion Muslims (estimates vary, but generally fall within this spectrum). \n"There are no divisions in Islam," said Ma, in regard to the compatibility of Muslims from so many traditions for worshipping together under one roof. \nNevertheless, he also discounted non-Sunni Muslims, such as Shi'ites, as unorthodox sects. Sunnis account for the vast majority of Muslims the world over. \nThe atmosphere in the mosque is generally warm and welcoming to both Muslims and non-Muslims alike. Though non-Muslims are not allowed in the prayer hall, they are allowed to observe worship from just outside its doors. Strangers are met with smiles, friendly handshakes, and the traditional greeting of "al salam alaikum." \nClasses in Arabic are also open to outsiders. \nResponding to terror \nYet in light of recent events, the mosque is also pervaded with a certain undecided consciousness of how Muslim identity has been affected by the September 11 terrorist attacks on the US. \nSuch feelings come out in offhand comments, like one made by Mesut Temel, a Turk who joked that he might be more popular with Westerners now, since he shared the name of the recently assassinated leader of Afghanistan's Northern Alliance, Ahmed Shah Massoud. "Mesut and Massoud, in Arabic it's the same," he explained. \nAs the mosque boasts a diversity of Muslims, it also contains a diversity of views on current world tensions. In regard to the suicide bombings in the US, most expressed sentiments similar to those in the mosque's official statement, posted by Ma and mosque chairman Ting Nai-hsin (丁迺忻) on the Web site www.taipeimosque.org, calling the events "a historic tragedy for all humanity." \nThe statement further emphasized that Islam is a religion of peace, that a few terrorists do not represent Islam and should not be seen as doing so, and that Islam shares much of its history and values with Christianity and Judaism. \nMany at the mosque, like Temel, carry even stronger opinions. "There is no religion anywhere that could support this kind of thing," he said of the bombings in New York and Washington, DC. \nOf the hijackers, Ajaz, an Indian Muslim, said, "They are not Muslims. Muslims can not be terrorists, and terrorists can not be Muslims." \nAtilla Kahveci, a teacher from Turkey, said, "Suicide is one of the biggest sins in Islam. Trying to express a point of view in a violent way is not the Islamic way." \nOn the first Friday following the terrorist attacks against the US, Ma addressed such issues, delivering his weekly lesson on the theme, "What is jihad?" In his sermon, he equated jihad not with "holy war", as it is often translated, but with the Chinese words for hard work or striving (努力), struggle (奮鬥) and diligence (用功). \n"Jihad is personal," he said. "If people are doing immoral things, you need to tell them. You should not attack [them], you should use your mouth." \nComplex responses \nBut while Ma denounces violence, including any potential retribution by the US, he is hesitant to assess blame for the traumatic events of mid-September or take critical positions against other Muslim groups, including the Taliban and Osama bin Laden. \nWhen approached on such topics, he is generally eager to turn the conversation in other directions, including the peaceful conduct advocated by Muhammad, Islam's major prophet, and Islamic culture's tight focus on an ordered, moral society. \nOn a deeper level, however, he and many others at the mosque find trouble viewing the recent acts of violence against America without linking them to other concerns related to challenges to their faith. The mosque's statement about the September 11 attacks averred that "the hijackings and crash attacks on the World Trade Center buildings were extremely shocking. But almost as worrisome are `American products,' like movies, that reappear in the real world." \nSeveral at the mosque echoed the statement with concerns about how media, especially Western media, broadcasts a bombardment of messages at odds with their religious beliefs. Paramount among these worrisome signals, said one man from Sri Lanka who declined to give his name, are the glorification of drinking alcohol and casual attitudes toward sex. \n"I can't send my kids to school here [in Taiwan]. What they teach is what I am opposed to in every way," he said. \nMa elaborated on the cultural friction, saying that Western individualism admits much behavior that Islamic collectives find unacceptable. As examples, he mentioned homosexuality, abortion and sex before marriage. \n"Islam says these are immoral. The West says this is freedom," he said. \nAlso a source of tension that a few people at the mosque could not help mentioning was "the Palestine problem." Specifically, Ma cited Palestine's millennia-old territorial dispute with Israel, while one or two others broached their bitterness at US support for Israel, which is compounded by Israeli troops' continued shedding of Palestinian blood. \nAgitated by such topics, the man from Sri Lanka went so far as to threaten this reporter, who is American, saying, "You are safe in the mosque today, but if there is an attack, you better watch out. Then you must go back. Out of Taiwan. You will not be allowed to stay here." \nSoon afterwards, others from the mosque told me that this man's views were found abhorrent by many of his fellow Muslims. They implored me to disregard him. He was only one bad apple, they said, and only a few ever listened to him. \nOne such voice came from Kahveci, who said, "Muslims are like everybody else. We do not support violence in any form. All we want is peace."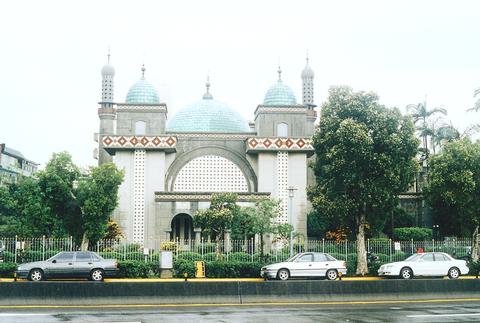 The Grand Taipei Mosque, built in 1960 and located on Taipei's Shinsheng South Road, is a meeting place for Muslims from many nations.
PHOTO: DAVID FRAZIER, TAIPEI TIMES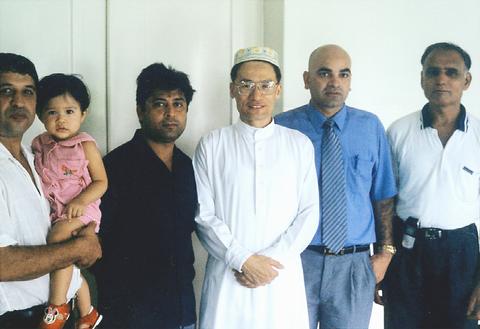 Ishag Ma, center, the imam of the Grand Taipei Mosque, and members of the congregation, which comprises Muslims from many different countries.
PHOTO: DAVID FRAZIER, TAIPEI TIMES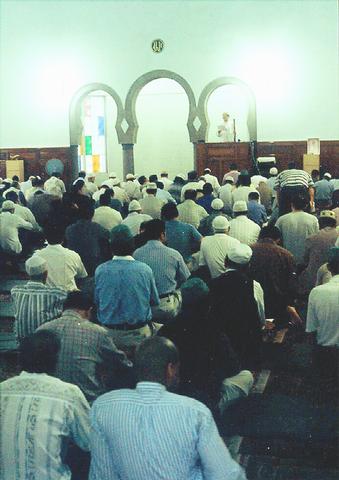 Muslims from all over the world gather to pray at the Taipei mosque.
PHOTO: DAVID FRAZIER, TAIPEI TIMES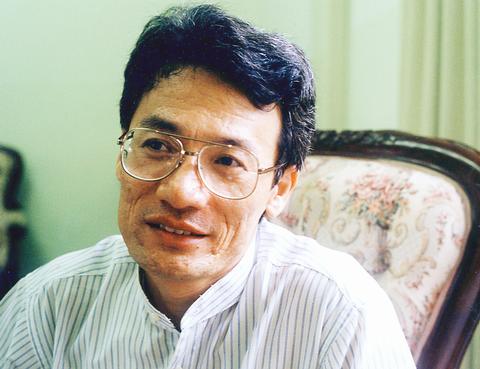 Ishag Ma.
Comments will be moderated. Keep comments relevant to the article. Remarks containing abusive and obscene language, personal attacks of any kind or promotion will be removed and the user banned. Final decision will be at the discretion of the Taipei Times.