Shu Qi, beauty of the underworld
"In real life, I could never be like the girl I played in the film," said Shu Qi (舒淇), the Taiwan-born starlet about her role in Hou Hsiao-hsien's (侯孝賢) Millennium Mambo (千禧曼波) as Vicky, a girl who suffers under a control-freak boyfriend whose daily mission is to track down clues to her infidelity. \n"If I were Vicky, I would have squashed the guy and left long ago. And I would never have come back to the relationship," said the willful Shu. \nVicky's boyfriend Hao-hao (毫毫), played by Tuan Chin-hao (段鈞毫), searches through her handbag every day, checking the receipts in her purse to keep tabs on her schedule. He even smells parts of her body to detect traces of any "unfamiliar scent." \nAs one of the most prolific and most expensive actresses in Hong Kong and Taiwan, Shu said she would jump at the chance to work again with Hou, regardless of the payment and the time needed for shooting. "This is the most challenging experience I've ever had and I've learnt a great deal from him," said the 25-year-old. \nWearing a slim, gray-colored Chinese dress, Shu charmed onlookers at Manray Beach in Cannes. \n"At first it was hard for me to play this role because I don't identify with Vicky and her suffering in a relationship and the environment of drugs and hostess bars," Shu said. \nTo prepare for the role, Shu did extensive field work in dingy hostess bars with Hou and the film's crew. "Hou was very good at making me get used to the role." After a month of hanging out in bars and clubs, "I felt like Vicky had entered my body," she said. \n"I cried for two hours before shooting one of the scenes. And I began to hate Tuan even off the set. I almost threw things at him in one scene because I was so furious," she said. \nThis is Shu's second trip to Cannes, the first being for Vivian Chang's (章慧蘭) film Hidden Whisper (小百無禁忌), which was screened out of the main competition. Shu said she has no high hopes of winning the Best Actress Award and noted that Hou was getting more attention from international reporters than her. "Now I see Mr Hou's charm in Europe," she said.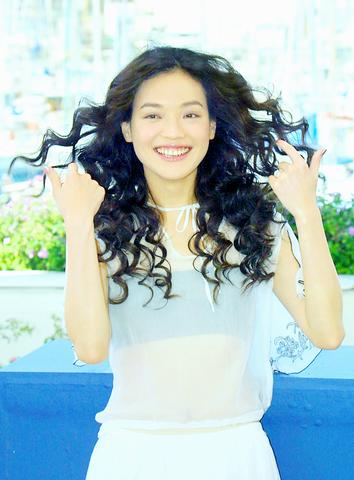 Taiwanese actress Shu Qi poses at the Palais des Festivals during the photocall of Millennium Mambo, by Taiwanese director Hou Hsiao-hsien, in Cannes yesterday.
PHOTO: AFP
Comments will be moderated. Keep comments relevant to the article. Remarks containing abusive and obscene language, personal attacks of any kind or promotion will be removed and the user banned. Final decision will be at the discretion of the Taipei Times.