A Korean orphan recalls a lifetime of abuse spanning two cultures
Elizabeth Kim compellingly details her tragic life from the time she watched her mother get murdered in an `honor killing' to the continual abuse that followed. Told in a lively and readable way, this sad narrative doesn't mince words when detailing the sorrows that followed her from Korea to the US, but she also manages to never completely lose touch with hope
It's comparatively easy to find books detailing the abuse women are subjected to in Asian countries. This lively and readable book, however, goes one step further and tells a story that illustrates abuse so grotesque in both Asia and America that it would be difficult to decide which is the more terrible.
Elizabeth Kim was born in the 1950s to a Korean mother and a GI father. Her troubles began immediately. Because of the circumstances of her birth, no one in their village would accept her, and she and her mother were ostracized and made to live in a little hut apart from the others.
Life was nevertheless happy enough, with simple meals of kimchi and rice, and posies of wild flowers laid before the Buddha. But then a gang of male relatives arrived and demanded the child be sent to an orphanage. When the mother refused, she was tied up and hung from a beam in front of her daughter's eyes.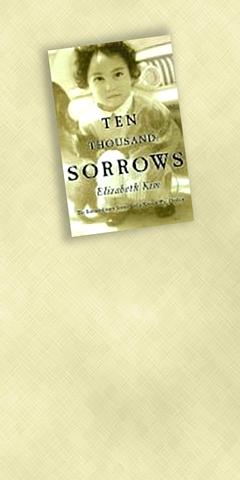 Following this "honor killing," the child was sent to an orphanage anyway. Run by strict Christian fundamentalists, this was more like a prison than a home. Children were stacked in crate-like cots and numbered. One night Elizabeth had to share her cot with a small boy. When she woke in the morning she found he had died from the cold.
Eventually she was adopted and flown to Los Angeles. From here she was driven out into the desert by her adoptive parents. It turned out to be the first of her journeys from the frying pan into the fire.
The couple were a Calvinist pastor of the most unrelenting kind and his equally intransigent spouse. Repression of pleasure in the world, and especially in the body, was everything. The walls were hung with pictures such as Holman Hunt's The Light of the World and Durer's praying hands.
All infringements of household rules were instantly punished, usually by beating with a wooden bat. These particular punishments, the lectures that preceded them and the screams they provoked, were recorded on a giant reel-to-reel tape recorder that stood in the living-room. When the pastor went to turn on the reel-to-reel, Elizabeth knew what to expect.
Finding refuge
The resulting tapes became family treasures. When Elizabeth was a teenager, her adoptive parents presented her with the entire collection transferred onto cassettes and housed in a decorative box. It was her Christmas present.
She found respite in the classics, especially poetry. How much, one wonders, does literature owe worldwide to abusive parents and unhappy childhoods?
Worse was to follow. At 17 she was married to another pastor from her parents' church. It was soon apparent he was a pathological wife-abuser. He slapped her, kicked her, jumped on her stomach when she was pregnant, and on one occasion, after she'd pleaded for their dog to be allowed to spend the night in the house, made her sleep outside with it in the doghouse.
He called her disgusting. When they had sex he looked at pornographic pictures rather than at her. When once she went to kiss him, he slapped her face and said "Never try to do that again."
When her daughter was born, she lavished all her pent-up affection on the child, instinctively re-creating the loving relationship she had had with her own mother in Korea. Her husband responded by having sex with other women. On one occasion he made love to a hitch-hiker they had picked up on the back seat of the car. Elizabeth, having no choice but to continue driving, adjusted the rear-view mirror so that she didn't have to watch.
The pastor was an amateur photographer, and on one occasion was standing with his camera on the very edge of the Grand Canyon. Elizabeth tells how she was tempted to give him a sharp push, and was only prevented when her daughter, who she was carrying on her back, woke up. She didn't want to give her own child a traumatic memory of the kind she had grown up with.
When she decided to leave her husband, taking the child with her, her adopted parents were unexpectedly supportive. Adultery to them was a sin, and divorce because of it had Biblical justification.
The home she set up with the child was a re-creation of the one she had first known in Korea, frugal but full of fun, and in the lap of nature. She got a poorly-paid job as a reporter on a local newspaper, but at least was allowed to take her child in to work.
One night, however, a man she had been investigating turned up at her home when she was alone. The rape, and the subsequent abortion, must have seemed relatively minor events after the horrors that preceded them. They are certainly given little space in the narrative.
Gradually she progressed to better-paid jobs. Today she lives as a journalist and poet in the San Francisco Bay area, happy in the multicultural ambiance, and in the personal freedom she is able to enjoy.
Causes of abuse
What you learn from this book is that the abuse of women by men has many causes. Sometimes it's erotic pleasure in causing pain, sometimes the pleasure of exerting power, and sometimes the expression of a husband's frustration at the trap that marriage has caught him in.
"Honor killings" (considered as murders in all modern societies), and the intolerance of sexual "crimes," similarly appear to be products of a fear of freedom, and the unimaginable choices and responsibilities that would come with it.
This book sometimes appears plain and unanalytical, but this is actually its virtue and essential quality. Its candor is what makes for such an absorbing read.
Life, say the Buddhists, consists of 10,000 joys and 10,000 sorrows. It would appear that Ms Kim's portion of sorrow is by now complete. We can only hope her joys are only just beginning.
Comments will be moderated. Keep comments relevant to the article. Remarks containing abusive and obscene language, personal attacks of any kind or promotion will be removed and the user banned. Final decision will be at the discretion of the Taipei Times.