John J. Tkacik On Taiwan: The New Southbound Policy and China's 'united front'
On Friday last week (May 24), I was pleasantly surprised when the State Department's senior diplomat for East Asia and the Pacific, acting Assistant Secretary W. Patrick Murphy, explained to journalists in Australia that "China is attempting to reduce Taiwan's diplomatic relations in the region and that's kind of heavy-handed." About a third of the countries with embassies in Taipei are in the Pacific region, yet China is pressuring all to abandon Taiwan. Secretary Murphy was crystal clear: "Our encouragement to countries that have relations with Taiwan is to maintain the status quo. It has contributed to stability, particularly across the Taiwan Strait, and economic prosperity for all concerned."
A year ago, the Trump White House similarly ordered America's ambassadors in Latin America and the Caribbean to do the same. Indeed, the US even seemed prepared to sanction countries that abandoned Taiwan. So too, on the Tuesday before (May 21), President Trump met with the presidents of three Pacific Island nations in "free association" alliances with the United States. Their consultations were couched in terms of China's expanding influence in the Pacific. US Senior Administration officials briefed reporters that President Trump is "directing, really, an unprecedented level of focus on the Pacific Islands, and that's in recognition of the fact that the United States is a Pacific nation with immutable strategic, economic, cultural, and people-to-people links to these islands." President Trump specifically praised the "Pacific Islands Forum." (Three months ago, the three nations signed a joint communique to the PIF secretariat calling for China and Taiwan to be treated as diplomatic equals in the region. The President of the Federated States of Micronesia, the only country that doesn't recognize Taiwan, also signed.) I have no doubt that Taiwan was a part of President Trump's consultations with his Pacific counterparts.
Why is the United States so anxious? Chinese militarization of the Pacific, Secretary Murphy stressed, would be as destabilizing as its ongoing and vigorous militarization of the South China Sea. "It gives rise to tensions by changing the status quo and then the possibility of conflict," he added. Washington has long been aware of Beijing's pressures on the Solomon Islands government in Honiara. Up until April, Honiara was poised to derecognize Taipei in favor of Beijing. To Washington's relief, former Solomon Islands Prime Minister Rick Hou's party was defeated in elections, and the new Prime Minister, Manasseh Sogavare, appears content to retain ties with Taiwan. Secretary Murphy, acknowledging that China is now the Solomons' biggest export market, reminded the Australian press corps that the United States also has "strong diplomatic relations" with the Solomons, seeming to encourage Premier Sogavare to stick with Taiwan.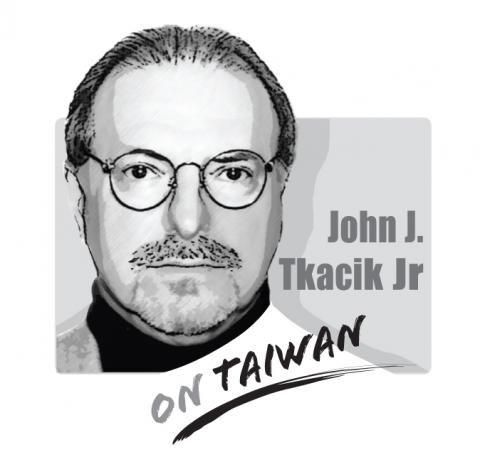 Of course, Secretary Murphy did not publicly vent Washington's fears, shared by Australia's re-elected Liberal/National government, that China badly wants deep-water naval and space tracking bases throughout the Pacific. For decades, Washington has outsourced its Pacific and Oceania strategy to Canberra and Wellington, only to watch as Australia and New Zealand became careless of China's silent takeover and its consequent threat to America's vital naval and maritime interests there.
Mr. Murphy would only say "A growing military presence anywhere in the region of a country like China that doesn't work on a rules-based approach or adhere to international standards is, and should be, of concern." He said the United States has "a lot of national interests in the region that are built on freedoms of commerce, navigation and overflight. We have key partners and the establishment of a military presence there, the notion, the concept is indeed quite troubling."
But Taipei cannot merely be a passive factor in this equation. Secretary Murphy pointed to Taiwan's contributions to the "economic prosperity for all concerned." Taipei's "New Southbound Policy" could effectively be extended to Oceania and to the few countries like the Federated States of Micronesia, which own strategic maritime real estate and are not yet overrun by recent migrations from China. While China's new political influence on domestic politics of Oceania tend to center on the recently-arrived Chinese immigrant communities, Beijing has not taken care to minimize the backlash. Over the past fifteen years, new Chinese migrations to Tonga, Papua and the Solomon Islands have monopolized local retail economies, driving indigenous shopkeepers out of business and alienating local populations. Often anti-Chinese violence has resulted. Coupled with Beijing's "heavy-handed" government-to-government financial and economic programs, these new demographic realities anger and alarm governments and their voters.
Secretly, China's United Front Work Department has long had a strategy to encourage large-scale Chinese out-migration abroad as part of a broader diplomacy aimed at influencing political decision-making in target countries. Some countries, in Africa and Latin America, are targets for resource development and therefore need large populations of Chinese laborers and engineers for efficient infrastructure construction and mineral exploitation. Other countries are of immense strategic importance to China scientifically, and Chinese universities send legions of scholars and researchers there. In Southeast Asia, China has over decades rebuilt loyalties with long-time Overseas Chinese communities via investment, trade and economic relationships that promote patriotic sentiments toward Beijing. New Chinese populations in Australia and New Zealand are joining the political process and work into positions of influence through democratic partisan institutions.
Any historian of Chinese diplomacy is familiar with these strategies. They date to the late 19th century and Sun Yat-sen's (孫逸仙) fundraising for Chinese nationalism against Manchu imperialism. They were expanded under the "Chinese Nationalist Party" to leverage political and electoral support for the KMT across the globe. In the 1930s and 1940s, the Chinese Communist Party mirrored the Nationalists and successfully assembled underground "United Front" networks in Overseas Chinese communities in Southeast Asia.
During the nearly half-century of de-colonization after World War II, newly emerging states were urged to radicalism by Chinese Communist "United Front" work within their local Chinese populations. Malaya, Indonesia and other governments worked with Taipei's KMT "Overseas Chinese Affairs Commission" apparatus to counteract Beijing's influence in often brutal or violent ways, but this cooperation was central to Taipei's cooperation with its East Asian neighbors. In the 1980s and beyond, Beijing's potent influence within the superwealth of Southeast Asia was perceived as an existential threat, diluted only by Taipei's overseas mobilization work. In early 1994, President Lee Teng-hui (李登輝) was still able to make virtual "state visits" in Southeast Asia, golfing with the presidents of the Philippines and Indonesia, and dining with the King of Thailand.
The late Ambassador Hisahiko Okazaki (岡崎久彥), Japan's envoy to Bangkok in the early 1990s, gathered vast intelligence on both Beijing's and Taipei's overseas Chinese work among Southeast Asian Hua-Ch'iao (華僑) communities. In 2003, he made a persuasive case that, into the 1990s, Taiwan's strategic importance to its Southeast Asian partners was Taipei's uncanny but diminishing ability to neutralize communist party influence in local Chinese communities. But as Taiwan's own domestic politics became estranged from the broad Chinese diaspora that never had any ethnic, cultural or economic ties to Taiwan, Taipei's "Overseas Compatriot" work focused increasingly on Taiwan's citizens abroad, and left the "Overseas Chinese" to Beijing. With the field completely free to China, Asia's Chinese diaspora — its wealthiest and most dynamic demographic segment — now identifies solely with Beijing, and has forsaken the democratic principles, such as they were, of Dr. Sun Yat-sen.
Recent illiberal, anti-toleration and counter-democratic campaigns in Hong Kong, decades of unsettling ethnic cleansing in Xinjiang and Tibet, abuse and repatriations of North Korean refugees now combine with the militarized quarantine of the South China Sea and an endless list of trade abuses, cyberattacks and general espionage have forced Washington's action. But China now is too strong for the United States alone to confront.
Instead, after years of pleading and cajoling from its Asian partners, America is finally taking leadership of a new strategy for a "Free and Open Indo-Pacific." Secretary Murphy's trip to Southeast Asia, Australia and the Pacific last week is part of a new American diplomacy to mobilize the Indo-Pacific's democracies.
For the first time in fifty years, Taiwan is part of the new strategy. While Taiwan's soft-power economic influence is strong, Taipei is in a weak position to reclaim ground in Oceanian Huaqiao communities. It can, however, recalibrate both its "New Southbound Policy" and its Overseas Compatriots services to include the Pacific Islands, long neglected by Washington as an Australia-New Zealand responsibility. By cultivating Taiwan's linguistic affinities and developing its regional diplomacy, Taipei can have an outsized impact on restoring the Pacific's faith in Washington and the values of the democratic Indo-Pacific.
John J. Tkacik, Jr. is a retired US foreign service officer who has served in Taipei and Beijing and is now director of the Future Asia Project at the International Assessment and Strategy Center.
Comments will be moderated. Keep comments relevant to the article. Remarks containing abusive and obscene language, personal attacks of any kind or promotion will be removed and the user banned. Final decision will be at the discretion of the Taipei Times.