Stephen M. Young On Taiwan: Taiwan and international space: What's really important here?
Friends of Taiwan are understandably concerned by the concerted push, under mainland strongman Xi Jinping (習近平), to further throttle Taipei's dwindling circle of "diplomatic allies." The perhaps excessive attention given by the Government of Taiwan to China's aggressive policy suggests that this remains a soft underbelly of insecurity.
Beijing has already pilfered five of the island's formal diplomatic partners since President Tsai Ing-wen (蔡英文) took office in 2016, as part of an effort to reduce Taiwan's self-confidence. As I sit down to write this piece, the news is circulating of the recent breakthrough in Vatican-Beijing relations. Pope Francis seems ready to relent on the thorny issue of who can designate bishops in China. For decades, Rome insisted that only the Pope could appoint such prelates. But now Francis has apparently acquiesced to the existence of bishops appointed by the state-run Patriotic Catholic Church.
This move has been seen by many as opening the door to greater Vatican involvement in Catholicism on the mainland, although it is less clear whether this means Beijing alone can appoint future bishops. Another outstanding question as of late September is whether the Vatican will formally break relations with Taiwan and shift its small diplomatic mission — currently headed by a charge, rather than an Ambassador — from Taipei to Beijing.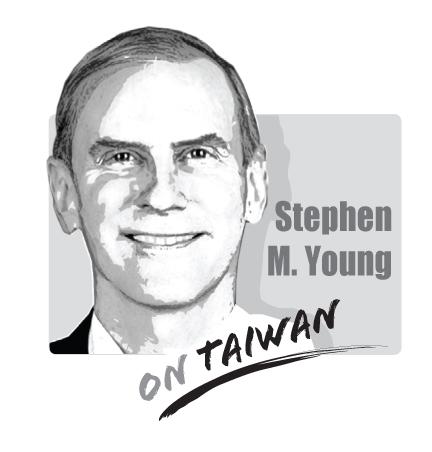 While I understand the longstanding focus on this issue, I come at this from a slightly different perspective. Yes, it is certainly reassuring to the 23.5 million citizens of Taiwan to point to the island's international status, and one easy method to measure this factor is by counting the number of countries that maintain formal diplomatic relations with Taipei.
But let us consider two factors: first, who are the remaining countries that maintain formal diplomatic relations with Taiwan, and how important are they on the scale of international politics? Second, how have other nations around the world managed their relations with Taiwan?
I doubt many western readers could find some of Taiwan's remaining diplomatic partners, like Palau, on a map. It is certainly true that China is engaged in what is clearly a high-level campaign to poach Taiwan's remaining diplomatic partners. This is seen as a sign of displeasure with President Tsai and her administration's policies, following the more accommodating approach of her predecessor. Yet many Taiwan watchers in the west pay slight attention to this matter.
At the same time, US interest in Taiwan is only growing stronger. Congressional legislation, as well as statements by the current administration, all underscore the high-level support for Taiwan in Washington today. President Trump may not have realized what he was doing — a common problem with this indifferent student of foreign affairs — when he accepted President Tsai's congratulatory phone call after his election in late 2016. But his administration has made it clear that a) Taiwan is an important friend and partner and b) the United States remains committed to Taiwan's existence as a separate political and geographic entity until a mutually agreeable basis for closer ties across the Taiwan Strait is achieved through peaceful means.
This sentiment was very much in evidence at a recent Cross-Strait conference hosted in Washington by the Global Taiwan Institute, where both scholars and government officials reiterated their support for Taiwan and its ability to defend itself against any threats to its autonomous existence. The Trump administration has continued to approve arms sales to the island, and now has Congressional encouragement to dispatch more senior diplomatic and military visitors to Taiwan as needed to sustain our robust ties.
I remember when I was American Institute in Taiwan (AIT) Director, attending Double Ten ceremonies at the Presidential Palace. After the Ambassadors of Taiwan's formal partners were presented, the representatives of the United States, Japan, Australia and Singapore were singled out, eliciting a palpable sense of excitement in the assembled audience and press. To me, this reflected the understanding that these unofficial relations were the true core of Taiwan's international support and sustenance.
Taiwan's remarkable economic and trade relations with partners throughout Asia and the world are another measure of the island sustaining power in this interconnected twenty-first century planet. Almost forty years after Washington cut its formal ties to Taipei, America remains deeply tied to the island and its people. In terms of trade, investment, student exchanges, tourism or any other measure, our relations are vastly more important now than they were when Jimmy Carter severed the formal relationship.
To understand the enduring nature of America's commitment to the island, friends in Taiwan need simply to drive by the sparkling new AIT Building in Neihu (內湖) that was formally opened this past June. The autocratic leaders of mainland China, still so fearful of their own people that they remain unwilling to give them a democratic voice in the governance of that sprawling nation, recognize the challenge a free and democratic Taiwan poses to their own legitimacy.
The people of Taiwan should recognize that every day proves to the world there is only one ethnically, linguistically and culturally Chinese polity that allows its own people to exercise their sovereign right to choose their leaders and directly influence the course of the country's politics. It is not in Hong Kong. It is not in Singapore. And it is certainly not on the mainland.
So I would urge my friends in Taiwan to take the long view. Keep on doing what has made you so successful for so long. Yes, leave an open door to realistic proposals by the mainland to narrow differences and build bridges; but not at the expense of your ability to control your own future. Let us hope a more open China might allow for closer political ties across the ninety miles of the Taiwan Strait. But for now, I am confident the citizens of Taiwan, with their many supporters here in the United States and around the world, will be just fine!
Ambassador Stephen M. Young (ret.) lived in Kaohsiung as a boy over 50 years ago, and served in AIT four times: as a young consular officer (1981-'82), as a language student (1989-'90), as Deputy Director (1998-2001) and as Director (2006-'9). He visits often and writes regularly about Taiwan matters. Young was also US Ambassador to Kyrgyzstan and Consul General to Hong Kong during his 33-year career as a foreign service officer. He has a BA from Wesleyan University and a PhD from the University of Chicago.
Comments will be moderated. Keep comments relevant to the article. Remarks containing abusive and obscene language, personal attacks of any kind or promotion will be removed and the user banned. Final decision will be at the discretion of the Taipei Times.