Stephen M. Young on Taiwan: What Xi wants — but can't have
Now that Chinese President Xi Jinping (習近平) has won a second term as party secretary, and has effectively declared himself leader for life in the People's Republic of China, it is worth trying to assess what his goals are as undisputed strongman of the world's most populous nation. While I intend to focus primarily on foreign policy goals in this piece, I will also attempt to provide a sketch of the kind of China Mr. Xi wants to leave as his legacy back home. The timeline I have in mind is the next 10 to 15 years, though depending on his health, Mr. Xi could survive into the 2040s.
I doubt I would get many objections by stating that Mr. Xi wants to see China rise to become the pre-eminent power in all of East Asia during his reign in power. This explains his overt hostility to Japan, the last Asian power to aspire to that position. This despite the fact that post-World War II Japan has been a paragon of virtue in its foreign policy, compared to the disastrous years of militarism that ended with its utter defeat in 1945. With a limited military and a clear focus on economic goals, Japan has sought to make amends for its past, and has been credited by most of its neighbors for doing a decent job.
Mr. Xi is in no rush to see a reunited Korean Peninsula, unless it is under his own political sway. He fears the nightmare of an American-dominated Korean Peninsula with conventional and nuclear weapons on his Manchurian border, even though that has never been Washington's goal, at least since the armistice of 1953 ending fighting there.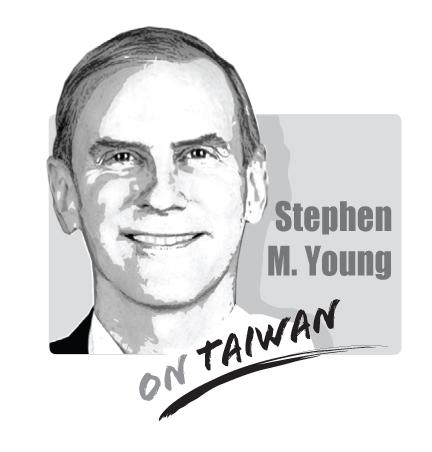 Xi of course wants Taiwan to return into the bosom of the motherland, unlikely as that may be under current circumstances. Those include a) the deep and abiding skepticism of the democratic people of Taiwan over any sort of reunification with their authoritarian neighbor; b) the gap in social and economic standing within the two societies; and c) the strong ties across the Pacific to the US that the island has fostered over the past 70 years.
The only way Taiwan would return to Beijing hegemony now would be through a military conflict that would at a minimum badly damage or destroy the place, and would in all likelihood fail, given America's longstanding commitment to defend the island against PRC aggression. The passage of American warships through the Taiwan Strait earlier this month highlights the US stance on attempts to threaten or intimidate our Taiwan friends. This is where mainland rhetoric meets East Asian reality.
Further south, Mr. Xi has been lavishing the ASEAN states with his economic largess, primarily in vibrant trade relations. More recently there has been talk of major infrastructure projects and bigger investment. Xi's most overt success to date has been the Philippines, where the quixotic President Rodrigo Duterte has apparently fallen under Xi's spell, despite the longstanding democratic traditions there and the traditionally close ties to Washington.
Hanoi is the polar opposite of Manila. There is over 2,000 years of historic animosity between Vietnam and China, a reality that thoroughly trumps similar political systems. America failed to understand this 50 years ago. But Washington's relations with Vietnam today are cordial, with a shared anxiety over China's rise and its territorial ambitions in the South China Sea. The rest of ASEAN is attempting to play both sides, welcoming China's trade and investment while anxious for the counterbalancing military power of the United States to offset Beijing's newly aggressive power projection into their region.
The South China Sea, where Beijing has defied international law and the Permanent Court of Arbitration's specific finding, pits China virtually alone against the rest of the region in its expansive and legally unsustainable claims. But thus far Mr. Xi has shown himself impervious to moral suasion. The same disdain for rule of law at home manifests itself equally in China's militant approach to such territorial issues.
China has established a close relationship with Thailand and enjoys almost hegemonic power in Cambodia. But Myanmar has thus far proven more diffident to Beijing's advances, though its ostracism over military rule and the oppression of the Rohinga minority offers China some leverage these days.
Swinging around to South Asia, a rising India under its nationalist Prime Minister Narendra Modi harbors historical suspicion of its northern neighbor. Delhi's ties with Moscow have softened, and there appears to be greater room for cooperation with the US today, both on international issues and economic and trade relations. The military relationship is tentative, but could grow in relation to India's perception of the China threat along its northern periphery.
Xi Jinping and Vladimir Putin are in many respects kindred souls. They long for an imagined past when their nations played a bigger role in world affairs. Beijing is much closer to realizing this ambition than Moscow today, given the stagnation of the Russian economy. This is especially true when you subtract energy and raw material exports. One wonders why Mr. Putin hasn't learned more about energizing his economy along the lines of the Chinese model. He has the human capital, but seems reluctant to unleash it in the sort of entrepreneurial projects that characterized Deng Xiaoping's (鄧小平) strategy nearly 40 years ago.
Looking east across the Pacific, Mr. Xi sees an historically dominant American military presence, anchored with the Pacific Fleet in Hawaii and buttressed by alliances with Japan, South Korea and Australia. The US also enjoys close cooperative relationships with many other East and South Asian partners, and is generally seen as a force of stability. The more China builds its capacity and projects its ambitions within the region, especially in the strategic South and East China Seas, the more the rest of Asia looks to Washington for support.
The one wildcard at this juncture is the Korean Peninsula, where President Donald Trump's June 12 summit with North Korean leader Kim Chung-un has raised hope of lessened tensions. Unfortunately, there was a whole lot more smoke than specific and binding agreements on reducing tensions on the battle-scarred peninsula. We can all hope for a happy outcome, but the narrative is still in its early stages. Under the best of scenarios, complete and verifiable denuclearization of the Korean Peninsula would take several years. We have seen enough past hollow North Korean promises to know that Ronald Reagan's axiom "trust but verify" is central to any success here.
Even then, I do not see a significant scaling back of the American military presence in East Asia happening anytime soon. China's build-up only increases anxiety among its neighbors, who have prospered now for nearly three quarters of a century with the assurance that American power is there to protect the status quo. With the few exceptions earlier mentioned, most of the countries in the region are closer to the American model of political and economic openness than what Xi's China has to offer. Largess can buy a certain amount of friendliness. Values are a firmer foundation for lasting relationships. Here the United States wins over China hands down.
Many of us have long been hoping for internal political reform in China, to parallel Deng's economic reforms. Alas, this seems less likely in 2018 than it did in 1979. Mr. Xi, a product of the authoritarian top-down system his role model Mao Tze-tung (毛澤東) initiated in 1949, seems in no hurry to undertake admittedly risky domestic reform aimed at liberalizing political life.
Instead Mr. Xi seems to believe communist enthusiasm and blind patriotism will substitute for personal freedom and a voice in political decisionmaking. He also expects to continue delivering economic prosperity, and here he and his predecessors have done remarkably well — thus far. But sustaining 6-7 percent real growth as the overall economy expands is going to be much harder to pull off. An economic slowdown, however it occurs, would only draw into sharper relief the absence of political freedoms increasingly taken for granted elsewhere in East Asia.
China has bucked the trend of most of Asia, by not following dramatic economic growth with political reform. Xi even seems to see this authoritarian model as one worth exporting, though I haven't seen many takers thus far. In its absence, the democratic and open policies that America champions have seemed much more attractive to the majority of our friends in Asia than the Chinese alternative.
America must continue to stand for those values, something the current resident in the White House has unfortunately drawn into some question. But our system is strong, and can endure much. I want to conclude this essay by projecting my confidence, as an American and a diplomat who spent the bulk of my 33-year Foreign Service career working in and on East Asia, that we are not going anywhere soon.
Our friends in the region should bank on this, as we all work together to try to bring China more in line with the values and aspirations that animate the rest of the region. We can coexist with China as it is, but an opening of that great power's society and political system to more faithfully reflect the values of the rest of the region would be the best investment Mr. Xi could make toward a prosperous and peaceful future.
Stephen Young lived in Kaohsiung as a boy over 50 years ago, and served in AIT four times: as a young consular officer (1981-'82), as a language student (1989-'90), as Deputy Director (1998-2001) and as Director (2006-'9). He has visited often and writes regularly about Taiwan matters. He was also US Ambassador to Kyrgyzstan and Consul General to Hong Kong.
Comments will be moderated. Keep comments relevant to the article. Remarks containing abusive and obscene language, personal attacks of any kind or promotion will be removed and the user banned. Final decision will be at the discretion of the Taipei Times.