Stephen M. Young On Taiwan: Beijing's latest push to turn up the heat on Taiwan
The PRC's long-stated goal of forcing Taiwan back into its bosom has been a rhetorical part of Beijing policy for decades. But in recent months, it seems to have entered a new phase, characterized by several provocative moves designed to intimidate the island and its people.
During the 19th National Congress of the Communist Party of China, held in October, 2017, Party General Secretary Xi Jinping (習近平) introduced sharper language on Taiwan than before, and suggested a timetable for reunification during his lifetime. Given that he has eliminated term limits for himself, the presumption is that he views reunification as the crowning achievement of his on-going tenure.
Toward that end, Xi has largely abandoned the gentle blandishments that were the centerpiece of Beijing policy while Ma Ying-jeou (馬英九) was president of Taiwan. That era of relative detente was highlighted by Mr. Xi's widely publicized meeting with Ma in Singapore on Nov. 7, 2015. At that session, the two sides underscored their adherence to the "1992 Consensus," an amorphous concept that emerged from a meeting a quarter of a century ago between senior Taiwan and Chinese officials concerned with cross-strait relations.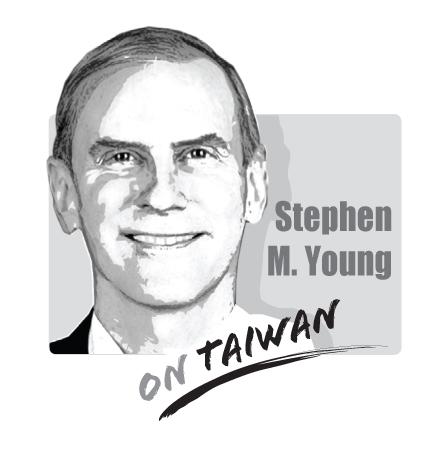 Characterized by the sweeping victory of the Democratic Progressive Party (DPP) first in legislative elections and then the elevation of the DPP's Tsai Ing-wen (蔡英文) to the Presidency, the political mood in Taiwan has shifted sharply. Polling in Taiwan suggests widespread unhappiness with Ma's cross-strait initiatives and a marked reluctance to draw closer to the mainland politically. President Tsai and her ruling DPP refused to embrace the "1992 Consensus," which Beijing set as the prerequisite to any renewed cross-strait cooperation. The once invincible Kuomintang has fallen on hard times, based on their poor showing in recent elections. The New Power Party (NPP) has emerged as a third force in Taiwan politics.
Strikingly, younger people polled in Taiwan were particularly reluctant to embrace closer political ties between the two sides. President Tsai and her Cabinet place greater emphasis on bolstering ties to the rest of Asia, particularly emphasizing their "Southern Strategy." Cross-strait tourism has declined, as have business dealings between the two sides.
Over the past two years, Xi Jinping has engineered his rise to become the most powerful leader in China since Mao (毛澤東), and has highlighted his desire to resolve the Taiwan issue during his lifetime. Sometimes the date 2021 (the 100th anniversary of the founding of the Chinese Communist Party) has been tossed out as a dateline for resolving the Taiwan issue. There has also been talk of ensuring reunification by 2049, which would mark the 100th anniversary of the founding of the PRC.
But the simple fact is that the attractiveness of reunification has, if anything, declined in Taiwan, particularly among young people. Related to this has been polling that suggests a growing sense of Taiwanese identity, with a parallel decrease in those who view themselves as Chinese. Again, this has been most notable among the younger population. There is of course no independent polling on the mainland, but it is probably safe to say most Chinese favor reunification. The media pounds this concept into the public consciousness on a regular basis.
In recent months a number of troubling signs of greater hostility to Taiwan on the part of the Beijing government have emerged. There have been several flights of PRC bombers through the sea passages to the north and south of Taiwan, including some circumnavigating the island completely. Advanced PRC fighter planes have engaged in reckless activity within the Taiwan Strait. This spring PLA artillery also carried out live firing exercises in the Strait. The response of the Taiwan military and government has been remarkably restrained. But it is clear that the mood has been darkening.
Chinese bullying has taken other forms as well. Beijing has recently launched a concerted campaign to dissuade international carriers from referring to Taiwan in any fashion unacceptable to their political censors. And while the US Government reacted scornfully to these efforts, airlines heavily invested in routes to and from the mainland have been under great pressure to toe Beijing's new line.
The decision, just as this piece was being prepared, by Burkina Faso to drop its diplomatic recognition of Taiwan is only the latest effort by Beijing to diminish Taiwan's formal standing in the world. Talks with the Vatican on a possible shift in recognition are also ongoing, though questions about the treatment of China's millions of Catholic believers and the appointment of bishops could prove a stumbling block.
Mr. Xi knows he plays to a sympathetic audience back home when he rattles sabres in the Strait. His rhetoric about the importance of reunification seems to strike a chord, no doubt as a symbol of national pride and the result of heavy doses of propaganda in the PRC media. The Chinese economy continues growing at impressive rates. But it is well down from the double digit levels that characterized earlier times, even according to possibly questionable Chinese statistics. Meanwhile, the Beijing government has apparently dropped any plans to advance meaningful political reform on the mainland during Xi's tenure.
The consequences of the "one child policy" are beginning to manifest themselves in a striking bulge of young men now having trouble finding suitable brides. Given the gender distortion this policy inflicted at home, the danger of a generation of "angry young men" unable to marry poses a major political problem for the government there. I believe this is one of the reasons Mr. Xi has highlighted national pride and the "Taiwan problem" — to distract his youthful population from other more real concerns closer to home.
President Tsai has been cautious not to provoke the mainland. But her understandable refusal to embrace the "92 Consensus" with its heavy emphasis on the "one China" principle is being used by Xi as a pretext to ratchet up tension. Though representatives from the two sides see each other at APEC and other international gatherings, the whole tenor of cross-strait interaction has languished, due to Mr. Xi's aggressive stance. His refusal — again — to allow Taiwan representatives to attend this spring's annual WHO Assembly in Geneva only highlights his desire to belittle and humble Madame Tsai and her government. This continues despite a careful policy on Taipei's part not to unnecessarily provoke the mainland.
Through all of this, we have seen swings on the part of the US Government under Mr. Trump. From his acceptance of a congratulatory phone call by President Tsai to his apparent "bromance" with the flattering Mr. Xi, the American President has failed to demonstrate consistency in his policy toward cross-strait matters. The US Congress has been more forthcoming, passing the Taiwan Travel Act (which Trump signed) and issuing supportive statements toward Taipei on a regular basis. High-level Congressional visits to Taiwan have also underscored America's enduring support for our longtime partner.
Significantly, the Trump Administration has continued to sell essential defensive weaponry to Taiwan. That said, more needs to be done to upgrade Taiwan's aging fighter planes and address missile defense as China continues to flex its military muscles. It would also be helpful if the US could find ways to quietly assist Taiwan's indigenous submarine development.
Taiwan's neighbors could do more to help stabilize cross-strait relations. But other than Japan's consistent strong support, as well that of the few Pacific island nations still enjoying formal diplomatic relations with Taipei, most of East Asia is trying to stay out of the cross-strait tangle. Vietnam, Indonesia, Australia and India are particularly unhappy with China's growing assertiveness in the Southeast Asia region, but this has not translated into meaningful cooperation with Taiwan. That would be helpful, but is probably not likely to develop anytime soon.
Thus much depends on the continuing material and moral support of the United States for plucky little Taiwan, as it faces renewed threats to its livelihood and sovereignty. The decline in formal diplomatic partners, while an understandable concern in Taipei, should not be overstated. So long as the United States remains committed to our longstanding democratic partner across the Taiwan Strait from its overbearing neighbor, things will be fine.
Ambassador Stephen M. Young (ret.) lived in Kaohsiung as a boy over 50 years ago, and served in AIT four times: as a young consular officer (1981-'82), as a language student (1989-'90), as Deputy Director (1998-2001) and as Director (2006-'9). He visits often and writes regularly about Taiwan matters. Young was also US Ambassador to Kyrgyzstan and Consul General to Hong Kong during his 33-year career as a foreign service officer. He has a BA from Wesleyan University and a PhD from the University of Chicago.
Comments will be moderated. Keep comments relevant to the article. Remarks containing abusive and obscene language, personal attacks of any kind or promotion will be removed and the user banned. Final decision will be at the discretion of the Taipei Times.