Abraham M. Denmark On Taiwan: A role for Taiwan in the Indo-Pacific
During his epic November trip across Asia, President Donald Trump announced a new strategy for the United States in the region — promoting a free and open Indo-Pacific. Not lacking in ambition, the strategy clearly signaled Washington's interest in strengthening its power and influence in the region, though the specifics of this strategy apparently remain under development. Among many others, one key question that remains to be addressed is what role Taiwan may play, if any, in this strategy.
Due to the unofficial relationship between Taiwan and the United States, official exploration of any role for Taiwan in this strategy entails some unique challenges. Nevertheless, Taiwan has a significant potential role to play in supporting a free and open Indo-Pacific in several ways, and the Tsai Ing-wen (蔡英文) government has already put many of the key pieces in place for Taiwan to play an important role in this strategy.
BUILDING CAPACITY IN SOUTHEAST ASIA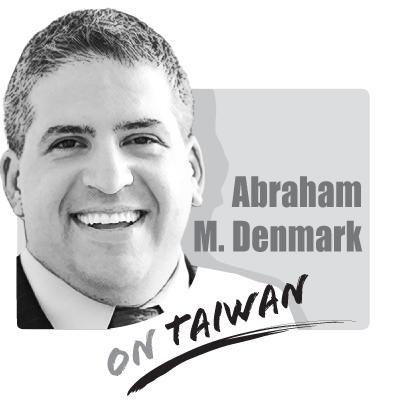 Ensuring that smaller nations have the ability to defend their own sovereignty and resist coercion by larger powers will be a critical aspect to maintaining a free and open region. Considering its unique status, its close proximity to mainland China, and the persistent potential challenge of coercion from Beijing, Taipei is uniquely positioned to assist like-minded partners in Southeast Asia in these endeavors.
One particular area where Taiwan could play an especially helpful role would be in building capacity among the navies and coast guards of Southeast Asia. Taiwan's maritime forces are robust and highly capable, and Taiwan can help partners across Southeast Asia to better maintain and more effectively utilize their burgeoning maritime capabilities. This can be accomplished rather simply by conducting small maritime exercises, exchanging naval and coast guard officers and trainers, and providing technical assistance when needed.
Such a program would enhance the ability of Southeast Asian partners to accept more advanced capabilities from the United States and other countries, and to ensure those capabilities can be sustained and effectively utilized well into the future. Moreover, this program would help tie Taiwan more closely in the with region, and could potentially facilitate greater levels of exchange between Taiwan and like-minded Southeast Asian partners across other subject areas.
BUILDING INFRASTRUCTURE
Construction of infrastructure — especially in South and Southeast Asia — has become a new arena for competition between China and its regional competitors — Japan and India. Most famously, Beijing's Belt and Road Initiative (BRI) has driven a wide range of infrastructure initiatives across the region worth an estimated US$1 trillion. At its heart, China's infrastructure strategy has been to enhance regional connectivity with China, in an attempt to more firmly place China at the center of the region's economic (and, therefore, geopolitical) destiny. In South Asia, especially, this has meant a series of "North-South" infrastructure initiatives that connect the region to China and connect China directly to the Indian Ocean, thus allowing China to (at least partially) bypass the Southeast Asian littoral and its associated chokepoints.
Less well-known than BRI have been similar efforts by India and Japan to build infrastructure across the region. Yet while Beijing has primarily sought to improve "North-South" connectivity, Delhi and Tokyo have focused on improving intra-regional connectivity, primarily through several "East-West" infrastructure projects. This has included joint efforts to aggressively develop infrastructure projects in India's northeast, as well as a major joint effort to build infrastructure in Africa through the Asia Africa Growth Corridor. While lacking the grand ambitions and deep pockets of BRI, the promise of like-minded states cooperating in building infrastructure to enhance regional economic interconnectivity is clearly a new arena for geopolitical competition in the region.
Taiwan has a major potential role to play in building regional economic connectivity in South and Southeast Asia. By promoting Taiwan's construction companies to build infrastructure projects across the region, Taipei could both buttress its role in the region's economic destiny while also opening new business opportunities for Taiwan's private sector. While Beijing will likely object to such activities, partnering with other nations — like Japan, India, and the United States — would likely mitigate such reactions from Beijing.
MINIMIZE IRRITANTS IN THE SOUTH CHINA SEA
Unfortunately, efforts to integrate Taiwan into the US Indo-Pacific strategy is not without hurdles. Most significant will be persistent differences between Washington and Taipei over the South China Sea. Importantly, Taiwan has consistently supported key principles that the United States has long held as essential to a free and open region — the peaceful resolution of disputes, freedom of navigation and commerce, and the sovereignty of all states to make decisions for themselves free from threat or coercion.
Nevertheless, aspects of Taiwan's approach to the South China Sea will likely remain a challenge in its unofficial relationship with the United States. The reality is that Beijing's nine-dash line claims is rooted in the history of the Republic of China, and Taipei's claims in the South China Sea largely mirror those of Beijing. More immediately, however, is the status of Taiping Island (太平島, also known as Itu Aba).
Taipei has long seen Taiping Island as a significant strategic asset. It is one of the largest features in the South China Sea, and Taiwan's leaders have previously identified it as a potential base for humanitarian operations. These ambitions have in the past run afoul of American sensitivities to exacerbating disputes in the South China Sea. The 2016 ruling by the Permanent Court of Arbitration that Taiwan's claim to Taiping Island were not compatible with international law, and that Taiping is legally not an "island" but a "rock," meaning it could generate an exclusive economic zone (EEZ) or continental shelf, further exacerbated tensions between Washington and Taipei over this issue.
Such tensions are unlikely to dissipate any time soon. Washington and Taipei would be best advised to manage these issues and avoid incidents that highlight these disagreements.
PLUGGING IN
Knowledgeable readers may have noticed that many of these efforts to enhance Taiwan's role in the Indo-Pacific fit well within President Tsai Ing-wen's much-vaunted "New Southbound Policy," which seeks to strengthen Taiwan's ties to countries across South and Southeast Asia by leveraging Taiwan's national assets in several arenas. Yet this strategy has been hampered by limited resources and Taiwan's increasingly narrow international space as a result of increasing sensitivity from Beijing.
This means that there is a remarkable confluence of interests and strategies between Washington and Taipei. Both seek to improve connectivity across the region, both share concerns about the spread of Beijing's geopolitical power through its economic ambitions, and both share deep commitments to the rule of law and other principles that will be critical to the success of a free and open Indo-Pacific.
It is therefore incumbent on strategists and policymakers from both sides to take advantage of this confluence of converging interest and principles, enable Taiwan to plug into the Indo-Pacific strategy. The two sides should establish inter-agency working groups that are tasked with identifying opportunities for cooperation between Taiwan and the United States in these areas and implementing initiatives that would allow Taiwan to plug into this still-developing strategy.
American power and influence in Asia has long been founded on the strengths of its alliances and partnerships in the region. Taiwan is no different — relations between Washington and Taipei, though unofficial, have played a critical role in US strategy toward the region for decades. Today should be no different, and the two sides should seize on the remarkable opportunity they have to help one another in advancing their shared objectives and mutual interests.
Abraham M. Denmark is director of the Asia Program at the Woodrow Wilson International Center for Scholars, and formerly served as deputy assistant secretary of defense for East Asia. The views expressed are his own.
Comments will be moderated. Keep comments relevant to the article. Remarks containing abusive and obscene language, personal attacks of any kind or promotion will be removed and the user banned. Final decision will be at the discretion of the Taipei Times.