Chinese cities easing residency curbs fueling property demand
Provincial capitals are easing household registration curbs for educated people in a bid to lure talent, but critics say the schemes aim to boost government revenue and risk fueling a rise in property prices
China's provincial capitals have discovered a way to keep apartment sales booming by making it much easier for graduates to get coveted household registration permits.
Authorities in the cities said the main aim is to lure talent to make their labor pools more attractive to companies.
However, the policies are undermining the authorities' efforts to control property speculation and are artificially propping up prices, critics in the real estate and securities industries have said.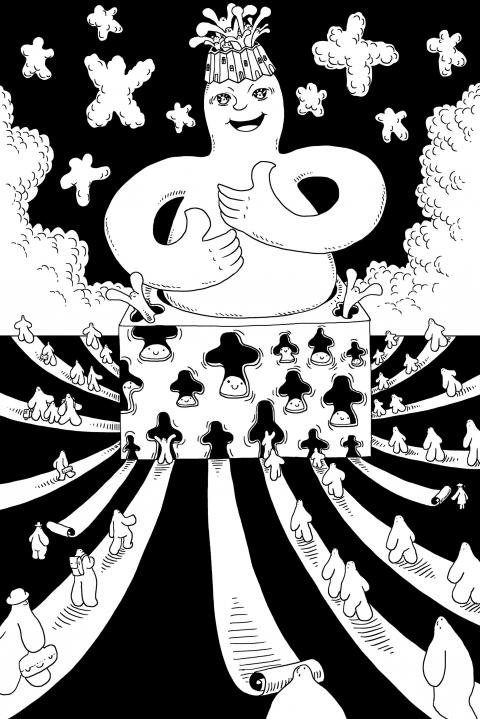 Illustration: Mountain people
The permits, known as hukou (戶口), have been used to control internal migration in China for many years. Without a permit, a resident of a city might not be able to get a whole slew of public services, including education and healthcare, and would sometimes have to live on the margins of society.
Now, cities such as Chengdu — the capital of Sichuan Province — are reversing the process by handing out hukou to college degree holders. In Chengdu's case that is anyone under the age of 45.
Not only that. They are in some cases providing these graduates with cash incentives if they buy an apartment.
For example, any post-doctoral degree holder who takes up hukou in Zhengzhou, capital of Henan Province, would be handed 100,000 yuan (US$15,617) for a first home purchase. For college degree holders the incentive is 20,000 yuan.
As a result, hundreds of thousands of people have been able to buy properties that were otherwise off limits for them.
Take 27-year-old graduate Peter Li, who faced barriers to buying in Chengdu last year because he was from Gansu Province in the northwest.
Then in July last year the new policy was introduced and he bought a three-bedroom apartment in the upscale high-tech zone of the city.
"Getting a hukou through the talent policy was a more convenient way to get around the housing curbs," said Li, who moved to Chengdu, which has 17 million people, to work as a product manager in 2016.
By the middle of this month — just more than five months after the change — more than 120,000 people had been able to get a Chengdu hukou through the new policy, Chengdu's official Talent Work Leadership office said.
And Chengdu's resale market soared. The number of sales registered with the housing bureau, which could lag real-time transactions by up to two months, climbed to 8,798 last month, up 40 percent from July last year's 6,252, data from Chengdu property net showed.
The local real-estate portal says it tracks data published daily by the Chengdu housing bureau.
Average prices in some prime locations had risen to about 16,000 yuan (US$2,498) per square meter last month, up about 30 percent from their levels in July last year, according to data from property realtors, including Fang.com.
"DISGUISED" SUPPORT
At least 10 other provincial capitals, including Wuhan and Changsha in Hubei and Hunan provinces respectively, have also loosened their hukou rules, and some have offered incentives.
In such cities the changes have effectively weakened existing curbs brought in over the past year to tame speculation.
That has prevented price falls and in some cases helped to trigger significant price increases, according to property agents and analysts.
"It's a disguised way for the government to relax the curbs," said a Chengdu-based agent at Lianjia, a large Chinese real-estate agency, declining to be named as she was not authorized to speak to the media.
Traditionally, China's four top-tier cities — Beijing, Shanghai, Guangzhou and Shenzhen — have been the most sought-after destinations for young and educated migrants seeking higher pay and better opportunities.
By contrast, less developed tier-2 provincial capitals have mainly been a magnet for people from smaller cities within the province.
While hefty living costs, soaring property prices and pollution have seen some reverse in flow from top-tier cities to provincial capitals, the wages gap is a big turn off.
Chengdu's average white-collar salaries in the third quarter of last year came in at 6,910 yuan per month, about 43 percent less than the figure in Beijing, according to Zhaopin.com, one of China's biggest recruitment portals.
Six property agencies in Chengdu surveyed by Reuters estimated between 50 and 70 percent of their sales have been made off newly minted Chengdu hukou holders in recent months.
PARTY BACKING
The effects are gradually being felt at the national level. Official data on Thursday last week showed that China's new home prices accelerated to a five-month high last month, with property prices in tier-2 cities recording the strongest price growth.
The Chengdu government, in a faxed response to reporters' questions, said that it did not set the bar excessively low for outsiders, stressing the importance of attracting talent as the city aspires to mirror the success of China's top-tier cities.
The city will "continue to satisfy the needs of first-time home buyers and their rigid demand, and those who want to improve their housing conditions, while cracking down on speculation," the city government said.
Home buyers are still subject to tightening measures such as having to hold on to their properties for at least three years before selling.
China's State Council Information Office, which doubles as the Chinese Communist Party's communications arm, said that the moves undertaken by the tier-2 cities would only increase the size of qualified home buyers "by a small scale."
Such demand — seen as the opposite of speculative forces — is in line with the view from China's top leaders that "homes are meant for living, not for speculation," it said.
The office applauded the cities' "effectiveness and timeliness" in expanding their respective talent pools as the country strives for more balanced and higher quality growth, especially in its less prosperous hinterland.
Still, there is concern that the strategy will end up being counterproductive by fueling price rises, which in turn could make apartments too expensive for many people born and bred in these cities, building resentment against the city's government and the newcomers allowed hukou.
There is also skepticism that this is really about attracting higher-educated people to these cities. Instead, critics suggest that it is largely about raising local government revenues through land sales.
Land sales make up a big chunk of local government revenue in many tier-2 cities that have adopted the new talent policy. Chengdu's total land sales in 2016 were equivalent to about 52 percent of its annual fiscal budget revenue, according to a Reuters calculation based on official figures and figures reported by state media.
The policy might also help to boost the amount of new construction land that the central government grants local governments for sale as it routinely sets annual construction land quotas.
Population growth could be used as leverage during the process, government sources familiar with the matter said.
"Having a diploma is not a big thing in China nowadays," Hong Kong-based ING economist Iris Pang said.
A record 8 million students graduated from Chinese universities last year — nearly 10 times the number in 1997.
Pang said without a proper set of criteria, such as a salary floor, the policy will fuel property price rises.
"It shows that local governments are very desperate to attract demand. It could mean that there is a fear of oversupply in those lower-tier cities," Pang said.
Comments will be moderated. Keep comments relevant to the article. Remarks containing abusive and obscene language, personal attacks of any kind or promotion will be removed and the user banned. Final decision will be at the discretion of the Taipei Times.