Walter Lohman On Taiwan: Optimism for US-Taiwan relations
2017 was an eventful year for US-Taiwan relations. It started on the heels of the famous phone call between President Tsai Ing-wen (蔡英文) and President-elect Donald Trump. It ended with a new US National Security Strategy that made the most positive statement about Taiwan since 2002.
In between, there was a lot of good news — including Tsai's well-executed transits through the US, a major arms sale, major attention to Taiwan in the National Defense Authorization Act, and Trump's choice of a trusted friend of Taiwan to serve as assistant secretary of defense.
There were also moments of concern — always touching on China. Trump took back his initial questioning of America's one China policy. He welcomed Xi Jinping (習近平) to Mar-a-Largo and was feted in Beijing like an emperor. Every interaction between the White House and representatives of the government in Beijing appeared in Taipei to be pregnant with a new accommodation that would sacrifice its interests. In fact, Taipei seems perpetually on guard against a "fourth communique," something that never actually seems to be on the agenda. And there are now concerns over Trump's pick for Assistant Secretary of State for East Asian and Pacific Affairs — that she is too sensitive to Chinese concerns, and that Taiwan will take a back seat to broader great power dynamics.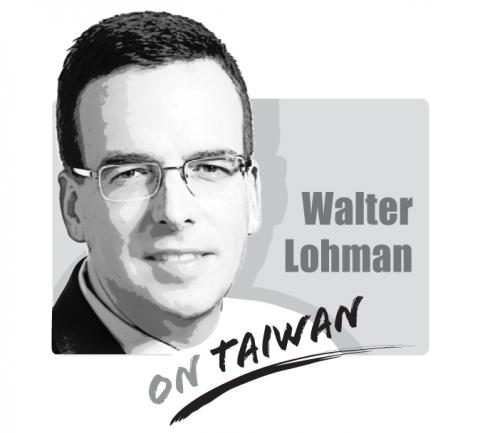 Throughout 2017, observers went up and down between hope and worry. Through it all, I found myself tempering expectations on both sides of the spectrum. Following the phone call and Trump's tweet questioning the one-China policy, I tried to tamp down expectations of my Taiwanese friends. Scrappin one-China policy in either word or deed was never on the cards. The US is going to maintain a serviceable relationship with China. It's never going to be "good." But it is not going completely off the rails either. America's unique one-China policy is part of what guarantees this.
By the same token, the US is not going to abandon Taiwan. The Taiwan Relations Act sees to this. Trump and his team are of no mind to break American commitments to Taiwan. But even if they were, it is an issue that is much bigger than the White House. It is bigger than an assistant secretary of state — who at any rate I think we will find reflects nothing more nefarious than traditional state department caution vis-a-vis Beijing. It's bigger than a presidential tweet. In fact, it's bigger than the executive branch as a whole. Congress has a say, too. And today Taiwan's friends in Congress are more energized on Taiwan than I have seen them in more than a decade.
Taiwanese anxieties are understandable. The fact that the US is Taiwan's only one full-service friend in the world — and even that has its constraints — focuses an extraordinary amount of attention to goings on in Washington. I can also appreciate that the Trump administration has had an uneven start. Unpredictability has its uses in international relations. One of them is not reassuring friends and allies. Neither has communication between the US and Taiwan been what it should be. In the absence of real information, it is hard to blame Taipei from assuming the worst.
But I think if it looks at all the indicators, Taipei should be hopeful heading into 2018 and beyond. Not only will the US not compromise its commitments to Taiwan, it will very likely strengthen them. Some of these things will not please Beijing, but they will be in keeping with US diplomatic commitments to it — as Washington interprets them. I expect this administration to continue stretching the boundaries of the restrictions imposed by State Department lawyers on contact with Taiwan. I would look to a robust schedule of arms sales that addresses some of Taiwan's greatest needs — like fighter aircraft and submarine technology. I think we will see progress on the economic front. The White House is not finding much enthusiasm out there for the bi-lateral trade FTAs it says it wants to replace the Transpacific Partnership. If Taiwan raises its hand, it will probably find a willing partner.
All of these things, however, will require more than eagerness. They will require seriousness. On arms sales, we need Taiwan to be realistic both on mission and budget in determining their needs — something that will hopefully be aided by greater military-to-military contact and a new consultation process. On economics, Taiwan will have to demonstrate a willingness to tackle contentious market access issues. And through it all, Taiwan will need to keep the onus of tension in Taiwan-China relations on China. As soon as Beijing can reasonably claim the breakdown is Taipei's fault — it cannot thus far — progress in US-Taiwan relations will be jeopardized.
All things considered, 2017 was a good year for US-Taiwan relations. Going forward, they can be even better. As partners, we just need to keep our eyes on the ball. Things will happen that reassure us. Things will happen that worry us. We will need to remain vigilant. But we know each other well enough to know that there are far more things — and people — that bring us together than separate us.
Let us take faith in that.
Walter Lohman is director of the Heritage Foundation's Asian Studies Center.
Comments will be moderated. Keep comments relevant to the article. Remarks containing abusive and obscene language, personal attacks of any kind or promotion will be removed and the user banned. Final decision will be at the discretion of the Taipei Times.