Corporations stepping up to save the planet
As Donald Trump reneges on the US' climate change commitments, progressive businesses in many countries are implementing measures themselves
When US President Donald Trump announced his intention to withdraw from the Paris climate agreement, one might have anticipated a hearty cheer from industry around the world relieved that business as usual could continue.
Instead the opposite has happened. Across the US, the business community is taking it upon itself to implement the measures needed to address climate change.
In Australia an increasing number of major companies are publicly stating their commitment to addressing climate change, even as the Australian government drags its heels on implementing policies to address the crisis.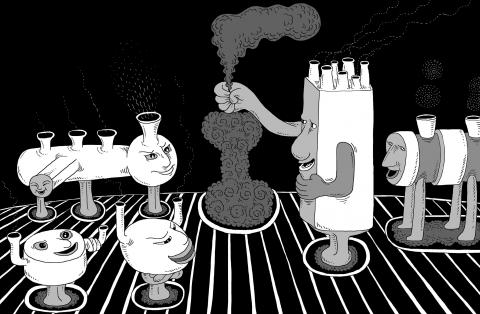 Illustration: Mountain people
Companies around the world — from small family-run enterprises to Fortune 500 firms — are not only calling for action on climate change, but also putting their money where their mouth is.
WWF climate change and energy senior vice president Lou Leonard said companies are coming to understand the impact of climate change on their businesses.
"If you're a company that either grows food in the heartland of the United States or ships it down the Mississippi and out to other countries, or you're a company that builds the components of wind turbines and solar panels, or you're a company that has a big retail footprint all over the world, climate change has come to you already," he said.
"I think that the understanding of those impacts has led those companies to again take action to begin to green their own footprint and their supply chains," he said.
NEW INITIATIVES
This understanding has also led to initiatives such as We Are Still In, an open declaration of continued support of climate action to meet the Paris agreement.
The letter has now been signed by 1,565 companies and investors, including giants such as Apple, Wal-Mart Stores, Microsoft Corp, Adidas AG, Facebook and Google, as well as leaders from 208 cities and counties, nine US states and 309 colleges and universities.
Another initiative called Unreasonable Goals, led by the Unreasonable Group, is partnering the private and public sectors — including entities such as the US Department of State — to help meet the 17 Sustainable Development Goals (SDGs) set at the UN in 2015.
Unreasonable Group founder and chief executive Daniel Epstein said that he believes business can save the world.
"I'm optimistic because I know that the entrepreneurs we align with at Unreasonable Group are the future titans of industry and because some of the world's largest companies are now pivoting their entire business models and supply chains to focus on sustainability," Epstein said.
One of those entrepreneurs is Australian "renewable" energy company Carnegie Clean Energy Co, which recently announced it has been selected as the industry partner to lead action on the seventh SDG: affordable and clean energy.
Carnegie Clean Energy chief executive Michael Ottaviano said the aim of the project is not to solve the world's "clean" energy problems in one hit, but rather focus on a particular region and provide the benchmark to upscale.
"I think we're at a point now — and maybe this point has only been reached in the last 12-18 months — where it is now just so apparent that renewable energy is the pathway forward," Ottaviano said.
ECONOMIC RATIONALE
"It's no longer just an environmental reason, which is a very good reason, but it's also an economic reason as well," he said.
Twenty-four of Apple's global facilities are now 100 percent powered by renewable energy — which includes the US and China — and 96 percent of its global electricity budget comes from renewable sources.
Retail giant Wal-Mart is aiming to have 50 percent of its operations powered by renewable energy and achieve zero waste to landfill in four of its larger markets by 2050.
Australian travel company Intrepid Travel has announced it would double the carbon offset contribution it makes for all its US tours, stating that it can "no longer wait for our government leaders to take action on climate change."
Its commitment amounts to an additional 3,000 tonnes of carbon dioxide being offset this year, on top of Intrepid's existing commitment to offset all of its trips.
"We feel it's our responsibility to make sure that we are actually trying to contribute back to areas such as climate change; something that the tourism industry is both impacted by, but also a contributor to," Intrepid Asia-Pacific regional director Brett Mitchell said.
Intrepid Travel has been carbon neutral since 2010, but these actions come at a cost; Intrepid has spent more than US$1.5 million on renewable energy projects, but Mitchell said it is definitely a worthwhile investment.
"We believe very strongly in climate change; it is real, it does exist and we need to do something about it," he said.
A decade ago, business might have been happy to sit back in the absence of political or regulation on climate change and save itself both trouble and cost, but Leonard says that is no longer the case.
"We realize that our future is wrapped up in the success of this effort and therefore we certainly don't want the United States to be pulling back, we certainly don't want to risk trade tariffs on our goods, we don't want to risk access to markets in other countries," he said.
POLITICIANS NEEDED
Does this mean business alone can deliver what politics cannot?
Leonard said that while companies can take the lead on climate change action in the short term, eventually politicians will need to and create the policy framework to drive rapid reduction in emissions.
However, in the meantime action by industry is filling the gap.
"We need the leadership of real action in the real economy in the United States that can create a bridge to the time when we have the politics that will allow us to get the policy that we need," Leonard said.
"We need that political normalization that comes when actors like this step up and say this just makes sense," he said.
Comments will be moderated. Keep comments relevant to the article. Remarks containing abusive and obscene language, personal attacks of any kind or promotion will be removed and the user banned. Final decision will be at the discretion of the Taipei Times.