Job discrimination case raises questions of transgender rights in China
A transgender man who was denied a position for being 'unhealthy' says that potential employers stop calling the moment they learn that he is transgender
A labor arbitration panel in Guizhou Province held a hearing on Monday in what is being described as China's first transgender job discrimination case. A ruling is expected this month in the case, brought by a man born a woman, who said his former employer fired him for wearing men's clothes.
The 28-year-old plaintiff, who has been identified in Chinese state media only as "Mr C," said in an interview that he had considered himself a man and worn men's clothes since college.
Mr C said he had applied for a sales job with the Ciming Health Checkup Center in Guiyang, the capital of Guizhou, in April last year.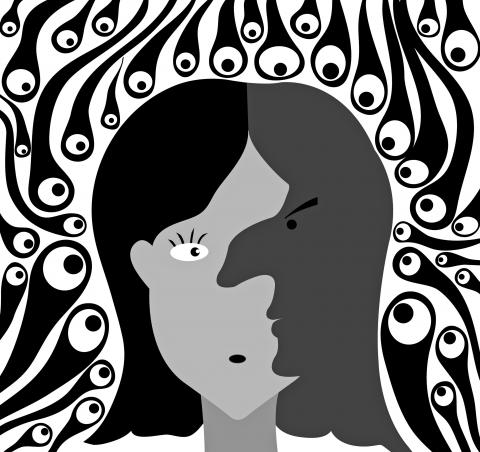 Illustration: Lance Liu
He said he passed a face-to-face interview in men's clothes with the company's human resources manager, Jin Yuping (金玉萍).
Mr C said the manager was aware that his biological sex was female and did not object when he left blank the "gender" box on his application form.
Jin told him he would have to learn the ropes for seven working days before signing an official employment contract, he said.
However, when he and his mentor visited Jin's office after the probation period, she asked Mr C to wait outside.
"My mentor later told me that she said she felt there was something wrong with me at first glance and said I must be gay because I dress this way," Mr C said of Jin in a telephone interview from Guiyang. "The mentor also told me she said something like: 'We are a health checkup firm. How can we provide services to customers if our employees are unhealthy?'"
Mr C said he went to the manager to explain that he was transgender, not homosexual, and that he was in no way unhealthy, but to no avail.
"I was infuriated and surprised," Mr C said. "I don't want to be called gay because in that way I'm admitting that I'm a woman."
"And even if I am gay, how can she say I'm unhealthy?" he said. "How can a health checkup firm not know that homosexuality is no longer considered a disease?"
In 2001, the Chinese Psychiatric Association removed homosexuality and bisexuality from the list of illnesses in its diagnostic manual, the Chinese Classification of Mental Disorders.
Mr C's lawyer, Huang Sha (黃沙), said he was able to establish a labor relationship at the hearing on Monday even though no contract had been signed, because Mr C had kept a recording of his conversation with Jin from when he was fired and because the company had admitted to the hiring at a mediation session late last month.
"The reason they provided for firing Mr C, which was his gender expression, is not included in the list of reasons for dismissal in China's labor law," Huang said.
Mr C has asked for a week's wages and a month's salary, which would total about 2,000 yuan (US$300), Huang said.
Mr C said he was also hoping that the company would offer a written apology, although a labor arbitration panel does not have the power to order that.
Mr C said he planned to bring the case to court if the company refused to apologize.
Huang said although the company said it had dismissed Mr C for incompetence, it provided no evidence to support this assertion. He said the company also said Mr C had failed to wear its uniform, but later said uniforms were provided only to employees who had completed their probation periods.
A woman who answered the phone at Jin's office on Monday afternoon said that Jin had gone out and that it was unclear when she would return.
Mr C, a journalism graduate who has run a lesbian, gay, bisexual and transgender (LGBT) support group for nine years, said he had heard of job discrimination, but had never expected to experience it.
Before the job at Ciming, he said, he had interned at a television station and worked for an insurance company, and in direct sales without encountering any prejudice.
However, his dismissal from Ciming shattered his self-esteem, he said, and he began volunteering information about his transgender identity in job interviews to avoid later misunderstandings.
"I would tell them, I work and live as a man, but I am capable," he said, adding he has interviewed for five or six jobs this year and does not remember the number for last year. "But as long as I said I was transgender, I never hear back from them."
Mr C said he remained jobless and that his parents and girlfriend had been financially supporting him.
He said he met Huang, the lawyer, in January at a forum on gender minorities in the southern city of Shenzhen and learned that Ciming could have violated the law in firing him.
He filed his case on March 7. On March 14, he was notified that his case had been accepted for arbitration.
"Actually, we are suing in the hope that the case could help push for an anti-job discrimination law," Mr C said. "The compensation means nothing to me."
Sun Xiaomei (孫曉梅), a women's studies professor at China Women's University in Beijing and a delegate in the Chinese National People's Congress, said in an interview that Mr C's case could raise awareness of the difficulties transgender people face.
"My view is that transgender people's rights to employment, their basic right to make a living, must be guaranteed," said Sun, who has proposed anti-discrimination legislation that includes gender minorities.
Tingting Shen (沈婷婷), a Beijing-based director of advocacy, research and policy at Asia Catalyst, a New York-based nongovernmental organization that focuses on health issues in China and Southeast Asia, called the case "a milestone in China's transgender rights movement."
"In recent years, gay and lesbian rights movements have received greater attention, but the transgender voice is absent," she wrote in an e-mail. "This case breaks the silence of transgender people."
She said job discrimination against transgender people was "pervasive" in China and that many were forced into commercial sex, because they were unable to find other work.
China has seen several high-profile court cases involving LGBT rights in the past couple of years.
In August, a student sued the Ministry of Education over textbooks that described homosexuality as a disease.
On Wednesday, a court in Hunan province was set to hear a case in which a gay couple has sued a local civil affairs bureau for not allowing them to marry.
Comments will be moderated. Keep comments relevant to the article. Remarks containing abusive and obscene language, personal attacks of any kind or promotion will be removed and the user banned. Final decision will be at the discretion of the Taipei Times.