Paying the final bill for the Sochi Olympics
The infrastructure built for the Winter Olympics might help with future events, but some say investigations are needed into allegations of corruption and poor planning
Even before yesterday's closing ceremony, contractors and investors in Russia's Winter Olympics were scrambling to make sure their books balanced before Russian President Vladimir Putin launches a face-saving audit of the Games.
After months of criticism over the record-breaking price tag and allegations from members of the opposition of fraud and corruption, Putin has signaled that reports of corruption, waste or abuse of funds will be investigated after the event, if there is evidence.
"A very large amount of money has been invested. Now is not the time to discuss whether it was worth it, or whether the prices were inflated or not. Let the supervisory bodies deal with that, and they will deal with it," Putin told Sochi city officials shortly after the Games began this month.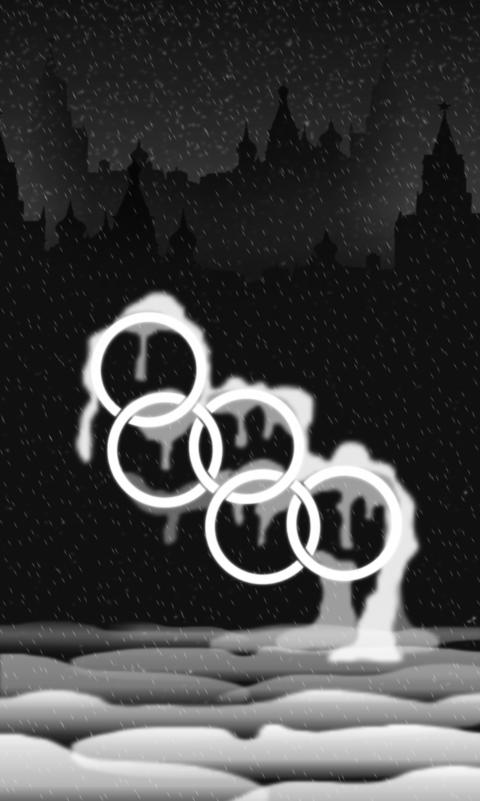 Illustration: Yusha
However, instead of singling out the high-profile businessmen who splashed out to build glittering stadiums, hotels and a costly railway to the ski slopes, many Russians think he is more likely to look for scapegoats among local and lower-ranking officials.
That way he can satisfy public calls for punishment, but minimize the political fallout, political analysts say.
Sochi has had an Olympic facelift to bring the dreary Soviet-era resort loved by former Soviet leader Josef Stalin into the 21st century.
However, perched on a plastic chair before lines of officials in suits, Putin made clear he was not entirely happy with it.
He praised the mountain facilities, new sewage works and roads and the more than 40,000 hotel rooms provided by his oligarch friends as their part of the bargain to make Russia look good at the Games.
Sleek seafront hotels of glass and steel now tower over the updated port in central Sochi, where huge cruise liners have been docked since the Olympics opened on Feb. 7.
However, away from the palm tree-lined seafront, Sochi is dotted with the grey empty shells of half-finished apartment blocks and their attendant cranes. Along the new train track to the mountains lie the concrete hulks of derelict buildings.
Putin was not impressed.
"I do not think that it [Sochi] has got much better. In fact, just the opposite. When people are talking, they say: 'When will you stop building chaotically and senselessly in the town?'" he said.
When regional lawmaker Mikhail Milenin tried to defend the state of the city, Putin accused officials of failing to stop the chaotic development and concluded: "They do nothing."
Sochi Mayor Anatoly Pakhomov and Alexander Tkachyov, the governor of the Krasnodar region that includes the Olympic city, may have cause to worry, but lower-level officials will probably be the ones to lose out.
"There will be punishments, because society demands it, so they'll find someone to punish," said Sergei Markov, a pro-Putin political analyst and director of the Institute for Political Studies in Moscow.
He said lowly "clerks" in business groups or local administrations were likely to be the scapegoats.
"The opposition has managed to persuade people that there was widespread corruption here, and that cannot be ignored ... but also so no one 'robs' during the next big projects," he said.
The cost of staging the games and building the infrastructure around it is widely expected to come to US$51 billion, but an opposition report last year suggested about US$30 billion of this had been stolen or wasted.
Putin says he has seen no evidence of widespread corruption, but Russian officials have made it no secret that they want to pursue any contractor or official who may have skimmed off profits or received backhand payments.
With the economy flagging and costly election promises to cover, the Kremlin may also need to try to recover some costs.
Interviews with officials involved in the Olympic project make clear that Putin oversaw much of it — from the order to create the state company Olympstroi that organized sites, to checking the construction work along the way.
He also made sure Olympstroi set out strict deadlines and conditions for contractors, officials said, guaranteeing everyone knew that a failure to complete on time or on budget would incur costs.
Only one contractor has fallen foul of such conditions so far, but very publicly. Akhmed Bilalov, whose company was in charge of the ski jump complex, was sacked last year after Putin criticized delays and cost over-runs.
Instead of being punished for delays and cost over-runs at the ski jump, he was charged with embezzlement for spending large sums of money on trips, including more than US$63,000 on hotels in London for the Summer Olympics.
Bilalov fled the country. He denies the charges and says they were politically motivated.
In a country where success in business and politics depends on personal ties, the threat of investigations and prosecutions has led to speculation that a high-level scapegoat might yet be found after the Olympic curtain comes down.
Some of the media speculation has focused on Russian Prime Minister Dmitry Medvedev, not because of his role in the Olympic preparations, but because he is widely seen as a potential sacrificial lamb for Putin whenever things start to go badly.
Of the oligarchs who have helped Putin with the Games, Russian Railways boss Vladimir Yakunin is seen as the most vulnerable after criticism of the high cost of the railway line built from Sochi to Krasnaya Polyana in the Caucasus mountains.
The estimated US$8 billion price tag for the 50km stretch of track has astonished many people.
Yakunin's future has long been the subject of speculation because he received a dismissal letter last year that was later described as a hoax. A company source said his contract as head of state-owned Russian Railways runs out in June and a meeting of shareholders will decide whether to extend it.
"The duration of his job completely depends on the decisions of the country's higher authorities," the source said.
A spokesman declined to comment.
Vedomosti newspaper reported that Russian Railways, a prize asset carrying freight and about 1.3 billion passengers a year across the world's largest country, would have to pay 10.4 billion rubles (US$300 million) in damages for missing deadlines in building housing for volunteers and temporary personnel.
A company spokesman declined to comment on the report.
Other tycoons have won praise for their sports facilities, with US speedskater Heather Richardson announcing herself "really impressed with the venues, the villages, everything," which she said felt like Disney World.
The Interros company belonging to Vladimir Potanin, whose estimated US$14.3 billion fortune makes him the seventh-richest man in Russia, built the modern resort of Rosa Khutor, where the ski events are held, for 68.5 billion rubles.
It has won good reviews, suggesting Potanin has fulfilled his side of the bargain.
A spokesman for Interros declined to comment.
Oleg Deripaska, who has a fortune of US$8.5 billion, according to Forbes magazine, rebuilt Sochi's modern airport, a port and one of the Olympic villages. He has blamed some cost overruns at the port on Olympstroi, and he, Potanin and other contractors have asked for government help to cover some costs.
Interviewed on state television earlier this month, Deripaska was optimistic about his investments and the good effect they would have on Sochi.
His Basic Element company declined to comment.
Some officials have tried to play down expectations of dismissals after the Games, with Putin's Olympic organizer Dmitry Kozak saying there would be no "outbreak" of investigations after their end.
Officials are mindful that any such outbreak could hinder efforts to develop the site further for a meeting of the G8 leading industrial countries in June and the Russian Grand Prix in October, so it might pay to stay quiet.
"We often hear that we have spent some mad kinds of money on the Olympics," Putin's chief of staff Sergei Ivanov said, adding that most of the bill went on infrastructure. "But all this infrastructure helps us for the G8, because ... everything is ready. This is the legacy of the Olympics, among other things."
Comments will be moderated. Keep comments relevant to the article. Remarks containing abusive and obscene language, personal attacks of any kind or promotion will be removed and the user banned. Final decision will be at the discretion of the Taipei Times.