North Korea changes its ways to lure back defectors
Living in South Korea is far easier than living in North Korea — except, perhaps, for defectors from the North who struggle with the high-speed pace of life and separation from their families
North Korean leader Kim Jong-un is taking a new approach to defectors who have fled his impoverished and repressive state, promising they will not be harmed if they come home and even offering cash rewards, according to some in the exile community.
For some who return from South Korea there is even the chance of a stage-managed performance on state television, although what happens to them after their prime-time appearances is not known in a state where 200,000 people are imprisoned in gulags and where punishment extends to three generations of a family.
One woman last year apologized at a televised press conference in Pyongyang for betraying her motherland and thanked Kim for bringing her under his "profound loving care" while another dubbed South Korea a "shitty world with no love."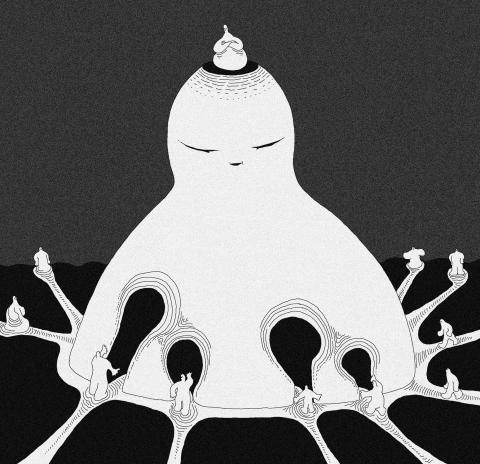 Illustration: Mountain People
That is in sharp contrast to the approach taken by Kim's father, who during nearly 20 years in power hid the issue and severely punished the families of those who defected, fearing they would undermine the state with their tales of the prosperous South Korea.
North Korean security agents have been visiting families in the reclusive state for at least the past year, telling them it would be safe for their loved ones in South Korea to come back, several defectors in Seoul said.
Some said they had even heard of people posing as defectors trying to tempt North Koreans in South Korea this year with a promise of 50 million South Korean won (US$45,000) and an opportunity to appear on television in Pyongyang if they returned.
"My mother said, 'If you have money, come back. General Kim Jong-un will treat you well,'" said one defector in her 30s who lives in Seoul, recounting a recent telephone conversation with her mother, who called her from a North Korean town on the border with China.
"Other defectors are getting that kind of phone call," said the defector, surnamed Lee, who asked that her full name not be used because she feared reprisals against her family in North Korea.
It is impossible to verify how many of the 25,000 North Koreans who have defected to South Korea have returned. One high-profile case this year involved a fisherman who stole a trawler and returned to North Korea for the fourth time.
Experts said Kim could be trying to show his people that instead of living happily in South Korea, defectors are miserable, have menial jobs and struggle to fit in — something defectors in Seoul say is not far from the truth.
While offering an olive branch to some defectors, Kim has also made it harder for North Koreans to escape by tightening security along the country's land border with China and defectors and their families still fill the country's prison camps, experts said.
While it is impossible to verify what happens to North Koreans who return, a diplomat in Pyongyang said a group of nine defectors who were sent home after being detained in Laos in May while trying to get to South Korea had not been harmed.
The UN had said it feared for the group, which included up to five minors and who like other defectors were trying to reach a South Korean embassy in Southeast Asia after having first traveled through China.
"They actually have been quite well treated since they have been back here," said the diplomat, who declined to be named due to the sensitivity of working in Pyongyang. An Amnesty International official also said there had been no reports the nine had been harmed.
"When defectors come back they are not all trucked to prison. What can happen is they are put on TV ... for propaganda," the diplomat said.
Exactly why Kim has taken a different view of defectors is unclear.
Several defectors said they believed he was trying to put his own spin on the issue because of the growing influence of an increasingly vocal exile community in the South.
The move also comes as pressure over human rights is mounting on Pyongyang with the recent appointment of members to a UN commission that will spend a year investigating possible crimes against humanity in North Korea.
Defectors will testify at unprecedented public hearings in Seoul this week as part of that investigation.
Better communications have also opened the way for regular contact between defectors and their families in North Korea — allowing stories of life outside one of the world's most isolated countries to seep back.
For example, defector groups in Seoul estimate that 3,000 phone calls are made each day to the North, routed through Chinese mobile networks along the 1,400km long land border that China shares with North Korea.
An estimated 70 percent of defectors in South Korea also send cash back to family via Chinese brokers along the border, according to a South Korean research institute.
While the younger Kim — who took power following the death of his father, Kim Jong-il, in late 2011 — has promised no retribution for returning defectors, he has tightened security at the Tumen and Yalu Rivers along the border with China, experts said.
Last year, the number of defectors entering South Korea fell 44 percent to 1,509 from 2,706 in 2011, South Korean government data shows. In 2010, 2,402 defectors arrived and 2,900 in 2009.
During the first quarter of this year, the monthly average of new defectors was down 15 percent from the previous year.
"Rumors that the regime will annihilate three generations [of one family] or that border guards will shoot to kill if anyone is caught crossing the river have swirled around a lot," said Cho Jung-hyun, a research fellow at the Korea Institute for National Unification in Seoul, who regularly interviews defectors. "On the other hand, under what's called 'benevolent politics,' the regime keeps sending out a message of embracing those who left in tough times without punishment."
Cho said recent arrivals had told him North Korean authorities were more thoroughly examining lists of missing persons to work out which families to put pressure on. Usually when someone defects, their families in North Korea report them as dead or missing.
Pyongyang has held at least six press events since last year with returning defectors that have been broadcast on North Korean state television. The most recent was in June.
All have had the air of choreography familiar to North Korea watchers.
The well-dressed returnees usually sing a song pledging loyalty to Kim and stand up to shout: "Great Marshal Kim Jong-un, thank you so much!" while pumping the air with their fists.
In one press conference last November, Kim Kwang-hyok called South Korea a "shitty world with no love."
Pak Jong-suk said living in South Korea made her feel like a "miserable slave." Pak was given a new house in Pyongyang, state media said.
South Korea's government has noticed Kim's apparent change of heart and one government official who follows the issue said returning defectors were being used for domestic consumption.
"By airing these press conferences in prime time, North Korea is using defectors for internal propaganda," the official said.
It was unclear how many had gone back under Kim's rule, the official said. He also had no information on purported defectors trying to entice North Koreans to return with promises of cash.
Pressure to return appears to be exerted in other ways, too. Just over a year ago, one North Korean defector in Seoul, a former state-sanctioned pop singer, began getting mysterious telephone calls in the middle of the night.
The calls lasted for months, with the caller usually saying nothing. He suspected it was North Korean security agents.
"I had nothing to say. It was too terrifying," the defector said. At around the same time, a North Korean security agent visited his parents saying he should return home.
His parents also attended a public lecture in which authorities promised no punishment if defectors went back.
Defectors in Seoul said Pyongyang's new approach tapped into their longing for family as well as the difficulty of adjusting to life in South Korea, a country whose per capita income is around 45 times that of the North.
New defectors get interrogated by the intelligence services to weed out spies before going to a settlement center south of Seoul for 12 weeks of training and counseling to help them get to grips with South Korea's hyper-competitive high-tech society.
They get subsidies for housing and study, as well as job skills training. Many end up doing jobs shunned by ordinary South Koreans.
Around 20 percent of defectors are unemployed, six to seven times higher than the average for South Koreans, the Database Center for North Korean Human Rights said early this year.
Kim Seung-chul, a defector who runs a Seoul radio station that broadcasts news into North Korea, said every defector sympathized with those who returned.
"Defectors all watch these press conferences. We know it's better to live here but the loneliness and hardship makes us feel like wanting to go back," said Kim Seung-chul, 52.
The former North Korean singer, who left his parents and siblings back in the North, said he believed returnees got a house and a job, but were put under watch.
"If they are caught with a small problem while being monitored, then it will be all over," he said.
Additional reporting by Se Young Lee and Stephanie Nebehay
Comments will be moderated. Keep comments relevant to the article. Remarks containing abusive and obscene language, personal attacks of any kind or promotion will be removed and the user banned. Final decision will be at the discretion of the Taipei Times.