Babies don't suffer when moms work, study says
The study found that the disadvantages of a mother with an infant working are balanced out by advantages such as higher levels of income and well-being for the mother, and access to better quality childcare
A groundbreaking study has found that mothers can go back to work months after the birth of their child without the baby's well-being suffering as a result.
By assessing the total impact on a child of the mother going out to work, including factors outside the home, US academics claim to have produced the first full picture of the effect of maternal employment on child cognitive and social development. Their conclusion will provide comfort for thousands of women who re-enter the job market within a year of giving birth.
"The good news is that we can see no adverse effects," said US academic Jane Waldfogel, currently a visiting professor at the London School of Economics. "This research is unique because the question we have always asked in the past has been: 'If everything else remains constant, what is the effect of a mum going off to work?' But of course everything else doesn't stay constant, so it's an artificial way of looking at things."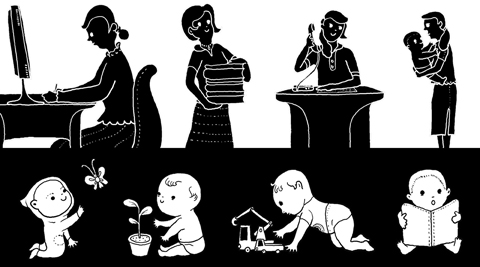 ILLUSTRATION: MOUNTAIN PEOPLE
"Family relationships, family income, the mental health of the mother all change when a mother is working and so what we did was to look at the full impact, taking all of these things into account," she said.
In one of the most fraught areas of social policy and research, several studies over the last two decades have suggested that children do worse if their mothers work in the first year of their lives.
Recent research by the Institute for Social and Economic Research at Essex University found that children of mothers who went back to work within the first three years were slower learners and a 2008 UNICEF study recommended mothers stay at home for the first 12 months or risk a "gamble" with their development. The Pew Research Center in Washington found extremely high levels of anxiety among women over the issue.
The new study, led by New York's Columbia University School of Social Work, was published last week by the Society for Research in Child Development. It found that, while there are downsides to mothers taking work during their child's first year, there were also significant advantages — an increase in mothers' income and well-being, and a greater likelihood that children attend high-quality childcare. Taking everything into account, the researchers said, the net effect was neutral.
"The effect of the parenting itself is the key factor," Waldfogel said. "It is hugely important how sensitive you are to your child's needs. Even for women who have to work more than 30 hours a week, they can make things better for themselves, they just need to take a deep breath on the doorstep, dump all the office worries behind them and go in the door prepared to pay attention to all their children's cues. This is good news for all mothers."
"I'm actually delighted to have been able to disprove earlier ­studies," she said. "We just had to ask some different questions and this approach of looking at the whole picture is definitely the right question to be looking at. This is especially good news for US mothers, who typically go back to work after three months because of the lack of maternity leave."
Waldfogel added that part-time work, up to 30 hours a week, provides more desirable outcomes than full-time employment. The authors attribute their striking findings to the exceptionally rich data used in the study, detailing parent-child interactions, income and childcare. They also used an analytic method that allowed them to calculate the total effect of maternal employment as it happens, taking into account all knock-on effects.
Parents and campaigners welcomed the latest findings. Siobhan Freegard, co-founder of the parenting Web site Netmums, said the results would be embraced by every working mother in the country, particularly because of the size of the study, and pointed out that many women had no choice but to work and said their attitude was often "we are doing our best."
Sally Gimson, director of communications at the Family and Parenting Institute, said the quality of childcare was key.
"Women should not feel guilty whatever choices they make — and that does not mean you have to make the choice to work. Often it is the more well-off women who have the choice, while many others have to work," Gimson said.
Sam Willoughby, 37, wanted to go back to her job at a financial services company part time after having her daughter, Alice.
"But they were incredibly inflexible," she said.
She decided not to return and now runs the Web site, mumandworking.co.uk, which aims to help mothers find flexible options both full and part time.
"So many things make working mothers feel awful, but the reality is, as this study shows, that going back to work is acceptable," she said. "I think it gives you a sense of self. There is a notion that mothers should spend all their time with their children, but I think that is wrong. I think you need to also do things that are just for you. And a career can give you that."
Julie Wilson, 43, returned to work full time when her first son, James, was six months old.
"We had a really good nursery nearby and it was absolutely fine," she said. "I really enjoyed my job and never considered changing my hours. I don't feel he missed me — he was happy at nursery. He was occupied all the time ... Later on it was really educational."
When her second son, Ben, was born four years later, Wilson returned to work again, this time part time. Wilson, who now works freelance, thinks the decision to work had no negative impact on the boys, now 12 and eight.
"Looking at James now, he is a very rounded individual," she said.
Comments will be moderated. Keep comments relevant to the article. Remarks containing abusive and obscene language, personal attacks of any kind or promotion will be removed and the user banned. Final decision will be at the discretion of the Taipei Times.