Schools experiment with paying pupils
A Stanford University study shows that school-based rewards programs can raise grades, but critics argue that their effect is short-lived
Friday is payday at KIPP DC: KEY Academy, and some sixth-grade girls gather at the makeshift school store trying to decide how to spend their hard-earned money.
They receive paychecks for behaving well, doing their homework or making academic gains. The money is pretend. But it can be used at the store for genuine items such as pens capped with fluffy feathers, pencil cases shaped like animals and colorful erasers.
Schools, under pressure to boost student achievement, are offering incentives— field trips and cash, for example — to motivate students. Some educators praise the idea as a way to motivate poor learners, but others worry it could wind up leaving students with less incentive to learn if the money for such programs dries up.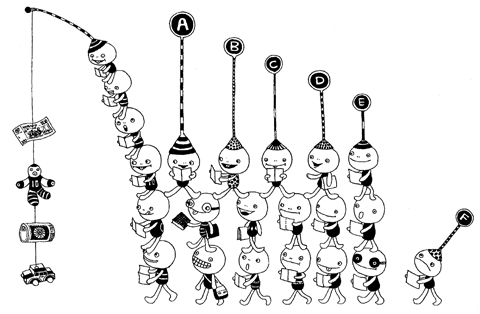 ILLUSTRATION: MOUNTAIN PEOPLE
At KEY Academy, a publicly funded, nontraditional school serving low-income, minority students in the US capital, Cherise Johnson Wallace proudly clutched a pencil case she bought at the school store. She was glad to have the trinket, but even happier about what it represented.
"It shows how I work very hard to earn good grades," she said, flashing a smile as she rattled off the subjects in which she earned top grades.
That kind of pride is what supporters of rewards programs point to. They say the prizes motivate youngsters at first, but that the children eventually form good study habits and become interested in succeeding regardless of whether rewards are on the line.
The KEY Academy principal, Sarah Hayes, is a believer.
The academy is among the city's top-performing schools, as judged by test scores.
"I think a lot of that is tied back to our incentives program because it reinforces to the students that our expectations of time on task are serious and that you get rewarded for them," Hayes said.
Studies into the effects of school-based rewards programs are limited. But research by an independent think tank at Stanford University indicated they can raise scores. A separate study examining schools in Ohio that paid students for passing state tests also showed score gains after the incentive program was enacted.
In New York, approximately 5,500 students can earn money for getting good test scores. The program is open to fourth graders, who can earn up to US$250 a year, and seventh graders, who can end the year with US$500 in the bank.
"We'll soon give out over US$1 million to fourth and seventh graders this year," said Roland Fryer, a Harvard University economist leading the experiment.
He said he is happy with the results so far.
Queen Makkada, president of the parents' association at a school participating in the program, said the fourth and seventh graders seem to be working harder. She dismissed those who say these kind of approaches amounts to bribery.
"What is the difference between this and giving children an allowance as an incentive for doing their responsibilities?" she said, adding that many parents in her neighborhood cannot afford to give youngsters an allowance. "This program allowed our children to experience what life is like when you have more to work with."
Some question the long-term impact of rewards programs.
Edward Deci, a psychology professor at the University of Rochester in New York and an expert on motivation, said rewards can persuade children to work harder to boost tests scores. But he said that effect probably would be short-lived.
"Will their motivation to be doing their school work or learning be positively impacted by that once the rewards stop? I think the answer to that is pretty clearly no," Deci said.
He also said there is evidence that once a reward is taken away, people become even less motivated than they were before the experiment began. He said that is true regardless of the reward's value.
He said schools must make learning interesting, so children want to participate and do well.
Fryer said more research is needed looking specifically at the effect of incentives in poor urban schools. He said it is so much more difficult for fourth graders in those communities to see how education will pay off years down the road.
"I just think we don't make any other kids in any other neighborhoods make that type of calculation," he said.
Rewarding students is not new. Putting gold stars on test papers and throwing pizza parties for high achievers have been around for ages. But the new programs are more systematic. They are often available on a school-wide basis or throughout certain grades rather than just doled out by select teachers, many times with their own money.
"You're not the teacher that has to go to the 7-Eleven to buy the bubble gum to give to the kids on Friday," Hayes said.
Today, money is more likely to be the prize offered than in the past, and it also is more likely to be tied to test scores.
Testing has gained immense importance under the 2002 No Child Left Behind law, which imposes increasingly stiff penalties on schools that fail to hit annual testing goals.
In addition to New York and Ohio, public schools in Baltimore and suburban Atlanta are among those that have experimented with incentive programs.
In Ohio, one teacher hung fake dollars from the ceiling, said Eric Bettinger, an economist who has studied that experiment.
Others, he said, would shout "Show me the money" to their students.
"As a parent, I kind of cringe," he said.
But, he added, the teachers were using these tactics to engage youngsters who appeared otherwise uninterested.
Many of the cash-incentive programs being tried are funded by private donations. Some experts wonder how such initiatives could increase in scale and be sustainable.
Fryer said the average cost of US$250 per child per year in New York is relatively inexpensive if it works. Public schools spend on average roughly US$10,000 per student annually.
Not everything that motivates students costs a lot. A popular incentive with students in the Stanford think tank study was lunch with the principal. At KEY Academy, getting top grades can earn students the right to wear jeans instead of uniforms.
"Wearing jeans just makes everybody feel special," said eighth grader Crystal Wright, who got that perk.
It is pretty clear Crystal was not only talking about the look of denim, but what the youngsters wearing blue in a sea of khakis had done in school to stand apart from the pack.
Comments will be moderated. Keep comments relevant to the article. Remarks containing abusive and obscene language, personal attacks of any kind or promotion will be removed and the user banned. Final decision will be at the discretion of the Taipei Times.