You say you want a constitution
Political soldiers have drawn the battle lines and dug the trenches for a hard-fought battle over the future of Europe
When EU leaders took delivery of Europe's first draft constitution at a summit in Thessaloniki, Greece, last June, it was with almost universal acclamation. \nThere was wide agreement that the text could save the EU from paralysis once it expands from 15 to 25 members next year, giving it more stable leadership and greater clout in the world. \nIt was too good to last. \nThe product of a unique 16-month public debate, the draft approved overwhelmingly by a convention of lawmakers and national representatives chaired by former French president Valery Giscard d'Estaing has become a battleground. \nFormer Italian prime minister Giuliano Amato, vice-president of the forum, recalled mixed feelings as he watched government representatives stand together for Beethoven's Ode to Joy, the official EU anthem, on the day the text was adopted. \n"I said to myself, they are doing this because there is a second round, not because they are convinced," he said. \nLess than four months later, the same leaders opened that second round on Saturday by drawing red lines, digging trenches and trading veiled threats to block agreement or cut off funds if they don't get their way. \nThe tone was polite, but unyielding. There was none of the thunder and personal venom that marked recent EU disputes over the Iraq war or agricultural subsidies. \nIn a bland joint statement, the leaders stressed that the constitution "represents a vital step in the process aimed at making Europe more cohesive, more transparent and democratic, more efficient and closer to its citizens." \nBut the sharp differences they set out over voting rights, the size and composition of the executive European Commission, defense cooperation and the role of religion set the stage for a struggle over power in an enlarged EU in the coming weeks. \nGrowing worry \nItalian Prime Minister Silvio Berlusconi's hopes of wrapping up a deal by Christmas seem far from certain to be realized. \n"I left Thessaloniki confident that we would achieve by the end of the year an agreement on a constitution that would be very close to what the convention proposed," Belgian Prime Minister Guy Verhofstadt told reporters. \nNow, he said he felt a growing worry that positions were drifting further apart. \nWhile the six founding members of the EU -- Germany, France, Italy, the Netherlands, Belgium and Luxembourg -- plus Britain and Denmark, want as little change as possible to the draft, the 10 mainly central European countries due to join the 15-nation bloc next year seek to alter the institutional balance. \nA majority of small states are afraid of being steamrollered by the five biggest countries and are determined to defend the disproportionate voting rights they won at the 2000 Nice summit and to each keep their national member of the EU executive. \nTheir suspicion that the "big boys" bend the rules to suit themselves has been hardened by the recent spectacle of France and Germany flouting the budget deficit limits they imposed on the entire EU in the 1990s to underpin the euro single currency. \nSmaller states, which made painful sacrifices to obey those rules, are furious at the prospect of Paris and Berlin escaping punishment in the name of spurious "special circumstances." Spain and Poland have dug the deepest trenches, fighting to preserve the weighted voting system adopted at Nice which gives them almost as much power as Germany, although they have only half its population. \nPrime Ministers Jose Maria Aznar and Leszek Miller, renowned as two of Europe's toughest negotiators, disavowed any interest in bargaining away their acquired rights for other benefits. That prompted French President Jacques Chirac and German Chancellor Gerhard Schroeder to draw an explicit link between a constitutional deal and the EU's future financing. \nThe threat was clear: if Poland and Spain, key beneficiaries of EU aid to poorer regions, want to avoid alienating Europe's main paymaster, Germany, they will have to yield. \nBut Madrid and Warsaw have EU law on their side. Unless there is a unanimous agreement to change the voting system, the Nice rules will continue to apply. \nEU experts fear that would create exactly the paralysis which the convention was established to overcome following the nightmare of the marathon wrangling in Nice. \nEuropean Parliament President Pat Cox warned the leaders on Saturday that it would be harder to get a "miserable lowest common denominator" treaty ratified if it unravelled the main achievements of Giscard's constitution. \n"A retreat to the Treaty of Nice would condemn the enlarged EU to gridlock," warned Claus Giering and Janis Emmanouilidis in a research paper for the Bertelsmann Foundation think-tank.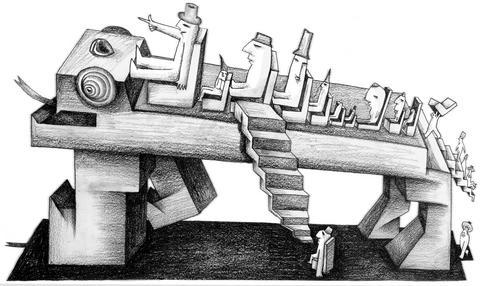 ILLUSTRATION: MOUNTAIN PEOPLE
Comments will be moderated. Keep comments relevant to the article. Remarks containing abusive and obscene language, personal attacks of any kind or promotion will be removed and the user banned. Final decision will be at the discretion of the Taipei Times.