An island not to be forgotten
In a keynote speech to a reception on May 16, 2000 in Geneva, Switzerland, given during the 53rd World Health Assembly, the then director of the Department of Health made the government's case for Taiwan to receive observer status in the World Health Organization. Despite his plea, the issue was again blocked from consideration by China, along with several other countries
This is my third time to be invited to Geneva to make a speech. I am pleased to be here again to greet you and, as I did before, to once again appeal to you for your support of Taiwan's observer status in the World Health Organization (WHO). In the past three years, Taiwan has received tremendous international support for this role. I will give you some examples in a moment.
First, I would like to say how pleased I am to see so many distinguished guests who have put aside their political differences to be here. On behalf of the people of Taiwan, I extend to you our most sincere appreciation. Our appreciation also goes to those who have come this far to support our deed as well as to the members of the Taiwan World Health Alliance for their enthusiastic support and participation.
In the past 12 months since I left Geneva, many things have happened in Taiwan. Two events that stand out the most are the devastating earthquake in 1999 and the presidential election in March. Despite the many significant changes, one thing has remained the same: Taiwan's willingness to assist the WHO's acti-vities, both financially and technically.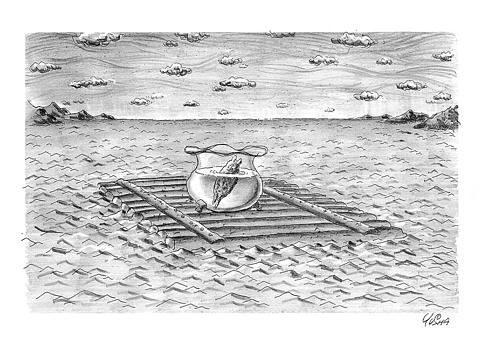 I would like to next talk about the 921 earthquake to explain to you why Taiwan has repeatedly requested observer status in the WHO, a position that would permit Taiwan to participate in a meaningful way in the WHO's activities.
As you may already know, on Sept. 21, 1999, a catastrophic earthquake, measuring 7.3 on the Richter Scale, struck Taiwan. It was the biggest earthquake to hit Taiwan in 100 years.
More than 2,400 people perished and 10,000 were injured. Another 100,000 were left homeless. Over 10,000 buildings were destroyed, with economic loss approaching US$100 billion. These are the tangible losses. The immense psychological impact that the earthquake had on the people of Taiwan is more difficult to assess. The experience was, I must emphasize, devastating for the people of Taiwan.
We were fortunate that when the earthquake struck, the emergency care and disease control systems in Taiwan were able to function to their fullest and contain the number of casualties. Thousands of medical personnel risked their lives to save others.
The Disease Control Center also took timely and effective actions. It deployed necessary manpower and resources, mobilized immunization against infectious diseases, conducted strict surveillance of diseases, and even worked together with environmental protection agencies to maintain sanitation. Their effort spared Taiwan from the outbreak of any infectious diseases, which, given the severity of the damage, would have been unavoidable. It is evident to us that were it not for the timely and unselfish effort of people from both the private and public sectors, the casualties would have been graver.
Six months after the quake, we held the International Symposium of Disaster Management in Health Care System in order to exchange experiences and design a better medical response system. One of our guests from the US made this following comment: "You should be congratulated for trying to do in six months what it took the United States 30 years to do. The rest of the world will learn volumes from you." We would like to share this experience with others and we hope we will be given the opportunity.
While I am standing here, I would also like to express our gratitude to all our friends who gave us their immediate assistance. Right after the massive earthquake, over 728 rescue workers from 21 countries arrived in Taiwan. They came from different parts of the world to join in the rescue effort, and they came under their own capacity. These people transcended national boundaries and political beliefs to demonstrate what is, in my view, the greatest of all human values: compassion. Their act is a wonderful example. It once again demonstrates that caring has nothing to do with politics, race, or gender: It is about one individual's desire to end another's suffering. The individuals who came to help us are the most beautiful people I have ever met. I assure you that the people of Taiwan will never forget their help. We will always remember the compassion and courage they displayed in helping us overcome our darkest hours.
However, I must say one thing. Unlike the immediate offers of help to the earthquake victims in Greece and Turkey, in Taiwan's case, the official international relief efforts were dragged out and postponed while the people of Taiwan fought for their lives.
This is what happened. On September 21, the UN consulted with the Security Council about providing Taiwan with rescue and relief aid. A UN official then reported that China refused to respond to the issue positively, preventing the UN from providing timely assistance. Published reports later also revealed that China demanded that any UN or Red Cross aid for Taiwan must first be approved by Beijing.
It is terribly unfortunate that Taiwan, with 23 million people, a population larger than three-quarters of the UN member-states, is not allowed to receive immediate and timely humanitarian assistance from the international community. A similar tragedy, the 1998 enterovirus outbreak, is another striking example of how the people of Taiwan are made to suffer needlessly. Were Taiwan a UN and WHO member, all of these could have been avoided.
Common sense dictates that human suffering transcends politics. Only two weeks after the devastating earthquake, on Oct. 4, 1999, the Senate and House of Representatives of the US passed a bill (H.R.1794) calling for Taiwan's participation in the WHO. The bill was subsequently signed by the US President as Public Law 106-137.
It recognizes the fact that human suffering transcends politics. It reiterates that good health is the basic right of every citizen of the world and that access to the highest standards of health information and services is necessary to help guarantee this right. It further requires the US State Department to take affirmative action to secure Taiwan's substantive participation in the WHO.
Following the US Congress's support, the Lancet, a prestigious medical magazine, also officially voiced its support for Taiwan's WHO participation. In its Dec. 18, 1999 issue, the front-page editorial -- entitled, "Taiwan: time to end exile" -- recognized Taiwan's plight and argued that Western pressure is necessary to change China's position on Taiwan's status.
In 1971, when Mainland China was admitted into the UN, Taiwan, until then a UN family member, was forced out. Taiwan has been in exile now for 29 years.
The WHO has set forth in its charter that: "The enjoyment of the highest attainable standard of health is one of the fundamental rights of every human being without distinction of race, political belief, economic and social condition." But, today, regrettably, Taiwan, a nation of 23 million people, has been denied that human right because of political obstacles. The 1998 enterovirus outbreak and the 1999 earthquake have demonstrated the needless suffering of people in Taiwan by preventing their participation in the WHO.
In a few days, a new president from the opposition party will be inaugurated in Taiwan. It is a historical moment in our country's burgeoning democracy. As is the case with any transition of power, some changes may take place in Taiwan. One thing, however, will remain unchanged: Taiwan's desire to join the WHO. I assure you that our wish to join the WHO is also the wish of the island's both leading political parties.
Ladies and gentlemen, let us go on listening to our hearts. It is time to end the needless suffering of people in Taiwan, take affirmative action, and support Taiwan's participation in the WHO. Taiwan has a place and a role to play in this organization.
I hereby ask you again, to please support Taiwan's observer status in the WHO.
Dr. Chan Chi-shean (詹啟賢) is the former director-general of the Department of Health, Executive Yuan.
Comments will be moderated. Keep comments relevant to the article. Remarks containing abusive and obscene language, personal attacks of any kind or promotion will be removed and the user banned. Final decision will be at the discretion of the Taipei Times.