Palestinian beer defies Middle East strife
After surviving the latest intifada, Nadim Khoury's microbrews are making a comeback and now include a nonalcoholic beer for devout Muslims
Some Palestinians have taken up arms and others attend peace talks in their decades-long struggle, but Nadim Khoury has found a third route to statehood — the brewing of delicious local beer.
The 49-year-old returned to his native West Bank village of Taybeh from the US in 1994 with the unusual and ambitious idea of distilling the dream of Palestinian independence into a smooth, full-bodied golden lager.
"Everyone thought I was crazy, they didn't believe me. But I didn't listen to them because I like making beer," said Khoury, who discovered microbrewing in the 1980s when he was a student in Boston, where he lived for 23 years.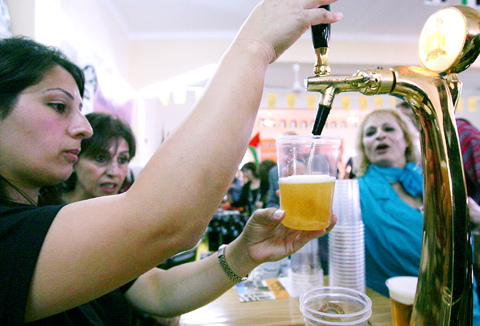 A woman pours a pint of Taybeh beer at the fourth annual Oktoberfest beer festival in the village of Taybeh, northeast of the West Bank city of Ramallah, on Oct. 11. While some Palestinians have turned to arms and others to peace talks in their decades-long struggle, Nadim Khoury, owner of the Taybeh brewery, has found a third route to statehood — the brewing of delicious local beer.
PHOTO: AFP WARNING: EXCESSIVE CONSUMPTION OF ALCOHOL CAN DAMAGE
Since the heady early days of the Oslo negotiations, hopes for Middle East peace have waxed and waned, but Khoury's Taybeh brewery has endured as a rare economic success in the heart of the occupied territories.
"It contributes a lot to the economy. I believe this is how we can build a Palestinian state and not wait for US aid. Taybeh is permanent aid," he says.
The malt comes from France and Belgium, the hops are Czech and Bavarian, but the beer is made in a hilltop Christian village in the heart of the West Bank from which it takes its name — Taybeh is Arabic for "delicious."
It's an unlikely place for a brewery. The gray tower of an army outpost stands guard over the main road into the village, one of more than 600 Israeli military checkpoints and roadblocks that dot the West Bank.
When the latest intifada erupted in 2000, Israel laid siege to the entire area, forcing Khoury to smuggle crates of beer into the nearby town of Ramallah, the political capital of the West Bank, on the backs of donkeys.
The situation has improved in recent years, but Khoury still frequently has to surmount the barriers to reach customers in Israel.
"Taybeh has a short shelf life because it has no preservatives. It cannot sit for three or four hours at a checkpoint," he says.
Israel and the Palestinians renewed peace talks at a conference in the US city of Annapolis, Michigan, nearly a year ago and pledged to try to reach a full peace deal by the end of this year.
But despite promises from all sides to take steps to jump-start the West Bank economy and the pledge of billions of dollars in international aid, Khoury says little has changed for local businesses.
"I don't like to smuggle beer, I want to trade freely, but where is Annapolis? Where is the treaty?" he says.
Palestinian society — which is more than 90 percent Muslim — has been growing more overtly religious, with the Islamist Hamas movement winning parliamentary elections in 2006 and seizing the Gaza Strip in June last year.
Taybeh remains popular in the upscale bars and restaurants of Ramallah and mostly Arab east Jerusalem, but in a nod to rising religious sensitivities, the brewery debuted its first non-alcoholic beer this month.
The label of the new beverage, like the Hamas flag, is green and adorned with Arabic writing. The other beers — Golden, Amber, Dark and Light — are labeled only in English.
Khoury insists he has never heard any objections from his Muslim neighbors and that he has no shortage of customers.
"The population in Palestine is 98 percent Muslim, but everyone drinks beer," he says.
Residents in the mostly Muslim neighboring village of Deir Jarir, like virtually all Palestinians, adamantly reject any talk of religious intolerance and say they have no problems with the brewery down the road.
"The relationship between Muslims here and Christians in Taybeh is fine. We work together and we live together," says Azzat, a 52-year-old laborer. "According to the Koran they have their religion and we have ours."
On a warm day early this month, a German brass band in traditional Bavarian costumes regaled a diverse group of drinkers and local Palestinian families at Taybeh's fourth annual Oktoberfest.
Tim Nourse, a contractor working on a US Agency for International Development project in Ramallah, says it is nice to see Taybeh making a comeback after the difficult years of the intifada.
"It's kind of a classic American microbrew," he says as he sips a pint of Golden lager. "Very pleasing to the American palate."
The notion that Taybeh could be tasty enough to help bring peace to the Middle East draws laughter at first.
On second thought: "The foundation of peace between Israel and the Palestinians is the development of a vibrant economy. The making of beer and other services could be part of that," Nourse says. "Or you could be cynical and say Taybeh allows us to drown our sorrows."
Romet Mor, a 27-year-old Israeli from just outside Jerusalem who leads alternative tours of the West Bank, including the brewery, says Taybeh could offer a new perspective on Palestinian culture.
"Most people don't identify the Palestinians with beer, so it can change the way people see them," he says.
While admitting that many Israelis refuse to drink Taybeh because it is made by Palestinians, Mor points out that many on the left seek it out for the same reason, seeing it as a symbol of peace and coexistence.
Khoury, who has guided his little brewery through good times and bad, remains hopeful that one day Palestinian life will be as smooth and full-flavored as his hard-won product.
"There is nothing left for us but hope for the future," Khoury says. "We have already moved once. We are not moving again."
In the meantime, he takes pride in his modest contribution to the struggle. "You know, Jordan brews Amstel under license. I like to tease them about it. We don't have a state, but at least we have our own beer."
Comments will be moderated. Keep comments relevant to the article. Remarks containing abusive and obscene language, personal attacks of any kind or promotion will be removed and the user banned. Final decision will be at the discretion of the Taipei Times.