As New York of old disappears, landmark diner calls it quits
Long known for its transvestites and liberalism, Restaurant Florent's neighborhood is turning into just another glitzy area for stars and investment bankers
With the grit of an American diner and the flair of a Parisian bistro, the hip New York City hangout known as Restaurant Florent served an eclectic mix of stars and starving artists for more than two decades.
But the iconic gathering place of the liberal, the gay, the struggling and the fun-loving lower Manhattan set is preparing to close its doors at the end of the month, after being forced out by the same skyrocketing rent costs that have gradually changed the character of the entire city.
"In the beginning, I was paying a little more than 1,000 dollars a month in rent," said the owner, Florent Morellet, who describes himself as an American who was born in France by "geographical error."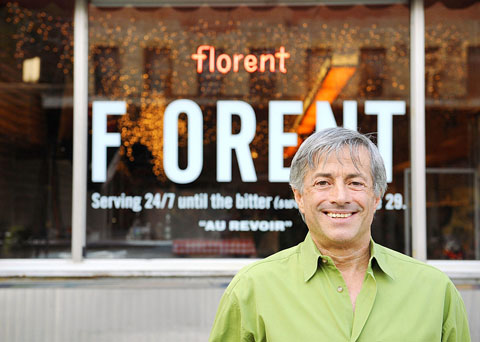 Owner Florent Morellet poses in front of Restaurant Florent in a Manhattan meatpacking district on May 27.
PHOTO: AFP
"Currently I pay 6,000 dollars a month and now the owner of the building is asking for 30,000 dollars a month," said Morellet, who opened the restaurant 23 years ago and will close it on June 29, in concert with the city's annual Gay Pride Parade.
Still, the son of famous French conceptual artist Francois Morellet who made his own mark running the all-night diner at 69 Gansevoort Street between 12th and 13th Street in southwest Manhattan's meatpacking district, said he has no regrets.
"I do not regret having to leave," Morellet said. "One cannot regret something that is not possible."
The Florent has not changed its look in years — pink neon lights illuminate the windows, fake red leather covers the chairs, and actors and painters moonlighting as waiters and waitresses bustle behind the long formica counter.
But omens of the restaurant's imminent demise are popping up everywhere. The sign on the front window now reads: "Serving 24/7 until the bitter [sweet] end: June 29. Au revoir."
Inside, instructions on how to buy pitchers and other souvenirs from the restaurant on eBay are scrawled on the blackboard, and flyers announce a series of parties to mark the "five stages of mourning" from June 1 to June 29.
Theme-soirees are signature events at Florent, whose owner has been aware of his positive HIV status for years and gladly admits he enjoys being called "the queen" or "the mayor" of the neighborhood.
Ahead of a Bastille Day party one year, he posted a flyer showing himself dressed in drag as Marie Antoinette.
"Marie Goes Nuke-ular," the poster proclaimed, "Live Acts: Can-Can Dancers, Go-Go strippers! Et more! Reserve Now!"
"I liked this neighborhood 23 years ago, the restaurant was frequented by a mix of butchers and prostitutes," he said, recalling the early days after he took over the R&L diner and renamed it after himself.
The restaurant "was an immediate hit, because in New York the minute you say there's a dive joint in a dangerous place, the people can't get there fast enough," he said.
"The adventurous, eccentric and curious types came in right away. But nostalgia can play tricks on your memory. We had some difficult years," he said.
"During the crack cocaine epidemic in 1989 [to] 1990, we had to organize patrols with the Guardian Angels to chase out dealers and prevent people from getting high in the street," Morellet said, referring to the group of unarmed citizen crime patrollers known for helping out on New York City streets.
"It was a point of light in a dark neighborhood, but has turned into a point of darkness in a neighborhood of light," said the restaurant owner, who will turn 55 on June 23 and says he will write a book about his experience.
The restaurant has counted among its clients designer Calvin Klein, singers Lou Reed and Amy Winehouse, but mostly catered to a crowd of students and artists who consumed fries, sausages, mussels, onion soup and beer.
Now, it seems everything has changed in the neighborhood, which has morphed into the hot area for movie stars, models, investment bankers, pricey fashion houses and glitzy nightclubs.
"The soul of New York is changing, moving away from the past," said Morellet, who was once described in New York magazine as "the patron saint of the meatpacking district."
"I've been going to Florent since 1986, whenever I can. But the whole neighborhood changed," filmmaker Spike Lee was quoted as telling the New York Times.
"Before it used to be transvestites and transsexuals on every corner. Now? Forget about it," he said.
"It's like everything else in New York. It's like SoHo and everything else that gets 'hot.' And I put that in quotations. 'Hot.'"
Comments will be moderated. Keep comments relevant to the article. Remarks containing abusive and obscene language, personal attacks of any kind or promotion will be removed and the user banned. Final decision will be at the discretion of the Taipei Times.