Hackers strut their stuff in Las Vegas
Hackers gathered in Las Vegas on Saturday showed ways to crack electronic key-card systems and deadbolt locks used at security-sensitive places including the White House and the Pentagon.
"If you can't physically protect your computer, you are screwed," said Zac Franken, a British hacker who engineered a way to outwit door locks relying on key cards.
"Most people think that computers inside buildings are secure. How many computers do you see left logged on at night?" he said.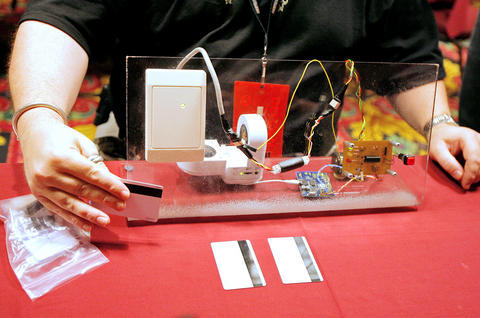 Briton Zac Franken demonstrates flaws in card access control systems on Saturday at the Defcon 15 hacker convention held at the Riviera hotel-casino in Las Vegas.
PHOTO: AP
Franken's creation was among the real-world lock-cracking revelations made at the DefCon hackers conference, where a room is devoted to the "sport" of lock picking.
Medeco deadbolt locks relied on worldwide at embassies, banks and other tempting targets for thieves, spies or terrorists can be opened in seconds with a strip of metal and a thin screw driver, Marc Tobias of Security.org demonstrated.
"This is incredible; it's unreal," Tobias said while showing the ease with which the locks can breached.
"Medeco has one of the best designed locks in the world, but with this kind of attack it's all irrelevant," he said.
US-based Medeco is owned by ASSA ABLOY Group, a Swedish manufacturer and supplier of locks.
"This is not the only company," Tobias said. "There are lot of them; lots of deadbolts with similar weakness."
Tobias said he refuses to publish details of "defeating" the locks because they are used in places ranging from homes and banks to the White House and the Pentagon.
"This can cause a lot of trouble," he said. "They need to fix this. If you have one of these on your house or wherever you'd better be concerned."
Franken is equally protective of the simple electronics he uses in a device that can be spliced into wires connecting key card readers to computer systems that control door locks on many businesses.
"The access control system is inherently insecure," Franken said. "I just walk up, pop off a cover held on by two screws, put my device in and we're away."
Easy targets for the "physical hack," involving manipulating hardware instead of computer software, are electronic key scanner pads at doors where workers step outside for cigarette breaks, Franken said.
Once the device is spliced into place, encoded cards can be used to command it to replay the last valid entry code or have the system deny access to people with legitimate cards, he showed.
"Basically, I can now lock all the valid users out while I can still get in," Franken said. "There is no patch for this."
Tobias wants to see a "Hogwarts School for Reality," which like the school of magic made famous in the Harry Potter novels would aim to inspire children to act creatively -- in this case by applying technology to security needs on and offline.
"It's no difference breaking into a lock or a computer," he said. "If you can get past locks you get to the computers. This is the real world; we need the real world Hogwarts."
Comments will be moderated. Keep comments relevant to the article. Remarks containing abusive and obscene language, personal attacks of any kind or promotion will be removed and the user banned. Final decision will be at the discretion of the Taipei Times.