Millionaires redefine 'trailer trash' in Malibu
It's doesn't matter how beautiful or expensive the location is - there is still a stigma attached to the mobile home
After making a fortune from his skateboard firm, World Industries, Steve Rocco could have lived anywhere he wanted. He chose Paradise Cove, a woodsy neighborhood on a cliff overlooking the Pacific, where he bought a home for nearly US$500,000 and then spent more than US$1 million replacing it with a Craftsman-style cottage.
But Rocco's place is not exactly on millionaire's row. Paradise Cove is a mobile-home park.
"It's probably the best spot in the Southern California coast," he said.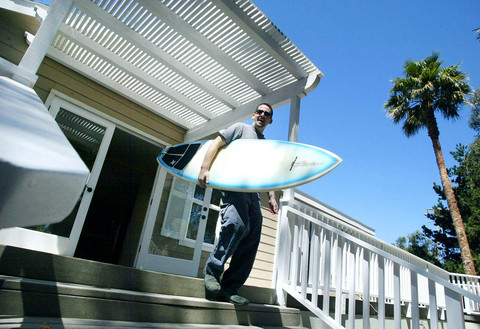 Will Conrad leaves his mobile home in Paradise Cove, California, earlier this month. The well-heeled are buying mobile homes which sell for as much as US$1 million.
PHOTO: NY TIMES NEWS SERVICE
Trailer parks may conjure images of retirees and low-income families in most of the country, but in Malibu parks that once drew the elderly, working class and bohemian are now being transformed into the new playground for the rich. Here new owners with the means to decorate with marble floors, recessed lighting and Sub-Zero refrigerators are replacing 1970s flat-roof aluminum metal-sided trailers with mobile homes in Craftsman, Cape Cod, Tuscan or Spanish villa styles that come with two-car garages.
In California, the most expensive housing market in the nation, the listings say it all.
"Stunning, drop-dead gorgeous, bluff top, custom architectural home, built in '05," read one recent ad for a 195m2 home with panoramic views of the ocean and the Santa Monica mountains.
The residence is not the detached single-family kind; that could go for more than US$10 million around these parts, real-estate agents said. The location is Malibu's Point Dume Club mobile-home park, and the asking price is a mere US$1.69 million.
"The world has changed," said Janet Levine, the developer selling this property and beautifying two others for resale at Point Dume.
"Spaghetti is now pasta. Religion is now spiritual. It's no longer a mobile-home park. It's a fab park," she said.
For mobile-home buyers like Rocco, 45, a former professional skateboarder who is more into surfing these days, the main draw to Paradise Cove was the beach and a cozier style of living, he said. The lots are still slivers of land where homes sit a few feet from one another under a canopy of eucalyptus trees, pine and palms, and neighbors run into one another at the children's playground or the laundry room.
Among the eclectic mix of surfers, older residents, celebrities like Minnie Driver and affluent professionals and businessmen like himself, many know one another.
"I know my neighbors' names, and I'm not the friendliest guy in the world," he said.
But just like other newcomers in recent years, Rocco, who bought a trailer for US$430,000 in 2003 in an oceanfront spot, discarded the old structure to build a new one with all the accouterments he and his wife needed to make it livable: walls, countertops and beams of mahogany and maple with veneer dyed in blues, greens, oranges and yellows; shiplike nooks and crannies that hold bathrooms, bedroom lofts and a workout room; a Yosemite stone fireplace; a grand piano in the living room; and upstairs and downstairs decks.
All in all it is 195m2 on a triple-wide lot where the only evidence of the home's humble origins are the raised foundation, a requirement for mobile homes, and the original trailer hitch, where Rocco plans to plant his mailbox.
His home now sticks out amid the more traditional mobile homes in the park, but "it's just a nice house," Rocco insisted. "I don't have gold fixtures."
But he was somewhat self-conscious; he did not allow pictures of himself or his place.
If Paradise Cove is a throwback to more congenial times, the more upscale neighbors now welcome newcomers with a bottle of champagne rather than a pie.
That is what Will Conrad, 37, an emergency-room doctor from Santa Monica, said his neighbors did when a truck brought his new manufactured home up the hill to install in his lot last summer.
It was the replacement, he said, for the US$450,000, 93m2 "decrepit" 1971 rollaway he had bought in 2003 as a second home.
Conrad said he grew up in Malibu and remembers coming to the mobile-home parks as a child for classmates' birthday parties.
"The homes were considered a notch below everybody else's," he said.
But in adulthood, Conrad has other priorities. A recreational surfer, he wanted the waves without the crowds, and Paradise Cove, with a guard booth at the entrance, restricts non-residents' beach access.
"If I went to Palos Verdes, I'd get killed," he said, referring to a popular surfing area south of here. "People getting into fistfights, damaging cars."
Old-time residents like John Tindall, 70, a retiree who bought in Paradise Cove 18 years ago and still lives there with his wife in his 1970 model, are reacting to the influx of new affluence with amusement.
"No matter how much they pay, the people seem very friendly," he said.
"But the more they pay, the less they're here," he said.
Mobile homes account for less than 10 percent of the overall housing stock nationwide. Bruce Savage, a spokesman for the Manufactured Housing Institute, said that buyers pay an average of about US$50,000 for the mobile home and another US$45,000 for the land.
But he and others in the industry say all bets are off in resort-like communities where prices reflect high demand. Robert Kleinhenz, the deputy chief economist for the California Association of Realtors, said that in a state where the median price for the traditional house is US$471,000, it is not surprising it is leading the trend toward the upscale trailer park.
David Carter, an agent with Pritchett-Rapf and Associates who specializes in mobile homes, said that he sold his first million-dollar one last year but that "there's plenty now in the parks that would sell for over US$1 million if they came on the market."
Craig Fleming, the vice president of sales for a manufacturer of upscale mobile homes, Silvercrest Western Homes Corp, said that beginning three years ago, mobile homes on private property have sold for US$1 million or more in prime areas of San Francisco, San Diego and Orange County.
But mobile homes come with some drawbacks. Financing is hard to come by. And when people do get it, the loan amounts are smaller and the interest rates higher, real-estate agents note. This is because buyers in mobile-home parks lease their land space rather than own it, a setup that many of them overlook because of trade-offs like no property taxes and rent-controlled lease fees.
But there is perhaps a bigger hump to overcome, agents say: the trailer-trash stereotype.
"You still get the stigma, especially on the telephone," said Carter, the real estate agent. "When you say it's a mobile home or manufactured home, they don't even want to listen to you.
"But when they come out and try to price other things in Malibu, it's an easy sale," he said.
Conrad's wife, Deborah Conrad, 37, a Los Angeles lawyer, admits she had to warm up to the concept of having a mobile home as the couple's second home and still is "not nearly as enthusiastic as he is." She likes Paradise Cove, she said, but even there the homes are still movable and too close together; many still look boxy from the outside, and the public perception still comes from bad news about them, she said.
"Most of the time, when you hear about mobile homes, you hear about a hurricane that's hit them," she said.
But it is the residents who bought their trailers at bargain prices as recently as a few years ago who are having the last laugh, real-estate agents noted.
"In the last five years, prices have been doubling each year," said Shen Schulz, an agent with Coldwell Banker who last year moved his wife and six-year-old twin sons to a mobile home at Point Dume Club.
Now the new buyers who are transforming ugly ducklings into swans say they may never sell. Will Conrad, who drives a 2004 Jaguar but has rented a Ford pickup for his jaunts to his mobile home, said that he hoped his wife would become comfortable enough to retire there some day.
And Rocco and his wife are expecting their first child, whom they plan to raise in Paradise Cove.
"I'm going to raise my kid in a trailer park," he deadpanned.
Comments will be moderated. Keep comments relevant to the article. Remarks containing abusive and obscene language, personal attacks of any kind or promotion will be removed and the user banned. Final decision will be at the discretion of the Taipei Times.