Large retail chains seek an edge with private labels
In a bid to win back customers who have been spending their money at specialty retailers, department stores have invested more heavily in their own exclusive brands
Private-label apparel brands have long been the neglected stepchildren of department stores, receiving minimal ad support or prime floor space.
But the stores -- needing to attract customers who are shunning them for specialty retailers and discount chains like Target -- are increasingly investing in the design and promotion of their once homely brands, giving them the star treatment as if they were designer labels like Liz Claiborne or Jones New York.
And they are turning to Madison Avenue-type marketing techniques to create hip images for their revitalized (and in some cases newly created) brands.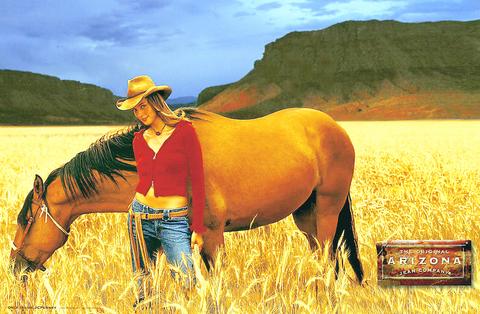 Department stores are increasingly investing in the design and promotion of their once-shunned private label brands to attract customers who are shopping at specialty and discount stores. JC Penney has begun a print advertising campaign for its Original Arizona Jean Company brand, which had more than US$1 billion in retail sales last year.
PHOTO: NY TIMES
For its Original Arizona Jean Co brand, JC Penney recently began a separate print campaign aimed at a younger audience.It shows beautiful young people romping in the great outdoors.
And Federated Department Stores, owner of stores like Bloomingdale's, Macy's and Burdines, now features Heather Mills McCartney, an amputee, activist and wife of Paul McCartney, to promote one of its big private-label brands, INC International Concepts.
"The whole concept of private label has taken on a new dimension," said Candace Corlett, a partner with WSL Strategic Retail, a consulting firm in New York.
Historically, private labels have been inexpensive knockoffs of designer fashions, albeit often a year behind the runway fashions.
But now private brands are often promoted front and center on the floors of some of the best department stores.
Store catalogs underscore the trend, including the recent fall catalog for Macy's in which its private-label brands like Alfani and Charter Club have layouts alongside big designer names like BCBG Max Azria and Liz Claiborne.
Catering to youth
Standing out from the crowd is one reason for the reassessment. In a world where every top department store has a Jones New York, you can get INC only at Federated stores. And Arizona is only at JC Penney.
"What happens in the marketplace is that eventually the same name brand lines are available in multiple stores," said Dan Butler, vice president at the National Retail Federation in Washington.
"What's going to make you different is any product you can sell that may be unique to your company," Butler said
Kurt Barnard, president of Barnard's Retail Consulting Group, in Upper Montclair, New Jersey, said.
"Department stores are beginning to realize they have a problem -- that they are the favorites of older people who were brought up on the department store habit. There's only one problem: They die, and they are not being replaced by younger people," Barnard said.
Perhaps most important, the private-label brands can also be much more lucrative for the department stores. Brand names like Versace or Liz Claiborne "have to mark up their costs to cover running their entire business. ... Whatever that spread is, the store doesn't have to pay with a private brand. They make all the money," Corlett said.
JC Penney said it had made substantial investments in its private labels in the last 18 months, hiring top new creative talent and combing Europe and other places for inspiration, said Peter M. McGrath, senior vice president and director of JC Penney Private Brands.
The company has six core private-label brands, including Stafford and St. John's Bay, but its big push this fall is on Arizona, which had more than US$1 billion in retail sales last year.
"We strengthened the whole design core of our organization. ... These are design-school people who are operating at a higher level from the retailers of years ago who would run around the mall and copy and knock off. If you're doing that today, you're not forward enough to satisfy today's customer," McGrath said.
Federated also has a stable of private "power brands," like INC and Alfani that were "rein-vented" from the past, and new brands like Green Dog, said Joe Feczko, executive vice president for marketing for Federated's merchandising group in New York.
Building an image
Each brand is advertised in national magazines and through direct mail and given its own distinct personality by an in-house ad agency, with occasional help from outside shops, he said.
"The old image was that private label took from the current or last season," Feczko said.
"The change is a targeted offering of product that is designed for a specific demographic, and marketing each as a brand, versus as a promotional label," Feczko said
For marketers, the beauty of the private brand is that it can do battle separately from the mother store. As a department store, JC Penney is advertised as an inclusive brand with the theme "It's all inside."
But the Arizona brand had a rebirth this fall with a specific mission: Lasso the 17- to 24-year-old consumer -- the same consumer sought by retailers like Abercrombie & Fitch and the Old Navy division of Gap.
Thorough research
Through research, the ad agency, Omnicom's DDB Needham in Chicago (which is also Penney's store agency) discovered that the target audience appreciates individuality and a certain maverick quality, explained Paul Brourman, group creative director at DDB Chicago.
"The campaign is about mavericks," said Brourman. "It's designed to capture Arizona's free spirit."
But apparel is not the only example of a private store brand getting the designer-name treatment.
Home collections have proved to be a lucrative niche for department stores, too, and some consultants and industry executives expect they will pick up more business if Martha Stewart's insider-trading troubles continue to affect her company's performance.
JC Penney is in the midst of updating its advertising and packaging for the JC Penney Home Collection, and a new ad campaign is expected early next year.
"The whole market sees it as an opportunity," McGrath said.
Comments will be moderated. Keep comments relevant to the article. Remarks containing abusive and obscene language, personal attacks of any kind or promotion will be removed and the user banned. Final decision will be at the discretion of the Taipei Times.