UK 'reasonably confident' of trade deal with US: Raab
Britain takes US concerns about its use of Huawei Technologies Co (華為) equipment seriously, but is confident a trade deal with the US will be among its first after leaving the EU, British Secretary of Foreign and Commonwealth Affairs Dominic Raab said yesterday.
US officials have hinted future trade talks could be affected by Britain's decision last month to grant Huawei a limited role in its 5G mobile network, frustrating a global bid by Washington US to exclude the company from the West's next-generation communications systems.
"We listened and take the concerns of our American friends very seriously," Raab said in response to a question about the issue.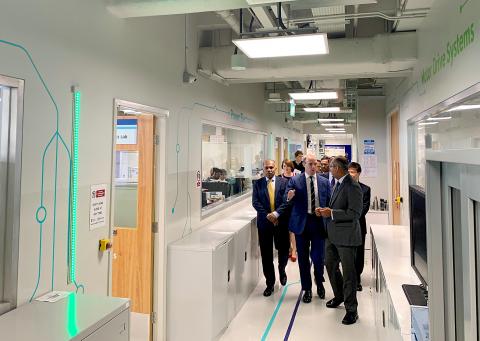 British Secretary of Foreign and Commonwealth Affairs Dominic Raab, second right, yesterday visits a research laboratory in Singapore which is a collaboration between Rolls-Royce, Nanyang Technological University Singapore and Singapore's National Research Foundation.
Photo: Reuters
"We are reasonably confident that we can do a free trade agreement [with the US] in that first wave of post-Brexit trade deals," Raab said during a visit to Singapore.
"We have had a good conversation about Huawei and the one thing we all recognize is there has been market failure in terms of high-trust vendors being able to provide telecoms infrastructure," he said.
Last month, Britain said it would cap at 35 percent the involvement of "high-risk vendors," such as Huawei, in the non-sensitive parts of its 5G mobile network.
Excluding Huawei altogether would have delayed 5G and cost consumers more, it added.
Britain is in talks with the US, Australia, Canada and others on future technological innovations that could challenge Huawei's dominance in the field, Raab said.
"For 5G, the sooner we can build up our pool of high-trust vendors, the less reliant we will be on high-risk vendors," he added.
China warned France against treating Huawei differently from European competitors when it comes to future 5G network equipment contracts, as the US mounts a campaign to keep the Chinese tech giant at bay.
In a lengthy statement issued on Sunday on its Web site, the Chinese embassy in Paris urged France to establish "transparent criteria and treat all companies in a similar way," referring to telecom equipment makers.
It also warned that a difference in treatment based on the country of origin would be considered "blatant discrimination" and "disguised protectionism."
Additional reporting by Bloomberg
Comments will be moderated. Keep comments relevant to the article. Remarks containing abusive and obscene language, personal attacks of any kind or promotion will be removed and the user banned. Final decision will be at the discretion of the Taipei Times.