INTERVIEW: How Sheraton maintains high occupancy in Macau
Taiwanese constitute the third-largest source of tourist arrivals at the Sheraton Grand Macao Hotel, Cotai Central, the largest property run by Mariott International Inc, with 4,000 guest rooms. Daniella Tonetto, general manager of sales and marketing for the hotel and adjacent luxury property The St Regis Macao, explained how it maintains high occupancy rates of more than 90 percent all year round and revealed plans to woo Taiwanese travelers in an interview with 'Taipei Times' staff reporter Crystal Hsu in Macau on Oct. 24
Taipei Times (TT): As Taiwan is the third-largest source of guests for your hotel, will you join the Taipei International Travel Fair next month to boost sales?
Daniella Tonetto: We take part in the travel show every year, together with the Macau Government Tourism Office. Many Taiwanese like to take advantage of the annual event and buy travel products for the coming year. Prior to the show [which runs from Friday through Monday next week], we will work closely with our partners in Taiwan to design unique packages with a range of discounts and value-added offers.
To attract family tourists, we will join forces with Planet J, Qube and other theme parks and playgrounds in offering the packages. Taiwanese are the third-largest source of customers and the number has been steady. The number one purpose for Taiwanese tourists to visit Macau is the food. You can't go wrong with the food choices in Macau, whether eating at Michelin-starred restaurants or a local eatery. Be it Portuguese, Chinese or European cuisines, the experience would be memorable and rewarding.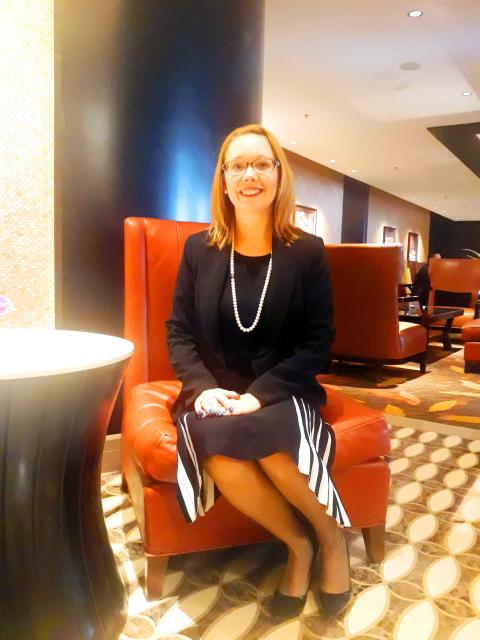 Daniella Tonetto, general manager of sales and marketing at the Sheraton Grand Macao Hotel, Cotai Central, and The St Regis Macao, poses for a photograph at the hotel's Sheraton Club Lounge after an interview with the Taipei Times on Oct. 24.
Photo: Crystal Hsu, Taipei Times
TT: Given the large capacity of the Sheraton Grand Macao Hotel, Cotai Central, are you under pressure to fill the rooms, especially given the social unrest in Hong Kong, the number two source of tourist arrivals?
Tonetto: I can't give specific figures on occupancy, but it is very high in the mid-90s. Generally, hotel occupancy in Macau is like that all year round. We are not seeing any softening in the market. We just saw a strong showing over the National Day Golden Week, when the number of tourist arrivals still picked up. The pace might not be as strong, but the growth is still there. The protests in Hong Kong have affected day traffic in the [Guangdong-Hong Kong-Macau] Greater Bay Area. We don't see as many day visitors from Hong Kong these days. However, the overnight traffic remains stable.
TT: How do you maintain such high occupancy, a goal of hotels around the world?
Tonetto: The number one reason is Marriott Inc's support for the Sheraton Grand Macao Hotel, Cotai Central. The loyalty program, Mariott Bonvoy, guarantees the best rates and benefits. The program has proved to be a strong distribution channel and supplies a major source of customers. Again, I cannot reveal the exact figures.
The number two reason is the sales organization that is attached to global companies. We have strong sales teams in-house and globally. If somebody in New York, Chicago, London or Milan needs space for a 1,000-tourist group, Sheraton Cotai Central would stand out as a good option in light of its capacity and size.
Regionally, we have good relationships with tour operators and travel agencies throughout Asia. We have strong partners in Taiwan who have been supportive of selling our rooms.
TT: Why is there no evident seasonality for hotels in Macau?
Tonetto: We definitely have periods when occupancy is not as high as other times, but seasonality is just not as evident in Macau as in other markets. July and August are the busiest seasons, when family travelers spend their summer vacation in Macau. December and January are also high seasons, driven by holidays and corporate conventions. Multinational corporations generally hold kickoff meetings to put together business strategy for the coming year. Spring gatherings and incentive travel also make contributions, but they are small in comparison with meeting demand.
The phenomenon is specific to Macau, thanks partly to its geographic proximity to major destinations in the region, including Taipei. Many travelers can make two-day visits to Macau without taking special leaves of absence. This is true for people in Hong Kong, Bangkok, Singapore and in southern parts of China. The convenience helps subdue the seasonality.
TT: What can tourists do in Macau, apart from gambling?
Tonetto: Personally, I would recommend starting with Coloane, a place where you can lie back and enjoy lush greenery, beaches and seaside restaurants. You can witness a unique combination of cultural heritages from the West and the East. Tourists must taste the famous egg tarts from Macau. Other must-visit places include the Ruins of St Paul's, the Macau Museum, backstreets and shopping stores in the Taipa Macau old town. Many visit Macau for music shows and concerts, the glitz and glamor side of Macau, which is another big attraction.
TT: The hotel's owner, Las Vegas Sands Corp, is building a new Londoner property in the vicinity after introducing The Venetian Macao, The Plaza Macao, Four Seasons Hotel Macao and The Parisian Macao. Are you concerned about heightening competition?
Tonetto: When occupancy in a destination runs this high, it indicates there is room for more. The entry of new hotels is good for Macau and the hospitality industry. It will bring and inspire new activities. It also means we need to maintain high standards and keep consistency in our offerings and services. We welcome more supply as competition allows customers more choices. There is also competition among destinations. Ultimately, it depends on the purpose of visits. For meetings and events, we have the advantage of scale and size, which Hong Kong doesn't have. Compared with Singapore, Macau is more affordable.
TT: What is your hotel's business outlook for this quarter and beyond?
Tonetto: We expect business to remain stable, aided by holidays and festive seasons that will attract more visitors to Macau. Macau is to celebrate its 20th anniversary as China's Special Administrative Region in December, while the Christmas and Chinese New Year draw near. Tourism authorities will organize activities to attract visitors, such as the Light Festival when they will light up all monuments. Beautiful light activation will run for almost all of December. The upcoming car race Macau Grand Prix will also help pack hotel rooms.
Comments will be moderated. Keep comments relevant to the article. Remarks containing abusive and obscene language, personal attacks of any kind or promotion will be removed and the user banned. Final decision will be at the discretion of the Taipei Times.