China's holiday spending slows
UNCERTAINTY: Consumer spending grew 8.5 percent, the slowest since 2011, as trade tensions with the US and a crackdown on debt undermined confidence
The downward pressure on China's consumption persisted over the Lunar New Year holiday, the annual festival when people travel, shop and give gifts or money.
People in China spent 1.01 trillion yuan (US$149 billion) at restaurants, shopping malls and online outlets over the week-long holiday, according to the Chinese Ministry of Commerce.
That was 8.5 percent higher than during last year's festive period, but the slowest increase since at least 2011.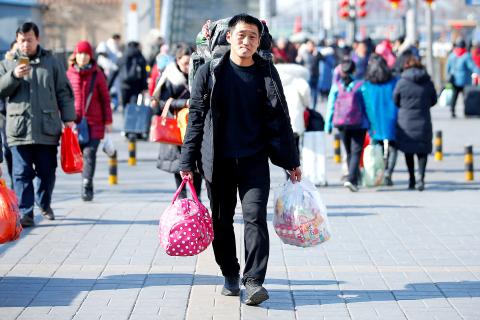 A passenger leaves Beijing Railway Station yesterday after arriving by train during the Lunar New Year travel rush as the annual spring festival holidays end.
Photo: Reuters
Increasingly frugal Chinese consumers are sending chills through global investors, with the pullback in spending hitting the profits of companies such as Apple Inc, Swatch Group AG and luxury car makers.
Weaker growth, the trade war with the US and a crackdown on debt all undercut momentum last year, sending auto purchases into a contraction for the first time in almost three decades and retail sales growth to the slowest pace since 2002.
"We believe household consumption will likely be sluggish, " Nomura Holding Inc chief China economist Lu Ting (陸挺) wrote, citing the quick buildup of household debt, lackluster income growth outlook amid the economic slowdown and the cooling property sector.
"We expect the government to rely more on infrastructure investment to stabilize economic growth, but it may take time for infrastructure investment projects to start," Lu said.
Spending at tourist venues rose 8.2 percent to 513.9 billion yuan, state broadcaster CCTV said, citing data from the ministry, slower than the 12.6 percent rise last year.
Domestic box office revenue was 1 percent higher than last year, according to a report in The Paper, which cited statistics from a cinema ticketing service platform of Alibaba Pictures Group (阿里巴巴影業集團).
Those who are still shopping are increasingly doing it online, with JD.com (京東) reporting a 43 percent jump in sales around the holiday versus a year earlier.
Cellphones, computers and home appliances were at the top of shopping lists, and there was a surge in purchases of kitchenware and furniture, according to a report from the second largest e-commerce site in the nation.
Spending growth in smaller cities jumped 55 percent on Alibaba Group Holding's (阿里巴巴) Tmall (天貓), faster than in major metropolises, where residents are being squeezed by higher housing prices.
Tourists chose Hong Kong, Thailand and Macau as their top overseas destinations, according to Alibaba's online tourism site.
The US was the seventh most-popular spot, even amid the trade tensions.
Chinese mainland visitors to Macau reached almost 900,000 during the week-long holiday, climbing 26 percent from last year's festive holiday, according to Macau's tourism office.
That was more than double last year's growth, but actual casino revenue data might not look as rosy as the visitation numbers.
"The Chinese New Year holiday season was decent this year, but definitely not as strong as the visitation number shows," Union Gaming Securities Asia Ltd analyst Grant Govertsen said yesterday.
Based on spot checks on the ground, Govertsen said that many mainland visitors to Macau are day trippers who travel to check out the new bridge linking Zhuhai on the mainland to Macau and leave soon after without stopping at the territory's casinos or spending money in the city.
Comments will be moderated. Keep comments relevant to the article. Remarks containing abusive and obscene language, personal attacks of any kind or promotion will be removed and the user banned. Final decision will be at the discretion of the Taipei Times.