Nissan board meets to oust chairman
GHOSN GONE? A source said that the meeting would not have been proposed if there had been any doubt that the businessman would be fired after his arrest
Nissan Motor's board yesterday voted to oust Carlos Ghosn from his post as chairman following his arrest this week, public broadcaster NHK reported.
Ghosn stands accused of under-reporting his income by millions of dollars, along with a host of other financial irregularities.
The 64-year-old Brazil-born tycoon is credited with turning around the Japanese brand and forged an alliance with Renault SA and Mitsubishi Motors Corp that last year sold 10.6 million vehicles between them — more than any other firm in the world.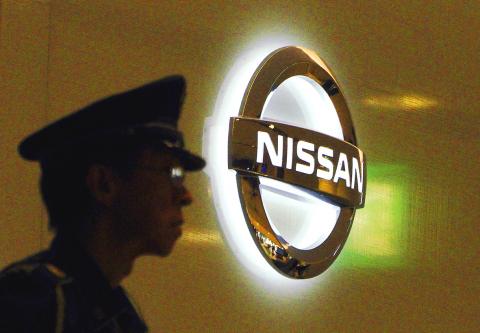 A security guard stands beside a Nissan Motor Co logo at the company's global headquarters in Yokohama, Japan, yesterday.
Photo: AP
Ghosn's fate appeared all but sealed after his hand-picked replacement as chief executive officer, Hiroto Saikawa, launched an astonishing broadside at his mentor following his arrest on Monday at a Tokyo airport as he landed in a private jet.
Saikawa said "too much authority" had been placed in the chairman's hands and lamented the "dark side of the Ghosn era" as he called the board meeting to fire him.
The meeting started at about 7pm, with seven board members voting on the motion to dismiss Ghosn, which needed a simple majority to pass.
Insiders said that Saikawa would likely not have suggested the ouster unless he were sure of support from his fellow board members.
"This would not have been proposed if there had been any doubt and the results of the investigations have already been presented to the board members," a source close to the company told reporters.
Appointing a new chairman will take some time, as it has to be approved by shareholders, but Saikawa is seen as the most likely to take over the position.
Even if removed as chairman, Ghosn will technically remain on the board, as a shareholders' meeting is required to oust him.
Ghosn was being held in a Tokyo detention center and has not been seen in public nor made any comments since his arrest.
Frenchman Ghosn has received a visit from the French ambassador as part of consular protection.
He also received a visit from Brazilian consul Joao de Mendonca yesterday, who told reporters that Ghosn "sounded very well, in good health."
On Wednesday, prosecutors successfully applied to extend his custody for an additional 10 days as they step up their questioning.
Authorities say that Ghosn and US executive Greg Kelly "conspired to understate Ghosn's income five times between June 2011 to June 2015," reporting a total of ¥5 billion (US$44 million) instead of the actual ¥10 billion.
Deputy chief prosecutor Shin Kukimoto said that the type of crime Ghosn is accused of is "one of the most serious types of crime" under the Japanese Financial Instruments Act.
Under the law, companies themselves can also be held accountable for the falsified documents, Kukimoto said, following reports that prosecutors believe Nissan also has a case to answer.
Kukimoto said Ghosn faces a fine of ¥10 million and/or 10 years behind bars if convicted.
French President Emmanuel Macron said that France would be "extremely vigilant" about the stability of Renault and the alliance with Nissan.
Comments will be moderated. Keep comments relevant to the article. Remarks containing abusive and obscene language, personal attacks of any kind or promotion will be removed and the user banned. Final decision will be at the discretion of the Taipei Times.