Eclat develops eco-friendly tech with ITRI
Textile and garment manufacturer Eclat Textile Co (儒鴻) yesterday said it has developed a new technology with the Industrial Technology Research Institute (ITRI, 工研院) to produce eco-friendly textiles for functional sportswear to cater to customers' needs.
The new technology is a single-bath supercritical fluid dyeing process for PET or blended elastic textiles to provide wicking, the company said.
The technology uses supercritical carbon dioxide as the dyeing solvent instead of water, thereby eliminating water consumption and pollution, and optimizing textile manufacturing, as the products do not require drying.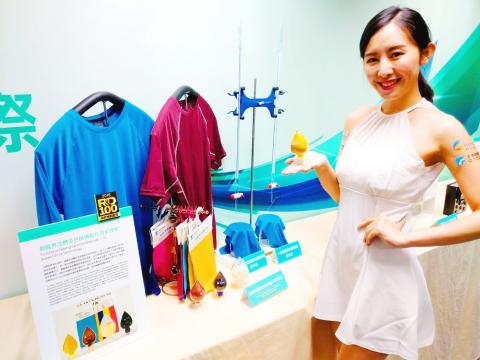 A model yesterday displays textile products developed by the Industrial Technology Research Institute that won awards at the R&D 100 Awards held in Orlando, Florida, on Friday.
Photo: CNA
"We have produced a small volume [of textile] with the technology," Eclat chairman Hung Chen-hai (洪鎮海) told a media briefing. "We will invest more to enter volume production."
The company, which counts Nike Inc as its major client, said it has sent samples to clients for inspection.
Hung did not give a timetable for the commercialization of the new technology.
The technology would help its clients comply with the goal of zero discharge of hazardous chemicals by 2020, Eclat said.
If the technology gains traction, it would help the nation's textile and garment industry cut water use by 11.5 million tonnes every year, equal to three times the volume stored at the Second Baoshan Reservoir (寶二水庫), ITRI said.
Chemical suppliers Everlight Chemical Industrial Corp (永光化學) and Jintex Corp (福盈科技) might join the new technology's supply chain upon commercialization, it said.
Eclat and ITRI on Friday won an award at the R&D 100 Awards in Orlando, Florida. It was the second award won by Eclat and ITRI.
The duo in 2016 won an award for a technology they developed to make smart apparel, equipped with sensors and other electronic devices to collect and monitor health data.
Eclat said it is entering the final test stage for the smart apparel for men at Chang Gung Memorial Hospital (長庚醫院).
It is likely to ramp up production of the apparel by the end of next year, it said.
Comments will be moderated. Keep comments relevant to the article. Remarks containing abusive and obscene language, personal attacks of any kind or promotion will be removed and the user banned. Final decision will be at the discretion of the Taipei Times.