HK bans e-cigarettes in latest blow for big tobacco
Hong Kong is banning alternative smoking devices — the latest setback to the tobacco industry's efforts to find growth markets as cigarette demand shrinks worldwide.
In a surprise reversal, the territory plans to impose a ban on e-cigarettes, a next-generation category of smokeless tobacco products, Hong Kong Chief Executive Carrie Lam (林鄭月娥) said in a policy address yesterday.
Hong Kong joins at least 27 nations that have banned next-generation smokeless devices, heeding advice from the WHO.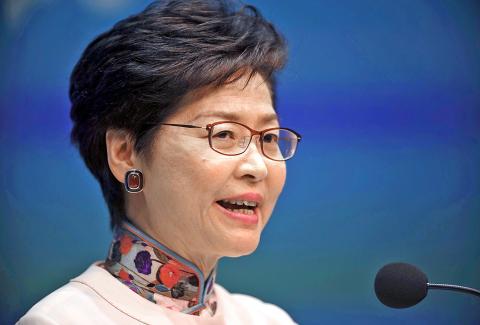 Hong Kong Chief Executive Carrie Lam speaks at a question-and-answer session after delivering her policy speech at the Legislative Council yesterday.
Photo: AP
The products have come under fire from health officials across the globe because of concerns about their appeal among young people.
The backlash is bad news for tobacco companies, which are investing billions of US dollars in developing products that could move the industry beyond cigarettes.
In its legislative proposal in June, the Hong Kong government had proposed only to regulate e-cigarettes the same way as conventional tobacco, including restricting their sale to minors and prohibiting advertisements and sponsorship.
Tobacco makers were looking to Hong Kong as a potential market for alternative devices.
A Philip Morris International Inc representative said it does not sell any of its new tobacco alternatives in Hong Kong, while Japan Tobacco Inc said it only sells paper cigarettes in the territory.
"A full ban of e-cigarettes will only make black market business more popular, not help to protect teenagers under 18 years old and consumers," the Coalition on Tobacco Affairs said in a statement yesterday.
It added that none of its members are selling e-cigarettes or heat-not-burn devices in Hong Kong.
Japan Tobacco investors were unfazed by the news. Shares gained as much as 1.9 percent in Tokyo yesterday.
Philip Morris shares have tumbled about 27 percent from a peak in October last year.
The move comes as big tobacco companies have been increasingly pressured by tighter restrictions on smoking and the sale of cigarettes around the globe.
In the US, the largest market for e-cigarettes, regulators have taken a more severe stance on the devices after raising the alarms on their use by children and teenagers.
The US Food and Drug Administration said it is considering banning flavored versions of nicotine devices. Last month, it seized documents from Juul Labs Inc, which offers sleek e-cigarettes with flavors that appeal to underage users.
While some countries have taken a combative stance against e-cigarettes, others have looked to them as a way to curb smoking.
Regulators in several countries, including the UK and New Zealand, have backed the devices as potentially less risky compared with traditional cigarettes.
Hong Kong has one of the lowest smoking prevalence rates in the world, and about 10 percent of the population smokes, Bloomberg Intelligence data showed.
Comments will be moderated. Keep comments relevant to the article. Remarks containing abusive and obscene language, personal attacks of any kind or promotion will be removed and the user banned. Final decision will be at the discretion of the Taipei Times.