China's urge to splurge is the wrong growth model
Economic growth is frequently thought of as the marriage of policy frameworks and market outcomes, with little consideration of path dependence and social preferences.
In China, examining those preferences and the costs they impose gives just as much insight into what has shaped the nation as a study of macro decisions.
Modern China is defined by the grandiosity of its vision. Consider the unceasing laying of high-speed rail, constant attempts to build Asia's tallest building, or the urban technological dystopia represented by total surveillance.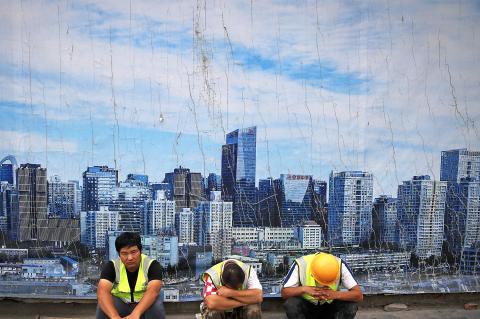 Workers rest in front of a construction site wall depicting the Beijing skyline in Beijing on June 26.
Photo: AP
The colossal scale of the Shenzhen Stock Exchange building is a good example of the need to project an imposing edifice.
Chinese Communist Party leaders and technocrats face pressure to demonstrate material improvements, year in, year out, using big projects and capital infrastructure as tangible metrics.
In remaking a major nation, China started from a unique place, because there was almost no modern infrastructure that needed overhauling. Power grids, roads and ports were rudimentary or nonexistent even three decades ago: Everything is new.
For all the criticism of major US airports, they have proved durable. Los Angeles International Airport opened its doors in 1930 and the hub that later became JFK International Airport started life in 1948, just before the founding of modern China.
Across the Pacific, China discards or mothballs airports rather than renovating them. Shenzhen Baoan International Airport opened in 1991 and became one of the busiest hubs in the world.
In 2013, the original terminals were closed and replaced with a new section designed by world-famous architects. The slick design might attract headlines and drive GDP growth, but it is a terribly expensive development model.
Disposable investment is not limited to infrastructure: Real estate is much the same. By the Chinese government's estimate, almost half of the current housing stock — or everything built before 1999 — is of such poor quality that it will need to be demolished. Again, this is the wrong model: Assets like housing and airports are designed to have longer lives than 20 to 30 years, or their cost becomes prohibitive.
Even cities reflect the social preferences of Chinese central planning. European towns, steeped in history, stress the preservation of the past and a character handed down from generation to generation. In China, there is little restraint on bulldozing historic homes and farmland to build factories or railways.
This usually reflects the will of technocrats, whereas Europe and the US have clear social preferences in targeting economic output, to say nothing of budget constraints.
The Chinese government sees building as a straightforward way to achieve output goals.
To cap the population in Beijing at about 23 million, the authorities announced the construction of an adjacent city, Xiongan, on agricultural and light-industrial land.
In the absence of budget limits, this costly plan was seen as preferable to relaxing population controls under the household registration system, hukou.
Renovation and reform, while frequently more efficient, seldom draw the headlines devoted to billions of yuan in investment to build a city from the ground.
Research has found that in many economies, male leaders tend to invest more in construction and infrastructure, while women favor health and education.
Just as Chinese real-estate buyers will pay a substantial premium for new over second-hand apartments, there is a clear bias — with a significant cost — in how China achieves growth targets.
Despite the rhetoric that quality matters more than quantity, there is scant evidence of that.
This development model is showing strains. Debt has built up rapidly to pay for infrastructure and real estate with an inadequate lifespan. Rapid depreciation will increase costs to pay for projects that need to be replaced, in many cases before they have even paid off borrowings.
Beijing fueled economic expansion with capital accumulation and debt as savings growth slowed. Now the slogans about shifting to quality must be made reality.
China needs to change its growth model to account for long-term financial sustainability, rather than just meeting construction targets.
Christopher Balding is a former associate professor of business and economics at the HSBC Business School in Shenzhen and author of Sovereign Wealth Funds: The New Intersection of Money and Power.
This column does not necessarily reflect the opinion of the editorial board or Bloomberg LP and its owners.
Comments will be moderated. Keep comments relevant to the article. Remarks containing abusive and obscene language, personal attacks of any kind or promotion will be removed and the user banned. Final decision will be at the discretion of the Taipei Times.