Time right for US trade pact: TAITRA
BUSINESS DAY: A business matching event between 12 US companies and 108 local suppliers led to US$168.3 million in new business opportunities, the trade body said
Taiwan External Trade Development Council (TAITRA, 外貿協會) Vice Chairman Chuang Suo-hang (莊碩漢) yesterday said that now is the time to pursue a bilateral trade agreement with the US as a new paradigm in global commerce emerges.
The global landscape has shifted rapidly under US President Donald Trump's administration and Taiwan is prepared to prosper alongside its second-largest trade partner, Chuang said at the launch of the seventh annual US Business Day to promote and support bilateral business cooperation.
The event facilitates business matches between 12 companies from six US states and 108 Taiwanese suppliers.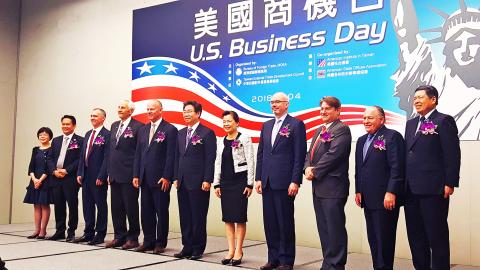 Wyoming Governor Matthew Mead, fifth left, Vice Minister of Economic Affairs Wang Mei-hua, fifth right, and Taiwan External Trade Development Council Vice Chairman Chuang Suo-hang, center, attend the opening ceremony of the seventh annual US Business Day in Taipei yesterday.
Photo: CNA
A majority of the visiting US companies are in the manufacturing business, including hand tool maker Stanley Black & Decker Inc, underlining Taiwan's strategic position in Trump's push for US-made products and preference for bilateral trade deals, Chuang said.
Taiwanese businesses have quickly adjusted to Washington's trade policies, with many considering a move to the US to take advantage of low land prices and abundant natural resources, he added.
Wyoming Governor Matt Mead yesterday reiterated the US state's wish to bolster its ties with Taiwan.
Mead on Wednesday presided over the opening of the Wyoming Asia-Pacific Trade Office in Taipei, the state's first foreign trade office in three decades.
Wyoming has the lowest utilities prices in the US, as well as favorable corporate tax rates and incentive packages for manufacturing investments, Mead said, adding that the state has rich deposits of rare-earth elements, an essential part of many high-tech products.
Vice Minister of Economic Affairs Wang Mei-hua (王美花) said that while the US is likely to work on bilateral trade deals with Canada, Mexico, Japan and Europe, she is upbeat on growing new business activities as US companies have been increasing procurement from Taiwan in light of rising global trade tensions.
TAITRA said that this year's Business Day meeting led to US$168.3 million in new business opportunities with US firms, compared with US$14.55 million last year.
In related news, Deputy Minister of Economic Affairs Kung Ming-hsin (龔明鑫) said that this year's Taiwan Business Alliance Conference, the nation's premier annual investment promotion event, would focus on quality instead of quantity.
While last year's conference led to global investors signing letters of intent committing to NT$106.3 billion (US$3.45 billion) of investments in large-scale semiconductor and renewable energy projects, the ministry this year is focused on sectors outlined in the government's "five plus two" industrial development program.
Although the amount of investment in integrated circuit design and artificial intelligence might not be as large as those in semiconductor fabs and offshore wind farms, they would go a long way in boosting Taiwan's competitiveness, Kung told a news conference.
Kung also expects the global trade war to persist in the long term and said that the ministry would continue to help Taiwanese businesses cope.
Comments will be moderated. Keep comments relevant to the article. Remarks containing abusive and obscene language, personal attacks of any kind or promotion will be removed and the user banned. Final decision will be at the discretion of the Taipei Times.