NAFTA talks 'very far' along: Mexico economy minister
TWO VOICES: Mexico's economy minister said Canada's agreement would be needed on a renegotiation clause, but the president-elect's adviser said the clause must go
US and Mexican negotiators will continue meeting through the weekend to revamp the North American Free Trade Agreement (NAFTA) and Canada is set to rejoin the talks as soon as it is called, Mexican Secretary of Economy Ildefonso Guajardo said on Friday.
Guajardo and Mexican Secretary of Foreign Affairs Luis Videgaray have been shuttling back and forth to Washington for more than a month for meetings with US Trade Representative Robert Lighthizer to try to iron out bilateral issues, such as rules for the auto market, before the end of this month.
However, Guajardo told reporters that Canadian Minister of Foreign Affairs Chrystia Freeland was ready at any point to proceed with the NAFTA negotiations.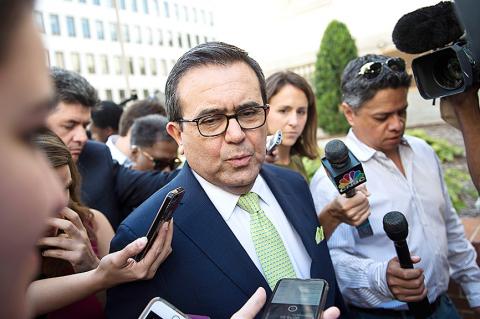 Mexican Secretary of Economy Ildefonso Guajardo speaks to reporters outside the Office of the US Trade Representative in Washington during a day of meetings on the North American Free Trade Agreement on Thursday.
Photo: AFP
"I have confirmation that she would be available the moment we believe we can enter into the trilateral" discussions, he said.
Freeland said that Canada would rejoin the talks once the bilateral discussions concluded.
"Once the bilateral issues get resolved, Canada will be joining the talks to work on both bilateral issues and our trilateral issues," Freeland told reporters. "And [it] will be happy to do that, once the bilateral US-Mexico issues have been resolved."
However, Freeland is to travel to Europe from Aug. 26 to Aug. 30 for visits in Germany, France and Ukraine, her office said.
Guajardo declined to go into detail on the topics remaining with the US, but said that an agreement could be reached at any time.
"The idea is that we are staying because we know there are issues to resolve," Guajardo said. "And we have to make sure that everybody feels comfortable with this agreement."
Earlier in the day, Guajardo said that officials were "very far" along in efforts to deal with the Mexico-US issues, but added: "There are trilateral issues that have to be solved in a trilateral context."
A contentious proposal by the US — which would require the nearly 25-year-old trade pact to be reauthorized every five years — must include all three partners, Guajardo said.
Jesus Seade, an economic advisor to Mexican president-elect Andres Manuel Lopez Obrador who has been participating in portions of the NAFTA talks, said that the sunset clause "is going out," news reports from Mexico City said.
Guajardo declined to comment on Seade's remarks, but said that the teams are working together on behalf of Mexico.
A senior Canadian official on Thursday told reporters there had been "no indication of flexibility from the US on this issue."
The three countries have been negotiating for a year to salvage the trade pact that US President Donald Trump has said has been a "disaster" for the US.
Additional reporting by Reuters
Comments will be moderated. Keep comments relevant to the article. Remarks containing abusive and obscene language, personal attacks of any kind or promotion will be removed and the user banned. Final decision will be at the discretion of the Taipei Times.