ECB to hold firm through trade war, slowdown fears
Analysts expect the European Central Bank (ECB) tomorrow to leave unchanged plans to end massive stimulus for the eurozone by December, defying fears that a global trade war or domestic slowdown could sap the single currency area.
ECB President Mario Draghi may also dismiss accusations from US President Donald Trump that he is manipulating exchange rates to the US' disadvantage.
However, with policymakers' eyes on financial markets, "the main focus ... will be on cementing the message from June" that the bank is withdrawing its support in response to the strength of the economy and its confidence it will eventually meet its inflation target, economist Carsten Brzeski of ING Diba bank predicted.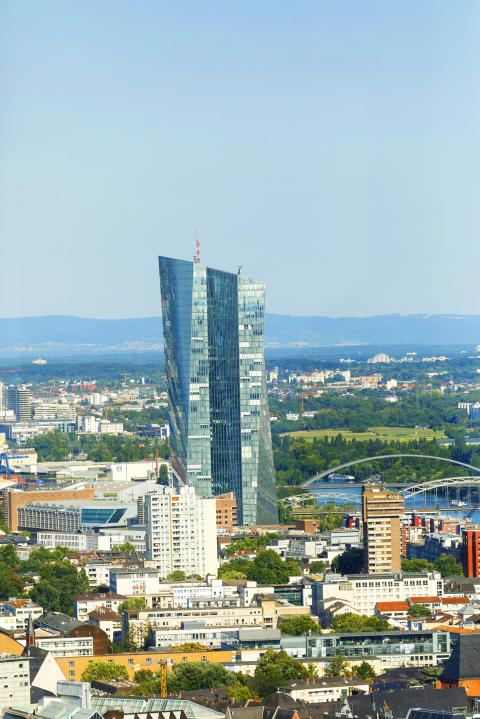 The European Central Bank headquarters tower above commercial and residential property in Frankfurt, Germany, on Wednesday last week.
Photo: Bloomberg
Draghi last month surprised observers by announcing he would slash monthly purchases of government and corporate bonds from 30 billion to 15 billion euros (US$35 billion to US$17.5 billion) from October, before ending them at the end of the year.
Alongside ultralow interest rates, bond-buying or quantitative easing was designed to pump cash through the financial system and into the real economy, stoking growth and in turn powering inflation toward the central bank's 2 percent price stability target.
After more than three years and some 2.4 trillion euros of quantitative easing, eurozone inflation hit 2 last month after 1.9 percent in May.
Such a one-off flirtation with its goal is unlikely to move the ECB from its plans to leave interest rates at their historic lows — the other pillar of its support to the economy — until at least summer next year.
Draghi has always been clear that the inflation target must be met "over the medium term..
The latest ECB projections, though, see annual inflation hovering at 1.7 percent between this year and 2020 — still short of the central bank's aim for the foreseeable future.
Analysts point to "core" inflation of just 0.9 percent last month as an indicator that will stay the ECB's hand.
"The ECB still has a long way to go, to say the least," Brzeski said.
Observers expect all the more caution from the ECB as the growth outlook for the eurozone has grown more uncertain.
Expansion in the single currency area slowed to just 0.4 percent between January and March, although some indicators point to a rebound in the second quarter.
Meanwhile, the first shots in a trans-Atlantic trade war that risks further slowing growth have already been fired.
The EU hit a slew of US goods — including jeans, peanut butter and motorcycles — with tariffs in retaliation for Trump's introduction last month of border taxes on steel and aluminum.
European Commission President Jean-Claude Juncker is to visit the White House today, hoping to talk Trump out of a new round of levies on car imports to the US.
The second, more active front in Trump's trade war — with China — risks sapping global trade overall, with knock-on effects for open eurozone economies like powerhouse Germany.
"Downside risks to the [economic] outlook mainly relate to the threat of increased protectionism," Draghi told European Parliament lawmakers this month, urging political leaders to "lend support to multilateralism and global trade."
Such concerns will likely keep the question of the mooted interest rate rise up to a year away far from central bankers' minds this month — much to Trump's displeasure.
"China, the European Union and others have been manipulating their currencies and interest rates lower... taking away our big competitive edge," he charged via Twitter on Friday, reiterating a longstanding complaint of his White House against Draghi's monetary policy.
"While some members [of the ECB's governing council] are impatient to begin raising interest rates, the vast majority want to watch the incoming data" to guide their decisions, Capital Economics analyst Jennifer McKeown said.
Comments will be moderated. Keep comments relevant to the article. Remarks containing abusive and obscene language, personal attacks of any kind or promotion will be removed and the user banned. Final decision will be at the discretion of the Taipei Times.