Job cuts still not enough for No. 2 platinum miner
Impala Platinum Holdings Ltd is facing some tough choices as the South African miner works to stem losses at aging shafts amid slumping prices for the metal.
The world's second-largest producer has already cut 2,500 jobs in the year through last month and said there might be more to come.
Only three of the 10 shafts at its sprawling Rustenburg mining complex were making money as of March. Things have only gotten worse since then, with platinum prices dropping another 9 percent and hitting a nine-year low last week.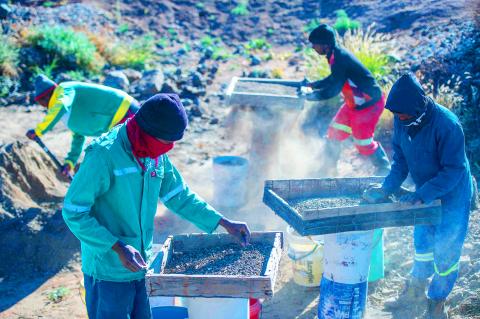 Independent miners filter dirt and soil as they search for minerals following the legalization of mining in limited areas in Kimberly, South Africa, on June 5. Unlike formal mining operations, small-scale miners pan for precious minerals around the edge of established quarries in the hope of coming up lucky. In April, about 800 illicit miners received licences to operate on a vast tract of land near Kimberley, in the country's center. The landmark deal was aimed at curbing the rapid growth of illegal mining, which has been spurred on by rising unemployment.
Photo: AFP
Implats, as the company is known, is to announce results of a strategic review of Rustenburg in September, spokesman Johan Theron said.
The challenges facing the industry mean that the miner cannot discount the possibility of more job losses, he said.
The company employs about 31,000 people at its Rustenburg operations.
The company said in March that the strategic review, announced last year, would look at measures to "refocus or close unprofitable areas," and could lead to shafts being closed earlier than planned.
It would be difficult for Implats to avoid cutting its production if prices stay low, Noah Capital Markets Ltd analyst Rene Hochreiter said.
"There isn't much management can do at this platinum price," Hochreiter said. "They have been surviving on hope, but it isn't a very good strategy.
Implats is not the only one facing difficulties, with about half of the industry's production estimated to be unprofitable. Rival Lonmin PLC is cutting 12,600 jobs over three years and its future hinges on the speedy approval of a merger deal with Sibanye Gold Ltd.
Anglo American Platinum Ltd, the top producer, is in a better position than its counterparts after exiting high-cost assets, Morgan Stanley analysts said in a note.
Platinum prices have dropped by more than half since a 2011 peak, as demand for the metal used to curb pollution from diesel cars weakens, partly because of slower sales of the vehicles in Europe. The selloff in the metal has gained pace this year amid concerns that industrial demand could be curbed as trade tensions escalate.
Implats shares have dropped 35 percent this year, although it is still only the second-worst performer in the five-member FTSE/JSE Africa Platinum Mining Index, behind Lonmin. Sibanye, which produces both gold and platinum-group metals, is down 47 percent.
Implats has initiated a so-called Section 189, a labor process that South African companies must complete before dismissing workers for operational reasons, Theron said.
"The industry has been under profitability and financial viability pressure for some time, especially the deeper labor-intensive mines around Rustenburg," he said.
While platinum-group metals in rand terms have remained persistently low, "cost inflation has continued to escalate unabated," he added.
Implats in January shut a shaft at its Rustenburg operation, and flagged three more to be closed once mined out. Two new shafts would together produce about 300,000 ounces a year by 2021-2022 to replace higher-cost production, Theron said.
"With prices where they are, some supply has to be taken out and, sadly for the high-cost miners such as Implats and Lonmin, it probably should be them," Liberum Capital analyst Ben Davis said. "The demand picture isn't that great. They have to keep making cuts until the market tightens as there is no perceived scarcity of supply."
Comments will be moderated. Keep comments relevant to the article. Remarks containing abusive and obscene language, personal attacks of any kind or promotion will be removed and the user banned. Final decision will be at the discretion of the Taipei Times.