Production leader Doug Field leaves Tesla
Tesla on Monday confirmed that the head of Model 3 production, who went on leave after chief executive officer Elon Musk took over his duties, would not be returning.
The departure of engineering senior vice president Doug Field came as California-based Tesla appeared to have finally hit a self-imposed goal of cranking out 5,000 Model 3 electric cars in a week.
Musk over the weekend tweeted: "7,000 cars, 7 days."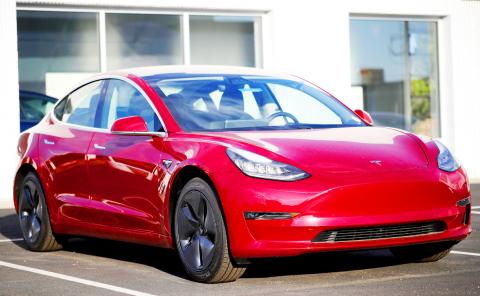 A 2018 Model 3 sedan sits at a Tesla dealership in Littleton, Colorado, on May 27.
Photo: AP
Tesla last week produced 5,000 Model 3 cars, along with a combined total of 2,000 Model S and Model X vehicles, Global Equities analyst Trip Chowdhry said in a note to investors on Monday.
Tesla has been under pressure to increase production to show that it can operate profitably and at the kind of scale needed to be considered a major auto company.
Musk has been managing the Tesla production line, which has been rejiggered to pump out cars faster.
Field would not be returning to the company, Tesla said.
"After almost five years at Tesla, Doug Field is moving on," a company spokesman told reporters. "We'd like to thank Doug for his hard work over the years and for everything he has done for Tesla."
Tesla last month announced that it was cutting 9 percent of its workforce to enhance profitability, but said the move would not affect an ambitious production ramp-up of its Model 3 sedan.
The job cuts are part of a company-wide restructuring to address excess staff in some areas due to the company's speedy growth, Musk said in an e-mail to employees.
The cuts concerned salaried staff but not production workers and would not affect Model 3 output targets, said Musk, who characterized the downsizing as an acknowledgement of the need to focus more on costs.
"Given that Tesla has never made an annual profit in the almost 15 years since we have existed, profit is obviously not what motivates us," Musk said in the message. "What drives us is our mission to accelerate the world's transition to sustainable, clean energy, but we will never achieve that mission unless we eventually demonstrate that we can be sustainably profitable."
Shares in Tesla on Monday closed at US$335.07, down 2.3 percent, in New York trading, but regained some of that ground in after-market trades.
Comments will be moderated. Keep comments relevant to the article. Remarks containing abusive and obscene language, personal attacks of any kind or promotion will be removed and the user banned. Final decision will be at the discretion of the Taipei Times.