Trump lauds Foxconn Wisconsin plant
'AMERICA FIRST': The US president said the Foxconn Technology Group project would create 15,000 jobs and contribute US$3.4 billion annually to the state's economy
US President Donald Trump on Thursday planted a political flag in Wisconsin, taking part in the groundbreaking ceremony for the new facilities of Foxconn Technology Group (富士康科技集團), known as Hon Hai Precision Industry Co (鴻海精密) in Taiwan, a controversial deal that he has embraced as a symbol of his "America First" trade policies.
The visit was an early illustration of Trump building the case that his economic policies — particularly tax cuts and efforts to revive US manufacturing — are paying off ahead of the November midterm elections that are to determine control of the US Congress.
Tariffs Trump has leveled in trade disputes with China and Europe are raising investor concerns about the economic outlook.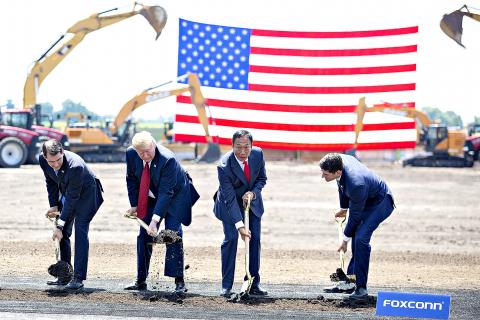 From left, Wisconsin Governor Scott Walker, US President Donald Trump, Foxconn Technology Group chairman Terry Gou and US House of Representatives Speaker Paul Ryan shovel dirt at a groundbreaking ceremony for the new Foxconn facility in Mount Pleasant, Wisconsin, on Thursday.
Photo: Bloomberg
Trump said the Foxconn project would create 15,000 jobs and contribute US$3.4 billion annually to Wisconsin's economy.
He called the facility "the eighth wonder of the world" and added that it would be built entirely with US concrete and steel.
Trump appeared to inflate the best-case-scenario total for new jobs listed for the project by Wisconsin state officials and Foxconn, both of which have said the facility might eventually employ 13,000 people.
Trump also claimed that the amount of money invested in the US by Softbank Group Corp's Masayoshi Son was 44 percent higher than previously announced.
"And his US$50 billion turned out to [be] US$72 billion so far — he's not finished yet — and that doesn't include Foxconn," Trump said at the event after calling Son onto the stage.
"So, big stuff," Trump added.
Son used the US$50 billion figure when he spoke and Trump did not explain where the additional US$22 billion came from.
Japanese firm Softbank did not immediately provide a comment on Trump's statement.
Foxconn and Softbank are allies, collaborating on Softbank's Pepper robot and on its planned US$100 billion technology investment fund.
Just 50km away from the event, a different picture of Trump's economic policies was taking shape.
Harley-Davidson Inc, the iconic US motorcycle maker, drew the president's ire for a decision to shift production outside the US for machines made for EU customers.
The move resulted from tariffs enacted by the EU in response to Trump's penalties on imported steel and aluminum, the company said.
"Harley-Davidson, please build those beautiful motorcycles in the USA, please," Trump said.
"Don't get cute, your customers won't be happy if you don't" build the motorcycles in the US, he added.
Sharp rhetoric about Harley-Davidson has put Wisconsin Governor Scott Walker, the owner of a 2003 Harley Road King motorcycle who has used the brand to promote his own political career, in an awkward position as he campaigns for re-election in November.
Walker, who lost out to Trump in a bid for the 2016 Republican presidential nomination, has avoided directly criticizing the president for criticizing one of his state's top companies.
Instead, he has expressed his support for free trade.
Walker, who personally lobbied Foxconn chairman Terry Gou (郭台銘) for the factory and stood by Trump's side in the White House's East Room when construction plans were announced 11 months ago, faces an even more urgent referendum because he is on November's ballot.
The state tax breaks and other incentives represent what Walker has called the largest economic development project in the history of Wisconsin.
In exchange, the company has promised to create jobs with an average salary of almost US$54,000.
If both sides deliver fully, the economic package for Foxconn, which is best known for its role assembling Apple Inc's iPhones, would cost about US$230,000 per job.
Democrats are trying to bolster skepticism about the deal, tie Walker to Trump and link both men to job losses from Harley-Davidson's announced production shift.
Eight Democrats are competing ahead of an Aug. 14 primary to win the right to challenge Walker.
"Walker is afraid to stand up to Donald Trump, but he also owns this mess as much as Trump does," Democratic Party of Wisconsin spokesman T.J. Helmstetter said in a statement.
Comments will be moderated. Keep comments relevant to the article. Remarks containing abusive and obscene language, personal attacks of any kind or promotion will be removed and the user banned. Final decision will be at the discretion of the Taipei Times.