Intel CEO steps down over relationship with employee
'NO HEIR APPARENT': While the firm said it has a 'robust succession' process in place, Krzanich leaving creates more uncertainty amid an exodus of talent
Intel Corp CEO Brian Krzanich has resigned over a "past consensual relationship" with an employee that breached a company nonfraternization policy, the technology company said on Thursday.
"Given the expectation that all employees will respect Intel's values and adhere to the company's code of conduct, the board has accepted Mr Krzanich's resignation," the company said.
A spokesman for the company declined to provide additional details about the employee involved, citing privacy concerns.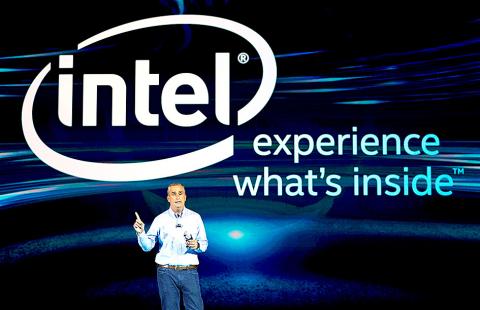 Then-Intel Corp CEO Brian Krzanich speaks at the Intel keynote address at the CES trade show in Las Vegas on Jan. 8.
Photo: Reuters
Intel chief financial officer Bob Swan is to serve as interim CEO while the company searches for a replacement.
Intel said it had "a robust succession planning process in place" and was looking both internally and externally for candidates.
The company has also retained an executive search firm to help locate candidates.
Intel chairman Andy Bryant praised Swan's "ability to lead the company as we conduct a robust search for our next CEO."
As the chip business connected to traditional PCs has declined, Intel has shifted to a "data-centric" business oriented around cloud computing and data centers.
Shares of Intel on Thursday fell 2.4 percent to US$52.19.
"Resignation creates uncertainty," Credit Suisse Group AG analyst John Pitzer said in a note. "No heir apparent; new CEO is likely to be 'not homegrown' for first time."
Krzanich's departure left a particularly large void, given the exits of several other seasoned executives since 2015, Cowen & Co analysts said in a note.
"Obviously a seat like Intel CEO will attract many external candidates, but this seems a particularly tough time for additional leadership/culture churn at Intel," they said in the note.
Krzanich, 58, joined Intel in 1982 and rose through the ranks to serve as chief operating officer before being tapped as CEO in 2013.
Intel's policy on nonfraternization bars managers from having romantic relationships with direct or indirect subordinates, a person familiar with the policy said.
The company's announcement on Krzanich's departure was coupled with projections for second-quarter revenue of about US$16.9 billion and earnings per share of US$0.99. Both were well above analyst expectations.
"Intel's transformation to a data-centric company is well under way and our team is producing great products, excellent growth and outstanding financial results," Swan said. "I look forward to Intel continuing to win in the marketplace."
Intel revenue totaled US$62.8 billion last year, when it had 102,700 employees.
Comments will be moderated. Keep comments relevant to the article. Remarks containing abusive and obscene language, personal attacks of any kind or promotion will be removed and the user banned. Final decision will be at the discretion of the Taipei Times.