Macronix mulls expansion plans
INDUSTRY BOOM: The chipmaker is planning to roll out new products amid healthy demand, but does not yet have the capacity to produce them, CEO Miin Wu said
Macronix International Co (旺宏電子), which supplies read-only memory (ROM) chips to Japan's Nintendo Co, yesterday said it is contemplating a US$1.5 billion expansion after this year, as brisk demand is to keep its factories running at full capacity for the next few years.
The Hsinchu-based chipmaker said there are supply constraints on all of its products, including ROM, NOR flash and NAND flash memory chips, thanks to the boom in the memorychip industry.
"We believe this situation will continue for a few years, as we are to roll out new products that will consume more capacity. I believe it will last for quite a long period of time," Macronix chairman and chief executive officer Miin Wu (吳敏求) told reporters after the company's annual shareholders' meeting.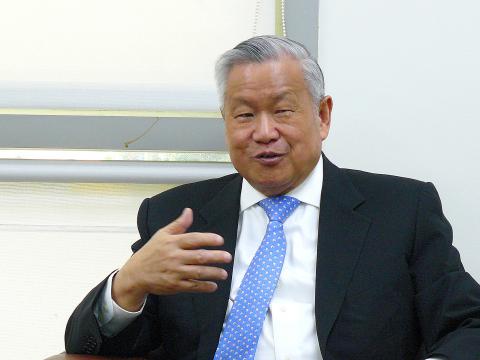 Macronix International Co chairman and chief executive officer Miin Wu speaks to the media after the firm's annual shareholder's meeting in Hsinchu yesterday.
Photo: CNA
The company is scheduled to ramp up production of new memory chips — flash memory chips for embedded multimedia card storage and 3D ROM — in the first half of next year, Wu said.
"The problem now is that we cannot even find [sufficient] capacity to produce those new products," Wu said. "We will be short of [capacity] if demand for our new products goes up."
Initial feedback from customers regarding the new chips is quite good, given the strong cost-performance ratio of the chips, he added.
The most likely scenario is that the firm would add 20,000 wafers a month to an existing 12-inch fab at a cost of US$1.5 billion, instead of building a new fab, Wu said.
Macronix operates one 8-inch fab and one 12-inch fab.
Wu declined to give a timeline for the capacity expansion plan, but said that it would not happen this year.
Macronix plans to spend NT$5.8 billion (US$193.73 million) on technological improvements this year, which would enable it to switch production between 19-nanometer NAND flash memory chips and 55-nanometer NOR flash memory chips, the company said.
Two months ago, it predicted that revenue would be either flat or decline 5 percent quarterly from NT$9.06 billion in the first quarter.
"Now, we think the second quarter will be better than our forecast," Wu said. "The main reason is that demand for ROM is better than in the first quarter."
Overall, the second quarter's earnings would be stronger than the first quarter, as the company is allocating more capacity to producing higher-margin products, such as those used in cars, industrial devices and medical devices, he said.
Macronix said it expects the combined revenue from chips used in cars, and industrial and medical devices to contribute more than 30 percent of its total revenue this year, up from 26 percent last quarter.
Macronix reported NT$1.88 billion in net profit for the first quarter, or NT$1.06 per share.
The company's shareholders yesterday approved the distribution of a cash dividend of NT$1 per common share, the first distribution in five years. It also plans to distribute a stock dividend of 2 percent.
Comments will be moderated. Keep comments relevant to the article. Remarks containing abusive and obscene language, personal attacks of any kind or promotion will be removed and the user banned. Final decision will be at the discretion of the Taipei Times.