Spain, Italy political risks rattle bond, stock markets
Borrowing costs in southern Europe on Friday shot up and stock markets in Madrid and Milan, Italy, tumbled as a no-confidence motion proposed against Spain's prime minister exacerbated a sell-off sparked by growing political risk in Italy.
Spanish Socialist Workers' Party secretary-general Pedro Sanchez on Friday said his party would call a snap election if it won the motion it put forward against Spanish Prime Minister Mariano Rajoy over a graft case involving members of Rajoy's People's Party.
The news sparked a sharp sell-off in Spanish bonds and stocks, some of the biggest weekly bond market moves since the euro debt crisis in 2012, while the euro extended its falls.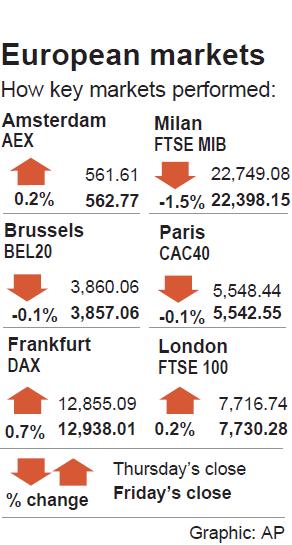 It also gave investors a fresh incentive to get out of Italian assets, which have been rattled by the prospect of a spendthrift coalition government comprised of the anti-establishment Five Star Movement and the far-right League party.
Italy's two-year bond yield climbed more than 30 basis points to its highest in more than four years at 0.67 percent. It was set for its biggest daily jump in five years and its biggest weekly rise since the euro debt crisis in 2012.
A little more than a week ago it was trading at less than zero percent.
Ten-year bond yields in Spain, Italy and Portugal were up 9 to 11 basis points each.
"It's the same theme in Spain and Italy, but different stories," Investec chief economist Philip Shaw said. "But while in Italy you have the prospects of a highly confrontational government, in Spain, even if we get fresh elections, the mix of parties likely to make up a new government would likely be the same as the present one."
The Italy-Germany 10-year spread, seen by many investors as a proxy for sentiment toward the eurozone, was at its widest in four years at 215 basis points.
German bonds, viewed as one of the safest assets in the world, benefited from the turmoil, with 10-year Bund yields set for their biggest weekly fall since the eurozone debt crisis in 2012, down 18 basis points.
A sell-off in Italian and Spanish stocks deepened, with Italy's FTSE MIB benchmark on Friday falling 350.93 points, or 1.5 percent, to 22,398.15, dropping 4.5 percent from 23,449.65 on May 18.
Spain's IBEX 35 on Friday shed 169.50 points, or 1.7 percent, to 9,826.50, falling 2.8 percent from 10,112.40 a week earlier.
Bank stocks were battered, with the eurozone banks index falling. Nearly twice the average daily volume was traded in Spain's CaixaBank SA and Banco Santander SA, as well as in Italy's Banco BPM SpA and Intesa Sanpaolo SpA.
"The underlying basics [for Spain's economy] long-term are strong," said a Madrid-based executive at an investment advisory firm who asked not be named. "The country is growing, but uncertainty is never good for any type of outlook and that's going to impact the stock market."
Additional reporting by staff writer
Comments will be moderated. Keep comments relevant to the article. Remarks containing abusive and obscene language, personal attacks of any kind or promotion will be removed and the user banned. Final decision will be at the discretion of the Taipei Times.